Local News
Harvard student says a man called him a 'f***ing Muslim' in Cambridge
"This is about standing up to hate against any group."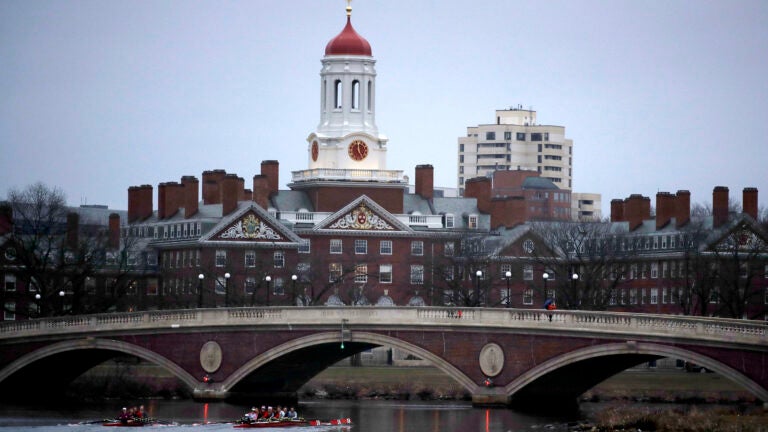 A Harvard student who says he was harassed in a Cambridge store by a man calling him a "f***ing Muslim" is sharing his story on social media to encourage bystanders to be engaged and take positive action against acts of intolerance.
"I'm going to keep walking with my head held high and with love in my heart—no one will change that," the student, who Boston.com is not identifying, wrote of his experience on Facebook:
In a store a few blocks from campus I was accosted by a man who called me a "f***ing Muslim." He followed me to the checkout counter, aggressively asking me where I was from, and none of the other people in the store said a thing.

While this pales in comparison to discrimination faced by others, and while I'm not particularly rattled/disheartened, bystander intervention is crucial. Whenever we see racism, sexism, islamophobia, or xenophobia, we need to take a stand—all of us.

I'm going to keep walking with my head held high and with love in my heart—no one will change that. But hopefully we can stand together against intolerance and injustice.
Since it was published, the post by the first-year law student at the university has been shared more than 150 times. The student also wrote about his experience in The Boston Globe.
The law student told Boston.com this isn't the first time he has been harassed. He emphasized that he didn't write the post to tell people he's a Sikh, not Muslim.
"This is about standing up to hate against any group," he said.
He said he was shopping in a store on Massachusetts Avenue on Nov. 11, speaking on the phone with his mother, when a man walked in and said to the clerk behind the counter, "Oh look, there's a f***ing Muslim."
"At that moment I knew things were maybe not so good," he said.
According to the Harvard student, the man started following him around the store, harassing him and asking him where he was from. The 22-year-old, who is from Buffalo, New York, said he tried to ignore the man and continue his conversation with his mother, who was worried.
She could hear the man questioning him and told her son to leave the shop.The student said the man followed him to the checkout counter.
"I told him, 'Hey I'm actually from New York. I live here now down the street. Is there anything I can do to help you?'" the student said.
The man didn't respond, and the student left the store as quickly as possible.
The 22-year-old said he wrote about his experience because he believes it is important to respond to incidents of intolerance and hate with optimism, hope, and love. The most important question people should be asking, he said, is why people who were there — who could have said something — didn't.
He said the most effective way to help people who feel marginalized is to "be there for each other in these moments." A bystander who checks in with the person being harassed in any situation can make all the difference, he said.
"I'm not hurt by that necessarily, but I think it would have been great if a bystander had said something," he said.
The law student said he did not identify the shop in his post out of concern that there would be backlash against the establishment. The owner of the store, who did not want to reveal his name or the name of the establishment, told Boston.com he was going back and forth between the back and front of the shop that evening and saw the man who spoke to the student come in.
He said he had planned to ask the man to leave, but went to the back of the store when the incident occurred. Both the student and the other man were gone when he returned.
He said he was shocked and sorry when his clerk told him what happened.
"I don't know where that guy came from and I hope I don't see him again," the shop owner said.
The Harvard student said the response to his post has been incredible.
"The outpouring of support from the Harvard and Cambridge communities has been unbelievable," he said.
People have offered to walk him home. The school's administrators, including Marcia Sells, associate dean and dean of students, also reached out to make sure he feels safe.
Sells said she met with the 22-year-old to make sure he was OK and that he had information about resources and services.
"We have — even before these recent incidents — worked with Harvard's Office of Sexual Assault Prevention Response on developing 'bystander training,'" Sells said in an email. "In light of these recent attacks, we have been asked by students who identify as members of religious minorities, women, people of color, LGBTQ community and immigrants, to create a broader bystander-training program, and that is in the works."
Sells said law school officials are also reworking part of the Dean of Students HLS app to make it easier for students to contact each other when walking home or away from the school at night, developing workshops with the school's Health Services department, and reminding students of existing escort and shuttle services.
For his part, the student said people who witness incidents like the one he experienced should be there for the person being targeted and respond to the moment positively by approaching the person being targeted and talk to them.
"Make sure to ask if they're OK," he said. "Make sure they feel safe in whatever space they're in."
An uptick in hostile acts against minorities have been reported on college campuses and in cities across the country following the election of Donald Trump, The New York Times reports. According to the Southern Poverty Law Center, there have been over 200 incidents of harassment and intimidation since Election Day.
The 22-year-old said there's no doubt there are communities that are feeling marginalized and unsafe in the country right now.
"No matter when it happens, we need to take a stand against it," he said.
Newsletter Signup
Stay up to date on all the latest news from Boston.com