Local
How Trump's health picks could affect Mass.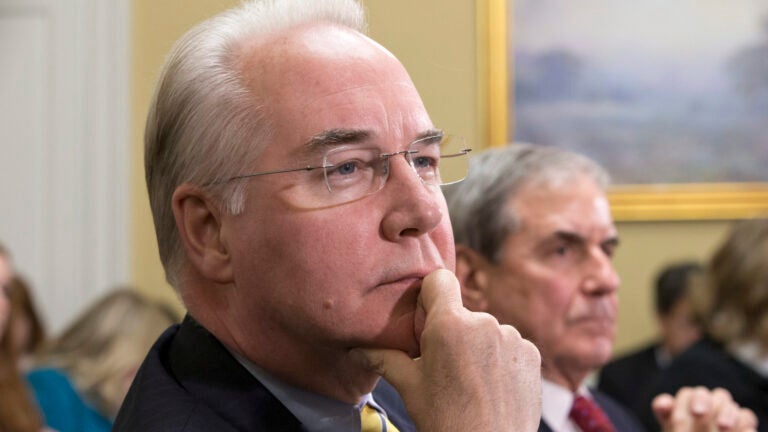 WASHINGTON — President-elect Donald Trump named his top health care team Tuesday, making picks that signal a strong, rightward ideological shift in powerful agencies that manage a vitally important swath of America's economy, particularly in Massachusetts.
Trump announced he would nominate Representative Tom Price of Georgia, one of the fiercest critics of the Affordable Care Act, to lead the Health and Human Services Department. Price, an early adherent of the Tea Party movement who also has deep experience in health policy, has spent years working to repeal President Obama's signature accomplishment. He has also advocated for privatizing Medicare, something that Trump has not endorsed.
For another crucial post, the director of the agency that runs Medicare and Medicaid, Trump named Seema Verma, an Indiana health care consultant who worked with the state government of Vice President-elect Mike Pence. She is a proponent of establishing health savings accounts within Medicaid and requiring some Medicaid recipients to work as a condition of receiving coverage.
In selecting Price, 62, for health secretary, Trump gave his first indications of how he might fulfill one of his oft-repeated campaign promises — to "repeal and replace Obamacare," which the law is colloquially called. Unlike some other conservative lawmakers — and Trump himself — Price has offered detailed legislation that would supplant the health law with an option that relies heavily on the private sector.
In Boston, where changes in the health care industry could send shock waves through the local economy, industry leaders, many of whom favored the expansion of health insurance in the state and nationally, reacted with caution.
Read the complete story at BostonGlobe.com.
Don't have a Globe subscription? Boston.com readers get a 2-week free trial.