Local
Report calls on New Hampshire to prepare for rising seas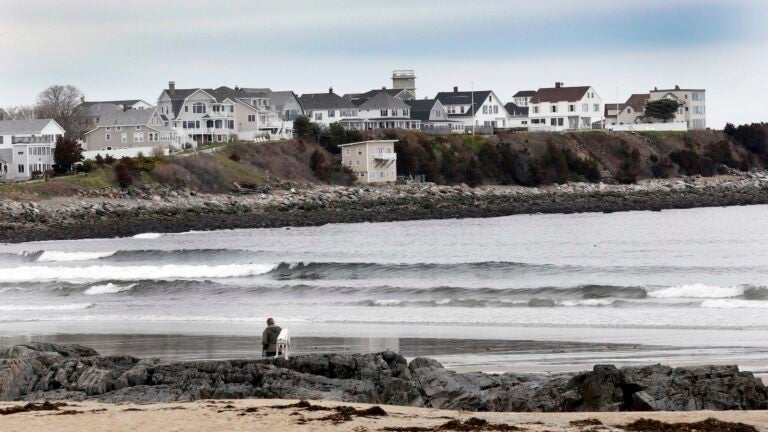 CONCORD, N.H. (AP) — Though the worst impacts of rising seas in New Hampshire are decades away, a state commission is warning that coastal communities must act now to ensure vulnerable buildings are protected and roads, bridges and other structures constructed in the future are protected from increased flooding and storm surges.
The New Hampshire Coastal Risk and Hazards Commission report released Wednesday recommends that the 17 towns and cities on the coast identify their most vulnerable assets, amend ordinances and rules to ensure they are in line with the latest science and secure funding to implement climate adaptation strategies. Other recommendation in the bipartisan report include encouraging business to develop preparedness plans, making existing structures more resilient to flooding and protecting and restoring vulnerable natural resources, such as salt marshes, from flooding.
"For many people, this might seem to be a distant problem. It's 30, it's 50, it's 100 years in the future. … There is uncertainty about how severe the problem will be and by when," said Cliff Sinnott, chairman of the commission and executive director of the Rockingham Planning Commission.
"That combination can be an excuse for doing nothing," he said. "We believe very strongly that this will be a very costly mistake. If we don't take some basic steps to prepare early, the problem and the cost of dealing with it become much greater."
State Rep. Fred Rice, a Republican from Hampton and a self-described climate skeptic on the commission, said he endorsed the document despite the "800-pound gorilla in the room. That 800-pound gorilla is the fact that not everyone subscribes to those beliefs" around climate change and sea level rise," he said.
"This report is a contingency plan," Rice said. "It's not a mandate. … These are guidelines for each of the municipalities that touch water here on the seacoast of New Hampshire, steps for them to consider in developing their own emergency plans."
A commission report earlier this year found that sea levels in New Hampshire have been rising by an average of 0.7 inches per decade since 1900. Using 1992 levels as a baseline, sea levels in the state are expected to rise between a half-foot and 2 feet by 2050 and around 1½ and 6½ feet by 2100, the report said.
The data show that as of last year, the state's 17 coastal communities were home to about 12 percent of the state population and host more than 100,000 jobs. The report says the region is growing at nearly three times the rate of the state as a whole.
Democratic State Sen. David Watters, a commission member from Dover, said his biggest concern is preparing the state's transportation network and historic sites, such as the Wentworth-Coolidge Mansion in Portsmouth, to withstand rising seas.
"For me, the essential issue confronting the commission was how to sustain our economy, how to sustain our built landscape, how to sustain our natural resources and our heritage so that future generations could enjoy the extraordinary place that first attracted settlers to New Hampshire in 1623 and we have enjoyed ever since," Watters said.
While the recommendations are not enforceable, Sinnott said a half-dozen coastal communities already are considering climate change measures. Exeter has planned a vulnerability analysis of municipal drainage infrastructure and shore lands while Portsmouth is seeking funding to assess the vulnerability of its historic resources. Rye has added a chapter on coastal hazards adaptation to its master plan, bought land around vulnerable wells and is widening its culverts to allow more sea water to flood its marshes.
"As we start making some changes, we should look at what the projections are and at least make the infrastructure changes based on those projections," said Commission member Phil Winslow, who represents Rye. "This way, we are smartly spending money going forward."