Local
US Attorney Carmen Ortiz is stepping down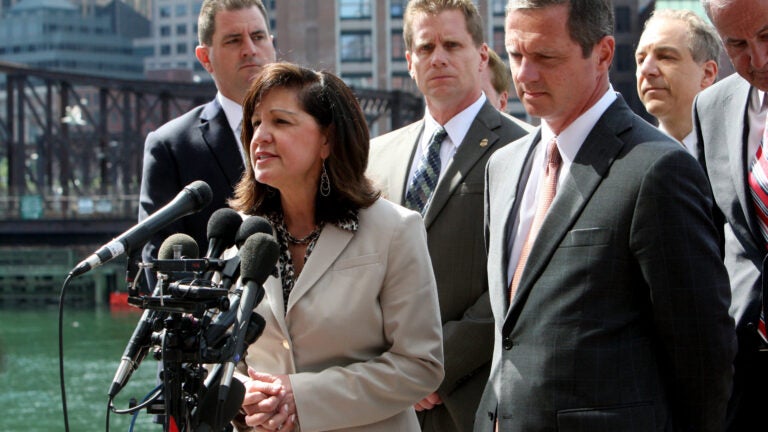 BOSTON (AP) — United States Attorney for Massachusetts Carmen Ortiz, who prosecuted the high-profile cases of Boston Marathon bomber Dzhokhar Tsarnaev and Boston mobster James ''Whitey'' Bulger, is stepping down.
Ortiz said she submitted her resignation as the state's top federal prosecutor last week and spoke with Attorney General Loretta Lynch Tuesday to confirm her departure. She didn't indicate what her next position would be.
She will officially leave office Jan. 13, a week before Republican Donald Trump is sworn in as president. She was nominated to the post by President Barack Obama in 2009.
Ortiz, the first woman and first Hispanic to be named U.S. attorney in Massachusetts, prosecuted white-collar crime in the office's Economic Crimes Unit for 12 years before being elevated to the top post.
She said in a written release that her office has ''brought countless criminals to justice, sought recourse for many victims and survivors of crime, and worked tirelessly to make our communities safe and healthy places to live and work.''
Ortiz won convictions against Tsarnaev, who is appealing his death sentence in the Marathon bombing case and Bulger, who is serving a life sentence after being convicted in 2013 of a litany of crimes, including participating in 11 murders.
Tsarnaev and his brother Tamerlan planted two pressure-cooker bombs near the finish line of the marathon on April 15, 2013, killing three people and injuring more than 260. Tamerlan Tsarnaev was killed during a getaway attempt several days later.
She also successfully prosecuted former Massachusetts Democratic House Speaker Salvatore DiMasi on public corruption charges.
DiMasi was convicted in 2011 and sentenced to eight years, but was granted compassionate release last month after serving five years. He was treated for throat and prostate cancer in prison.
Prosecutors in her office have also charged more than 60 alleged members of the MS-13 gang and charged 14 former owners and employees of the New England Compounding Center in connection with a deadly nationwide fungal meningitis outbreak.
Critics have faulted Ortiz for being overly zealous.
On Monday, a federal appeals court overturned her office's convictions of a former state probation commissioner and two former deputies, saying prosecutors failed to prove that a scheme to favor politically connected job candidates was a federal crime.
No legislators were charged, but several were named during trial testimony, including Democratic House Speaker Robert DeLeo, who strongly criticized prosecutors for asserting he had been involved in the scheme.
''These false and scurrilous allegations can now be given an appropriate burial,'' DeLeo said Monday.
Ortiz also drew fire after her office sought to prosecute 26-year-old Aaron Swartz on allegations he surreptitiously used the Massachusetts Institute of Technology's network to download millions of articles from a scholarly archive with the goal of making them freely available.
Swartz hanged himself in 2013 as he faced trial on 13 felony charges.
After his suicide, Ortiz extended sympathy to Swartz's loved ones but continued to defend the charges.
Lynch praised Ortiz, saying she's ''significantly advanced the cause of justice on numerous fronts'' from battling human trafficking to enforcing civil rights laws.
''For nearly two decades, U.S. Attorney Carmen M. Ortiz has served the Department of Justice and the American people with integrity and distinction,'' Lynch said in a statement Wednesday.