Local
Lyndon B. Johnson's daughters mark stealth ship's milestone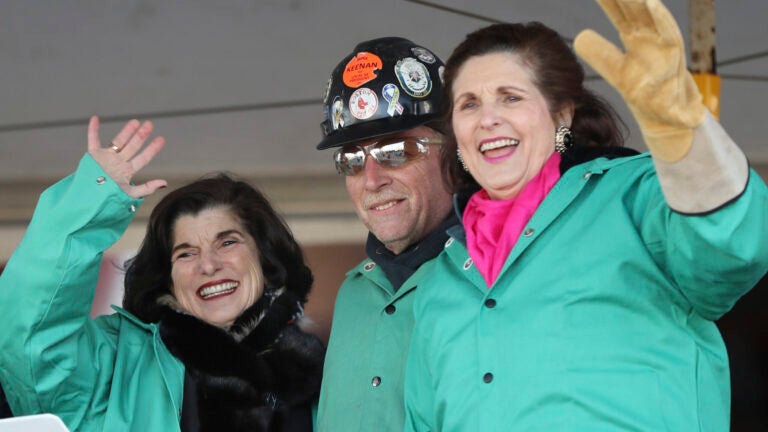 BATH, Maine (AP) — The daughters of the late President Lyndon B. Johnson traveled to Maine on Monday to celebrate a milestone in construction of a Navy destroyer bearing his name.
Wearing welder helmets, Lynda Bird Johnson Robb and Luci Baines Johnson were assisted by shipbuilder Timothy Trask in welding signatures on a steel plate during a keel-laying at the ceremony at Bath Iron Works.
"Work hard on that ship because I'm an old lady, and I want to make sure I see it in the water. So work, work, work!" Robb, 72, joked.
As the ship's sponsors, the sisters will be responsible for christening the warship when it goes into the water late next year. It'll be commissioned later.
The keel-laying ceremony harkens to the days of sailing vessels when construction began with a keel upon which the ship is built. In this case, it marked the joining of two massive hull units, the first of several that will comprise the 610-foot-long destroyer.
During the ceremony, the ship's no-nonsense namesake was praised for his service to country, including his efforts to help the poor and to fight for equality in the civil rights era.
Brent West, program manager at Bath Iron Works, said the ship that's being built will "reflect the spirt of her namesake and a commitment to the defense of the ideals he cherished: equality, security and freedom."
During the ceremony, Luci Baines Johnson singled out an electrician, Larry Stegna, who held an old poster that commemorated LBJ's campaign in which the Democrat trounced Republican Barry Goldwater.
"It was a trip down memory lane for me," she said.
The future USS Lyndon B. Johnson is the last of three stealthy destroyers in the Zumwalt class. They have wave-piercing hulls, a stealthy shape and electric propulsion. Automation has halved the crew size compared with other destroyers.
While it's the final ship in the class, the warship could boast an armament that the other ships won't have.
The Navy's director of surface warfare floated the idea of putting an electromagnetic railgun aboard the ship. The weapon, which is in development, can fire projectiles at seven times faster than the speed of sound, with deadly results.
If the railgun does happen, it would be installed after the ship leaves Bath.
Unlike its sister ships, the ship will have a deckhouse that's made of steel, not composite materials, to save money. The first ship in the class, the USS Zumwalt, carried a price tag of more than $4.4 billion.