Local News
Looking back at the Boston Mooninite panic, 10 years later
How a tiny LED sign turned the city upside down.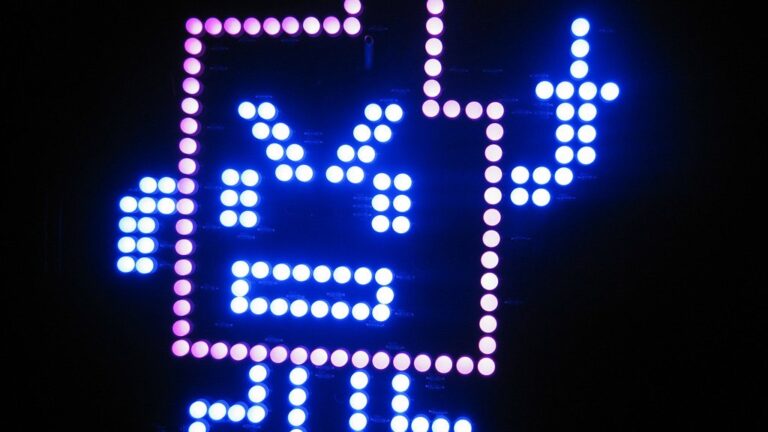 Ten years ago today, the city of Boston had a crisis on its hands.
At around 8:05 a.m. on January 31, 2007, a passenger at the Sullivan Square bus depot spotted a suspicious object stuck on a steel girder underneath Interstate 93 and reported it to MBTA authorities. Two hours later, officials detonated the object. Northbound traffic on I-93 and Orange Line trains were delayed for more than an hour during the height of rush hour. Even though investigators determined the object wasn't a bomb, they weren't exactly sure what it was, calling it "some sort of hoax device."
The "hoax device" turned out to be an LED sign that was part of a larger guerilla advertising campaign for an upcoming film based on the Cartoon Network show Aqua Teen Hunger Force. Marketing company Interference Inc. sent 40 of the signs, featuring a "Mooninite," an alien character from the show, to local artist Zebbler, also known as Peter Berdovsky. Zebbler and friend Sean Stevens hung the signs around Boston, Cambridge, and Somerville weeks earlier, but no one raised alarms until January 31.
What could have been a one-day story morphed into a week-long saga that stoked fear from residents, anger from local authorities, embarrassment and regret from the companies involved in the stunt, and amusement and derision from the artists and people across the nation, who found it hilarious that Boston had launched into full-blown crisis mode over "suspicious objects" that most closely resembled a Lite-Brite toy and featured a cartoon alien giving the middle finger.
In honor of the 10-year anniversary of this ignominious event in Boston history, we decided to look back at some of the forgotten facets of the "Boston Mooninite Panic."
There was ample reason for the BPD to be suspicious that day.
In an internal Boston Police Department memo, Commissioner Ed Davis praised the "rapid, efficient and skillful response" of the officers, and detailed the BPD's version of the day's events. His memo noted that, throughout the day, the department was tracking several suspicious reports from across the city, nation, and world. Once news spread of a suspicious object at Sullivan Station, police received reports from all over the city, leading to responses at the intersection of Stuart and Charles Streets, the Longfellow Bridge, and the BU Bridge, among others.
According to Davis, as the BPD attempted to make sense of the situation, there were also reports of several terror suspects arrested in Britain, a suspicious package in the Washington D.C. Metro, and, at around 1 p.m., a call from Boston Medical Center about a pipe bomb, allegedly left by a man who proclaimed "God is warning you that today is going to be a sad day," before leaving the scene. "It was almost like we had a kind of perfect storm of circumstances falling into place," Davis told The Boston Herald.
The artists treated their arrest like a big joke, and their press conference went viral.
Though the story of the Mooninite Panic had already spread across the nation, the most absurd moment of the entire saga was when Zebbler and Stevens appeared for a press conference. As members of the media attempted to ask them how they felt about causing a panic, the pair refused to answer any questions not related to "haircuts of the '70s." Clips from the bizarre Q&A circulated on YouTube, CollegeHumor, Digg, and other video-sharing sites.
Some mocked the city for its hysterical response.
"Now we know what it takes to bring the city of Boston to its knees," trumpeted the Los Angeles Times. "A bunch of Lite-Brites, some batteries and a couple of weeks for the citizenry to notice them."
Even some Bostonians, especially younger ones who were more likely to be familiar with the show, got their licks in. "Repeat after me, authorities," wrote one Malden blogger. "L-E-D. Not I-E-D. Get it?" One street artist placed stickers on random objects like ATMs, traffic cones, and parking meters that read, "Don't Panic! This is NOT a bomb!"
"I once interviewed a homeland security consultant who claimed that ordinary citizens armed with wi-fi laptops, smart cellphones, and the like would be far more effective at responding to terrorist attacks than any governmental organization," wrote Joshua Glenn at The Boston Globe's "Brainiac" blog. "Tonight I have seen the proof of that argument."
Adam Reilly, writing for The Boston Phoenix, questioned what the BPD response would be to an actual bomb.
"The explanation, I've been told, is this: when the Mooninite was moved into darkness and lit up, law-enforcement personnel finally realized what the wiring and batteries on the back were for," Reilly wrote. "If so — and if that's what it took — God help us if a real bomb is ever discovered in this city."
Ted Kennedy drafted a bill designed to punish future hoaxers.
Criticism from Massachusetts elected officials was nearly universal. "Scaring an entire region, tying up the T and major roadways, and forcing first responders to spend 12 hours chasing down trinkets instead of terrorists is marketing run amok," Rep. Edward J. Markey told The Boston Globe at the time. "It would be hard to dream up a more appalling publicity stunt."
Former Mayor Tom Menino called the stunt "outrageous," and BPD Spokeswoman Elaine Driscoll called the incident "a colossal waste of money."
But the biggest pushback came from the late Sen. Edward Kennedy, who introduced the Terrorist Hoax Improvement Acts of 2007 to the Senate. It sought harsher penalties for some forms of hoaxes, to extend the scope of hoaxes to include federal terrorism crimes, and make it easier for cities to recoup costs from individuals or companies associated with hoaxes. It never reached a vote, but the message was clear: If you're going to pull off a marketing stunt, be prepared to pay for the consequences.
Turner Broadcasting apologized and reimbursed the city and federal government.
By 4:50 p.m. on January 31, Turner Broadcasting, the parent company of Cartoon Network, publicly accepted responsibility for the stunt. By February 5, Turner and Interference Inc. agreed to pay a total of $2 million to agencies involved in the response, with half of it going to Homeland Security and other related programs. The ATF, FBI, Federal Protective Services, United States Secret Service, Massachusetts State Police, Federal Park Police and Transit Police all redeployed resources during the event to aid local police forces, according to Davis.
Turner issued a statement after the agreement was reached, saying that "in today's post-Sept. 11 environment, it was reasonable and appropriate for citizens and law enforcement officials to take any perceived threat posed by our light boards very seriously and to respond as they did."
Five days later, the head of Cartoon Network resigned.
Years later, the city hired one of the artists to help with the First Night celebration.
After Turner and Interference took responsibility for the stunt—and it came out that Interference asked Zebbler to keep quiet about the signs during the initial panic—Zebbler and Stevens took a plea deal and performed 80 and 60 hours of community service, respectively.
Six years later, Zebbler was hired by First Night Boston to stage an electric light show as the centerpiece of the New Year's Eve celebrations in Copley Square. "We're a forgiving city," Mayor Menino told The Boston Herald. "That's 2007. This is 2013."
Ten years after the panic, Zebbler is still making art in the Boston area. While he hasn't publicly addressed the 10-year anniversary, he alluded to how the stunt might be received today in a Facebook post Monday.
https://www.facebook.com/photo.php?fbid=10100738786942049&set=a.521088437639.2041833.20802135&type=3&theater