Local
Hillary Clinton will speak at Wellesley College's 2017 commencement
The 2016 presidential candidate will address graduating students at her alma mater for the third time.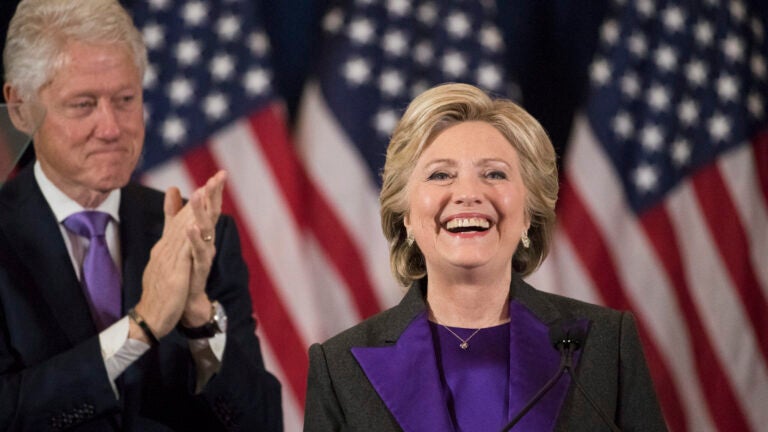 Hillary Clinton will return to the campus in May to speak at the commencement ceremony for the class of 2017, the school's graduating class council said Wednesday.
https://www.facebook.com/Wellesley2017/photos/a.202107693307081.1073741828.202106729973844/642160275968485/?type=3&theater
BREAKING: @HillaryClinton '69 will serve as Wellesley's 2017 commencement speaker

— The Wellesley News (@Wellesley_News) February 1, 2017
This year's commencement ceremony will mark the third time the former secretary of state, senator, first lady, and Democratic presidential candidate speaks from the podium to a graduating class at Wellesley.
In 1969, Clinton made history as the first Wellesley student to ever speak at the college's commencement ceremony. She was selected by her fellow graduating classmates and focused  her speech on what her generation faced on the brink of heading out into the world:
We're not in the positions yet of leadership and power but we do have that indispensable element of criticizing and constructive protest. Part of the problem with just empathy with professed goals is that empathy doesn't do us anything. We've had lots of empathy, we've had lots of sympathy, but we feel that for too long our leaders have viewed politics as the art of the possible, and the challenge now is to practice politics as the art of making what appears to be impossible, possible.

The question about possible and impossible was one that we brought with us to Wellesley four years ago. We arrived not yet knowing what was not possible. Consequently, we expected a lot. Our attitudes are easily understood having grown up, having come to consciousness, in the first five years of this decade. Years dominated by men with dreams, men in the Civil Rights movement, the Peace Corp, the space program.
Clinton reflected on that speech and her time on campus when she gave an address at the graduation ceremony in 1992. She said her speech as a student reflected the "hopes, values, and aspirations" of the women graduating with her and offered some advice of her own:
Hold onto your dreams. Take up the challenge of forging an identity that transcends yourself. Transcend yourself and you will find yourself. Care about something you needn't bother with at all. Throw yourself into the world and make your voice count.

Whether you make your voice count for children or for another cause, enjoy your life's journey. There is no dress rehearsal for life, and you will have to ad lib your way through each scene. The only way to prepare is to do what you have done: Get the best possible education; continue to learn from literature, scripture and history, to understand the human experience as best you can so that you have guideposts charting the terrain toward whatever decisions are right for you.
The Wellesley student body rallied behind Clinton during the 2016 presidential race. Chelsea Clinton stumped for her mother on campus and students held out long into the evening on Election Night, hoping their candidate would come out victorious.