Local
Icy roads cause car crashes across Mass.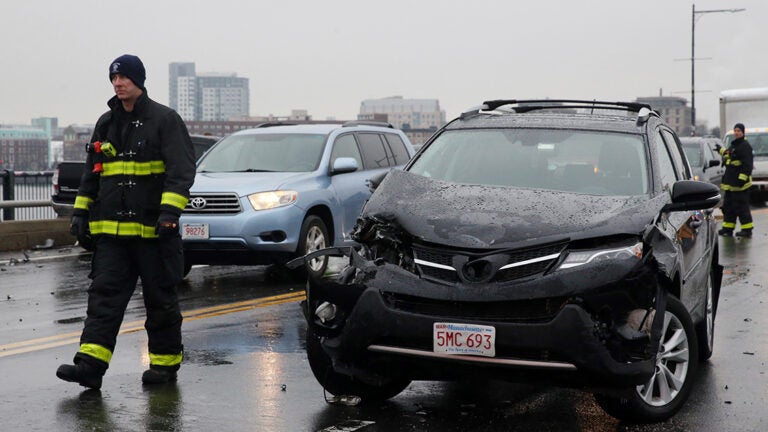 A nor'easter is on the way, and that's never a good thing for transportation. Winter storms cause icy roads, which in turn lead to car crashes, traffic jams, and public transit delays.
A 55-car pileup was reported on Route 128 northbound in Wakefield Wednesday afternoon, where at least 30 of the vehicles involved were towed and eight people were rushed to the hospital. Crashes have also been reported on the Massachusetts Turnpike, Storrow Drive, and Memorial Drive, and in several cities and towns across the Bay State.
PHOTOS: #Wakefield – 128NB – 55 car pileup due to icy weather. 8 people tx to hospitals per WFD. Road just opened. #MAwx #MATraffic pic.twitter.com/ruj2hEvsaW

— 617 Images Boston (@617Images) February 8, 2017
Video of crash in Wakefield #wcvb pic.twitter.com/2136lhuH1a

— Sera Congi (@seracongi) February 8, 2017
Multiple NH cars involved in 55-car pileup in Massachusetts https://t.co/0VigeIUlhT pic.twitter.com/IwiTAyLOLI

— WMUR TV (@WMUR9) February 8, 2017
MSP assisting @WPDComm at crash, Rte 225 btwn Acton & Griffin St's. No injuries, but oper can't be removed until power shut off. Road closed pic.twitter.com/aqzNN6aied

— Mass State Police (@MassStatePolice) February 8, 2017
Black ice is causing multiple pile ups all over #Boston this morning! @universalhub @doogs1227 @BostonAttitude @suntrine1 @617Images pic.twitter.com/pyyB5tlpLa

— Rick Macomber (@boston_camera) February 8, 2017
A real mess on the roads this am…one of many disabled cars getting towed off 93NB in Stoneham/Woburn #NBCBoston #matraffic pic.twitter.com/BAyPw18zyD

— Monica Madeja (@MonicaNBCBoston) February 8, 2017
A car slid down an icy hill and crashed into others in Lynn, Mass.https://t.co/ZbQYQsankL pic.twitter.com/4HgXbTOkXB

— necn (@NECN) February 8, 2017
https://twitter.com/NVermaNBCBoston/status/829344256783478784