Local
Northeast starts to dig out from its biggest storm of season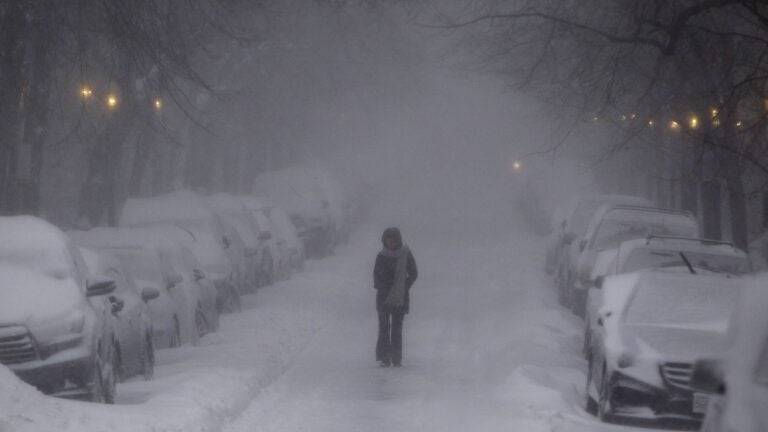 BOSTON (AP) — The Northeast is digging out from a winter storm that dumped a foot or more of snow along the New York-to-Boston corridor, forced the cancellation of schools in cities big and small and grounded thousands of flights.
The storm Thursday came a day after temperatures soared into the 50s and 60s, giving millions of people a taste of spring. But then it was back to reality.
"We were waiting for a good one all year," said Morgan Crum, a manager at Katz Ace Hardware in Glastonbury, Connecticut, where more than 50 people stopped in to buy shovels, ice melt, gas cans and other storm provisions. "We live in New England. This is what we expect."
Numerous accidents were reported as drivers dealt with blowing and drifting snow and slippery streets. Stretches of Interstate 95 in Rhode Island were closed in the afternoon after tractor-trailers got stuck.
Dozens of motorists got stranded on New York's Long Island after they couldn't make it up icy ramps. Suffolk County Executive Steve Bellone said snow plow drivers were going to have a "long night" working on icy roads.
Schools in New York City, Philadelphia, Boston and elsewhere called off classes for the day and government offices told non-essential workers to stay home. The mayor of Boston said schools would be closed Friday as well.
Thousands of flights were canceled across the region and planes bound for New York's Kennedy Airport were ordered held on the ground for hours while crews cleared the runways.
In Rhode Island, they got "thundersnow," with whiteout conditions accompanied by the rumble of thunder.
"It's pretty nuts here," Felecia White said as she and friends hunkered down in a restaurant in Newport, Rhode Island, waiting for the weather to improve. "Even with four-wheel drive, you can't do anything. You can't see across the street."
Some neighborhoods in New York City saw a foot or more of the white stuff. Boston and Providence, Rhode Island, recorded more than 10 inches of snow and East Hartford, Connecticut, saw more than 19 inches.
Farther north, Berwick, Maine, recorded more than 16 inches of snow and Lee, New Hampshire, got 14 inches.
The Philadelphia area was largely spared after being told to expect up to 8 inches. Some suburbs received 5 inches, but by the afternoon, the sun was out.
___
Associated Press writers Chris Carola in Albany, New York; Shawn Marsh in Manasquan, New Jersey; Kiley Armstrong and Verena Dobnik in New York City; Bob Lentz and Mike Sisak in Philadelphia; Dave Collins in Hartford, Connecticut; Mark Pratt, Denise Lavoie and Bob Salsberg in Boston; Michelle Smith, Jennifer McDermott and Matt O'Brien in Providence, Rhode Island; Kathy McCormack and Holly Ramer in Concord, N.H., and Patrick Whittle in Portland, Maine contributed to this report.