Local News
Everything you need to know about Tuesday's snowstorm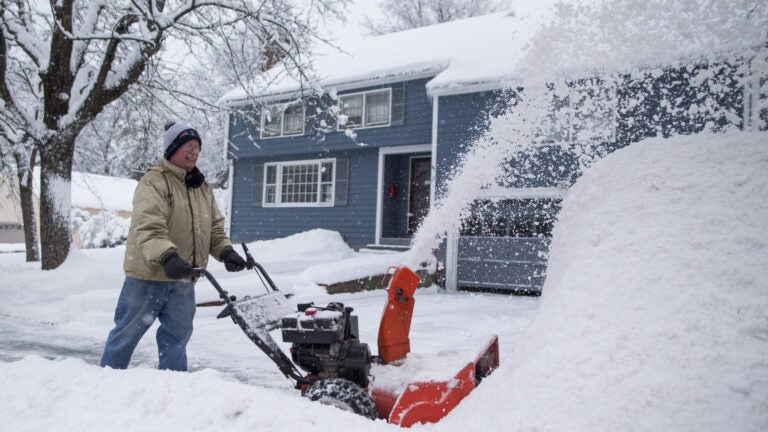 We may be springing forward, but the winter weather isn't over yet.
Forecasters are projecting a major snowstorm to hit New England on Tuesday, which prompted the National Weather Service to issue a blizzard watch for Boston, Providence, and other coastal areas in the region. The agency expanded the blizzard watch Sunday afternoon throughout Eastern Massachusetts.
And while there are still some uncertainties, the current forecasts show this will be a bit more than a flurry for the Boston region. Much more, in fact. Some parts of Massachusetts could see up to two feet of snow Tuesday.
"When this thing hits, it's going to hit hard," Gov. Charlie Baker said in a press conference Monday. Schools in Boston and elsewhere across the state will be closed Tuesday.
Snow
The storm is still being tracked, but some estimates project up to 18 inches of snow will fall on parts of every New England state, except for Vermont. Across Massachusetts, Connecticut, and Rhode Island, as well as southern parts of New Hampshire and Maine, the snowfall range is projected to be 12 to 18 inches.
According to the National Weather Service's updated forecast Monday morning, Boston residents should expect the snow Tuesday to total seven inches at the very minimum — and up to 20 inches at the maximum. The most likely result for the city is between eight and 12 inches of snow through Tuesday evening.
The big question, according to weather service meteorologist Alan Dunham, is how far possible rain and sleet could go up the coast.
The snow could turn to rain and sleet during the afternoon — or not at all, he said.
"Boston is right on that edge," Dunham said. 
According to the weather service, there's a 70 percent chance Tuesday's snow reaches more than a foot in Boston, as well as "a low risk for isolated amounts" of up to two feet in the northeastern parts of Massachusetts.
Snowfall in southern New Hampshire and Maine is also expected to total more than a foot.
Wind
By definition, heavy snow is just one half of a blizzard.
The other half is wind — specifically, sustained winds or frequent gusts of at least 35 mph. The National Weather Service forecasted earlier Sunday that coastal New England could see maximum gusts well over 50 mph.
In Boston, the forecast currently calls for northward winds of 20 to 30 mph, with gusts up to 62 mph.
"Heavy snow, poor visibility and strong winds will make for extremely hazardous travel," the National Weather Service warns. "Strong winds will bring the potential for blizzard conditions and near white-out conditions at times."
Those factor could make many local roads "impassable," according to the service. The blizzard could also result in widespread power outages.
Officials have also issued a coastal flood watch for Massachusetts, including Cape Cod and Nantucket. Forecasts project there to be a two to three foot storm surge during the early Tuesday afternoon high tide.
Timing
The National Weather Service is strongly discouraging travel Tuesday, and the snowfall is slated to begin before most morning commuters would even hit the road. For most of Massachusetts, it is expected to begin prior to 8 a.m. In a press conference Monday, Boston Mayor Marty Walsh said potential white-out conditions were expected to hit Boston around 10 a.m.
"If you don't have to go anywhere, don't," Dunham said.
The snow will become heaviest Tuesday afternoon, falling at rates of two to four inches per hour, officials said. That heavy snow will taper off to snow showers in the evening.
Temperature
Here's at least one silver lining for those dreading the upcoming storm: The temperatures will feel practically spring-like compared to the record-setting lows in parts of the region this past weekend (Boston just missed setting a new record lowest high temperature for March 11 by just 1 degree Saturday).
According to the National Weather Service, the Greater Boston area will see highs in the mid-30s Tuesday, with the temperature dropping to the lower 20s at night.
Commuting and travel
Hundreds of flights
were canceled Tuesday
at Logan Airport and Amtrak train service was largely suspended in New England due to the storm.
In a press conference Monday afternoon, Baker said no travel ban had yet been officially called for Tuesday, but strongly urged residents to stay off the roads unless "absolutely necessary," noting that snowfall could reach a rate of two to hour inches an hour. 
"This isn't going to be a typical storm where it starts slowly and then picks up speed," Baker said. "The message we've been getting from the National Weather Service and others is that … when it starts, it's going to snow hard and it's going to snow quickly."
Baker advised residents to take public transportation. According to the governor, the MBTA plans to run on a normal schedule Tuesday — with the exception of ferry service, which will be suspended, and the Mattapan line, which will be replaced by bus service.
The commuter rail will run on a "severe weather" schedule, which maintains service on all lines, but with fewer trains, Baker said.
Commuter rail will operate Blue Level service Tuesday, 3/14. Trains shaded blue on paper schedules will not run & expresses will run local. pic.twitter.com/vNLpge1mYU

— MBTA Commuter Rail (@MBTA_CR) March 13, 2017
For service updates, check the MBTA website's weather page, as well as the agency's subway and commuter rail Twitter accounts.
Baker said officials at Logan airport expect flight delays and cancellations Tuesday. The governor advised travelers to check with their airline to confirm their flight status.
Boston Public Schools will be closed Tuesday, according to Walsh. The mayor said Monday he also expected potential delayed openings, if not closures, on Wednesday (The Boston Globe has a full list of Massachusetts school closures and delays here).
According to Walsh, a snow emergency and parking ban will take effect in the city beginning at 7 a.m. Tuesday. Trash and recycling pickup will begin early at 5 a.m.
Boston city employees are also off Tuesday, Walsh said, with the exception of public safety, emergency management, and snow removal workers.
The city is also making arrangements to handle overflow at homeless shelters, said Walsh, who asked residents to call 911 if they saw a seemingly homeless person out in the streets during the storm. More information on the the storm's effects can be found on the City of Boston's winter weather webpage.
Walsh also reminded residents that the city's space-saver rule does not go into effect until the snow begins to fall.
Additional reporting by Dialynn Dwyer.