Local
City Hall Plaza will transform for 4 days this fall as part of HUBweek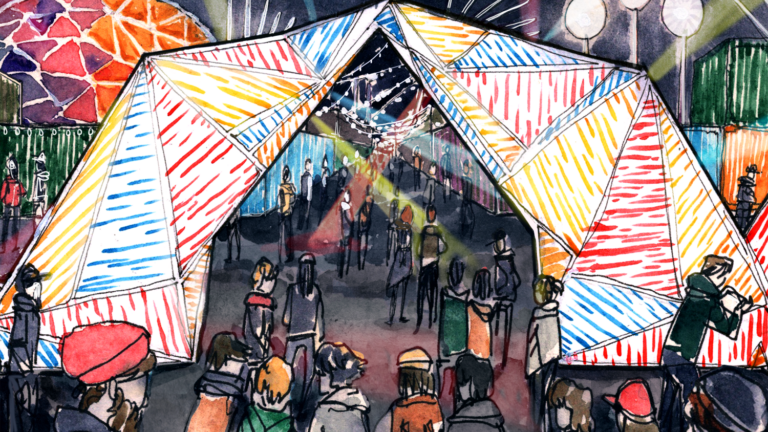 HUBweek just announced a chunk of its 2017 event line-up and plans, which include transforming City Hall Plaza into a funky, inviting location that plays host to a number of events and activities this fall.
The third annual festival celebrating innovation in art, science, and technology will take place from October 10-15.
"We're trying to create a civic experience here," said Brendan Ryan, executive director of HUBweek. "We're trying to create a moment where people feel connected to the work that's happening in this region and support it and advance it."
The award-winning local firm CBT Architects will design the festival site at City Hall Plaza, aptly titled "The HUB." Plans for the location include multiple stages, geodesic domes, and shipping containers for speakers, workshops, performances, and other activities. The HUB will be open during the second half of the festival, from October 12-15.
"We are just building on the strengths and successes of the past two years, and our model that's been really successful is on the one hand, activating the entire community by having events all over the Boston-Cambridge area … but then there's also magic in bringing all of those diverse people and organizations together into one place," Ryan said.
Other newly announced highlights include:
"Future Forum," which Ryan called a "multi-day ideas festival featuring the people from Boston and the people who come to Boston to solve big problems." The forum will take place from October 12-14 and focus primarily on the human impact of innovation. New York Times bestselling author Malcolm Gladwell will interview Atul Gawande, a Harvard Medical School professor and surgeon at Brigham and Women's Hospital, about the future of medicine and his research on systems innovation in healthcare.
"Immersion," which is a nighttime experiential exhibition featuring dozens of live performances, film screenings, and multimedia installations to "… bring people together through art and science, and to really give them a way to experience all the cool stuff that's happening in our community," according to Ryan.
Several events from last year's festival will return, too, including:
The "Spoke" event series, which highlights innovation at companies around Greater Boston. Ryan said Spoke events show off innovation that's happening beyond just Kendall Square and the Seaport. This series will take place from October 10-11.
Demo Day, which awarded $260,000 to Boston startups last year. "We had over 100 companies and 3,000 people come to the Hynes Convention Center to showcase some of the best startups in the area," Ryan said. Demo Day will be back on October 14, and more details will be released in May.
HUBweek is organized through a partnership between The Boston Globe (which shares ownership with Boston.com), Harvard, MIT, and Massachusetts General Hospital.
October 10-15, 2017, HUBweek.org