Local News
This Harvard fraternity will be the university's first to go 'gender-neutral'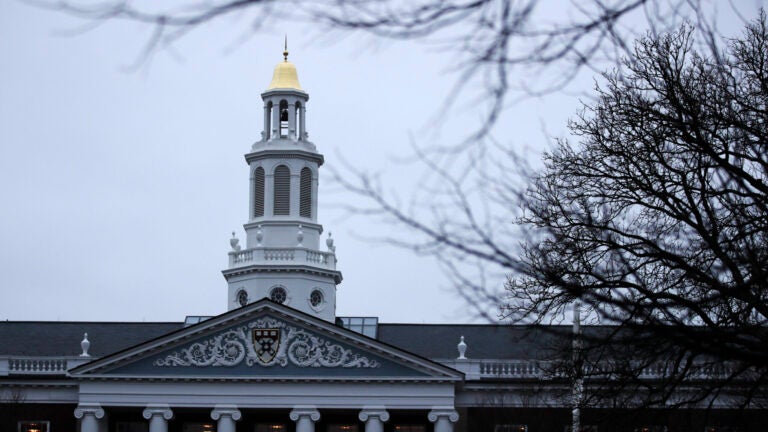 A fraternity at Harvard University has announced its decision to go 'gender-neutral' in the wake of the university's historic sanctions against single-gender student organizations.
The Harvard chapter of Alpha Epsilon Pi will break away from the fraternity's national organization and form its own co-ed social club, The Harvard Crimson reports. It is the first of the university's nine Greek organizations to do so.
The decision comes in part as a response to Harvard's announcement last May that it will bar members of unrecognized single-gender social groups from holding leadership positions, including athletic team captaincies, in recognized student organizations. Members of these single-gender groups will also be ineligible for endorsement from the university for top fellowships, such as the Rhodes Scholarship.
Unrecognized student organizations are groups that are not permitted to conduct any activity at Harvard, according to the university handbook. These groups include fraternities, sororities, and "social clubs." Recognized student organizations receive benefits from the university, such as funding, university affiliation, and the ability to hold events at on-campus locations.
After hundreds of women protested the university's decision, a committee tasked with helping to enforce the university's sanctions recommended in March that traditionally all-female clubs be granted a three-to-five year "bridge period." During this time, these groups would still be able to operate as gender-focused organizations. However, the sanctions would still apply to fraternities and other all-male student groups, such as final clubs.
Current undergraduates will not be affected by the penalties, but they will apply to Harvard's incoming Class of 2021.
The university's sanctions prompted internal discussions among fraternity members, according to a student on the chapter's executive board. Members of Harvard's Alpha Epsilon Pi chapter declined to speak on record about the decision.
The organization held a meeting in May following the announcement of the penalties, and conversations continued until this semester, when the chapter held a formal vote to decide whether or not to have an open rush in the fall 2017 semester.
Ultimately, fraternity members voted in support of an open rush, meaning that it will have to break its affiliation with Alpha Epsilon Pi because the national leadership would not allow the fraternity to retain its chapter status while also admitting women.
"This is not what we wanted; ideally we would remain a part of AEPi and nationals would recognize us breaking down the discriminatory barriers to joining our chapter," chapter president Jake Ascher said in a statement. "Though this is not the case, we remain resolute with our goal and we can say that all of our members will leave AEPi to form a new group."
Harvard University's dean of the college, Rakesh Khurana, expressed his approval of Alpha Epsilon Pi's decision, indicating his excitement to collaborate with the organization as the university works to become more gender-inclusive.
"I applaud the members and leaders of the chapter on its decision to become more equitable and inclusive," Khurana told The Crimson.
The North-American Interfraternity Conference (NIC) condemned Harvard's decision to impose the sanctions only on all-male organizations, calling it a form of gender discrimination.
"What is historic is Harvard's clear, blatant violation of Title IX with its decision to allow only women's groups to continue operating as single-gender organizations," NIC spokeswoman Heather Kirk told Boston.com in an email.
A Harvard spokesperson said in response that the committee recommendation to allow traditionally women's organizations to maintain a gender focus was in response to arguments that the university's sanctions would disproportionately affect women's groups. The spokesperson declined to speak on the record about NIC's comment.
Though Alpha Epsilon Pi is the first of Harvard's Greek organizations to make the move to co-ed membership, it's not the first single-gender group at the university to do so. Harvard's all-male Oak Club was the first to become gender-neutral, and the all-male Spee Club and all-female Sabliere Society and Seneca Club have followed suit. The Sabliere Society has already rebranded itself as the Sab Club and has accepted its inaugural class of men.
For Alpha Epsilon Pi, the change means updating parts of the group's current structure – including the group name, as well as pledging and rushing processes – in order to better accommodate a gender-neutral organization. However, chapter members believe that the values of their community will remain the same.
"We have always placed far more emphasis on being a supportive and welcoming community than an all-male one," Ascher said.