Local
The fall of Aaron Hernandez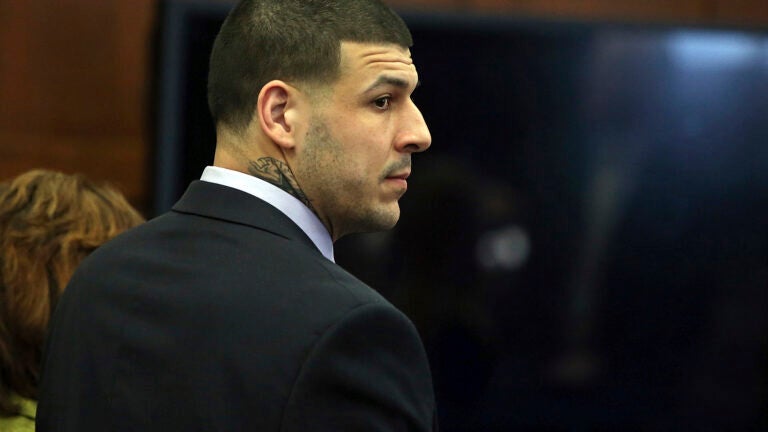 In 2012, when he was 22 years old, Aaron Hernandez signed a record $40 million contract with the New England Patriots. Only five years earlier, Hernandez had been working menial jobs in his hardscrabble hometown of Bristol, Connecticut, where he drove through fading neighborhoods in a $300 used car he had bought with money borrowed from friends.
That was before Hernandez racked up scoring records in high school and rocketed to the University of Florida as a top recruit. It was before he became a collegiate All-American, and then the youngest player in the NFL and finally a rising star on the most successful professional football team of the century.
On the day he signed his new contract, a gleeful, proud Hernandez said he was "set for life, a good life."
Yet 10 months later, in 2013, with the discovery of the body of a friend that had been shot multiple times, his life began a dramatic spiral downward.
He would be convicted of the friend's murder, accused and acquitted of two other killings from 2012 and become a vivid, ready example of out-of-control off-field behavior by NFL players.
On Wednesday, just five days after his acquittal and on the day his former team celebrated its recent Super Bowl victory at the White House, Hernandez, 27, hanged himself in the prison where he was serving a life sentence.
Guards at the Souza Baranowski Correctional Center in Shirley, Massachusetts, found that Hernandez had hanged himself with a bedsheet attached to a cell window around 3 a.m., the Massachusetts Department of Correction said in a statement. He had also attempted to block the door to his cell.
Hernandez was housed in a single cell in the general prison population, the statement said, and a spokesman added that officials had no reason to believe he was a suicide risk, a sentiment later echoed by Hernandez's lawyer. No note was found.
For the past several years, mystery and paradox shrouded the life of Aaron Hernandez, an oft-smiling cog of three Patriots teams who nonetheless never escaped the deleterious effects of his unruly, irregular roots.
Patriots coach Bill Belichick, when asked on CNBC last week to sum up Hernandez in a single word, replied:
"Tragedy."
Asked if Hernandez's fate — at the time, life in prison — was also heartbreaking, Belichick responded: "Yes. That would be another word."
The Patriots cut Hernandez from the roster shortly after his arrest and a spokesman for the team said Wednesday it would have no comment on his death.
Some fans found the twists of his life, and news of his death, shocking.
Dawn McCarthy, 53, a nurse who happened to be visiting Boston from her — and Hernandez's — hometown of Bristol, wiped away a tear as she recalled watching Hernandez play in high school, admiring the "positive attributes he had before he took a sad turn."
As a teenager, she said, "he influenced a lot of students and people hoping to be good football players." McCarthy added that she had avoided media coverage of his murder trials. "It was just a painful thing to watch, read about."
Mike Pouncey, a teammate of Hernandez's at Florida who is now with the Miami Dolphins, wrote on Instagram: "To my friend my brother! Through thick and thin right or wrong we never left each other's side. Today my heart hurts as I got the worse news I could have imagined."
Throughout the many turns of Hernandez's life — a story of success that was frequently tinged with attendant failure — there were only a few constants. One was that Hernandez seemed to live in two worlds. Whether he was leading Florida to a national championship or playing in the white-hot spotlight of the Super Bowl in 2012, his inner circle of friends included small-time ne'er-do-wells he knew from the old neighborhood.
His Bristol associates were with him when he was involved in a bar fight in Florida in 2007 — his first publicized brush with the police — and they were with him six years later in the rented car that drove to the Massachusetts industrial park where the body of his friend Odin Lloyd was found with six bullets in it.
Growing up in the 1990s, Hernandez was known mainly as the athletically gifted, if mischievous, son of Dennis Hernandez, a decorated sports star at the University of Connecticut. Dennis Hernandez was a custodian in Bristol, but around the city he was known as the King.
The elder Hernandez kept a tight rein on Aaron and his older brother Dennis, who was known as D.J. Both Hernandez brothers were renowned for their muscular physiques, competitiveness and talent at football and basketball.
But Aaron, who set Connecticut high school pass receiving records, was often seen with a rough-and-tumble crowd — a matter that worried his father because it might dissuade college recruiters. His friends and family said that Aaron's transgressions were largely minor and that he was largely protected within the community, which understood that he was on his way to greater stardom.
But in 2006, the elder Dennis Hernandez died from complications following hernia surgery. Aaron's mother told local reporters that she was concerned that Aaron might lose the direction in his life that his father had provided.
Shortly thereafter, halfway through his senior year at Bristol Central High School, Aaron left for Florida, where he was permitted to complete his remaining high school classes and was swiftly inculcated into the football program.
As a freshman at Florida, while still 17, Hernandez got into a fight with a bouncer at a bar. He received deferred prosecution after being charged as a juvenile. In the fall of that year, according to The Orlando Sentinel, Hernandez was questioned by the police about a shooting that injured two men. Friends from Connecticut were with Hernandez that night, The Sentinel reported.
Hernandez was suspended briefly as a sophomore for an undisclosed violation of team rules. By his junior year he acknowledged testing positive for marijuana. He decided to skip his senior year and enter the NFL draft. Florida coach Urban Meyer told NFL coaches that Hernandez had been rehabilitated and that Meyer himself had led him in daily Bible study sessions.
Hernandez was widely considered the best tight end available in the 2010 draft. He wrote some teams a personal letter to explain his missteps, but few were swayed. He fell to the Patriots in the fourth round, and most viewed him as a risky pick.
But initially he was a worthwhile gamble.
That season, at 20 years old, Hernandez was the youngest player on an NFL roster. He was immediately productive for the Patriots and apparently stayed out of trouble. With Tom Brady throwing him passes, he was a steady presence and a key contributor in the team's run to the Super Bowl in 2012. But on a team of high-profile stars, Hernandez was always viewed as a loner.
The Patriots' owner, Robert K. Kraft, nonetheless awarded Hernandez an extravagant new contract in 2012, extending his pact with the team by five years and $40 million, which was at the time a record for a tight end and the second-biggest contract extension in NFL history.
At a news conference, Hernandez appeared humbled. He talked of having been nurtured by "the Patriots' way." And he donated $50,000 to a charity of Kraft's.
Kraft called Hernandez's gesture "a touching moment." Roughly a year later, after Hernandez was arrested on suspicion of Lloyd's murder, Kraft told The Boston Globe, "I've been duped, and our whole organization has been duped."
Hernandez and Lloyd, two men who had almost nothing in common other than football, had come together entirely by happenstance in 2013. Lloyd, a 27-year-old semiprofessional football player, began dating the sister of Hernandez's fiancée, Shayanna Jenkins. The two men began socializing together.
That June, at a Boston nightclub, Hernandez became angry with people Lloyd was talking with. Investigators said that Hernandez might have suspected that Lloyd was talking with them about the double murder case in which Hernandez was ultimately acquitted.
Although no murder weapon was found, and no witness to the shooting of Lloyd came forward, prosecutors built a case tying Hernandez to the killing.
Now, under the quirks of an archaic legal doctrine used in Massachusetts, Hernandez will most likely get something he and his lawyers had fought for. His conviction is expected to be vacated by a court because of his death.
__
Victor Mather and Christopher Mele contributed reporting from New York and Jess Bidgood from Boston