Local News
Tensions build before pipeline built in Massachusetts forest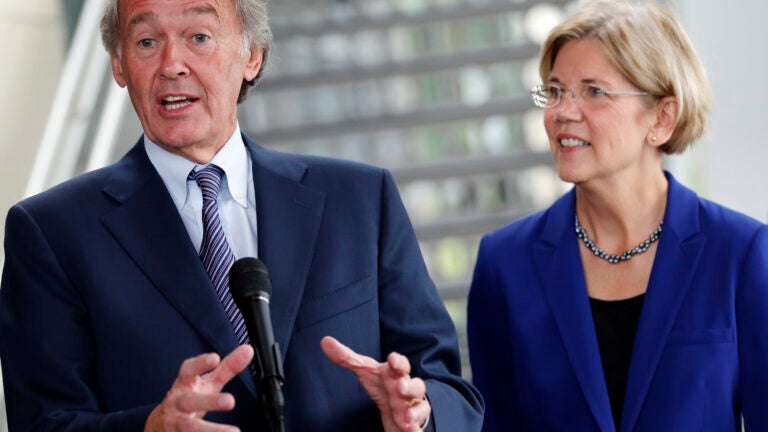 SANDISFIELD, Mass. (AP) — Amid drizzle and mist, the sound of nothing but toads and faint rippling water, the unmarked patrol cars pass slowly by, stop and watch, then move on until the next patrol comes.
It continues like this on a gray morning as Tennessee Gas Pipeline Co. gets ready to start cutting trees here in Otis State Forest.
Apart from one turkey, the only traffic this morning on Cold Spring Road is the host of Kinder Morgan's hired security to patrol the construction site for the company's 2-mile stretch of natural gas pipeline, part of its larger 13-mile Connecticut Expansion Project. Tennessee Gas is a subsidiary of Kinder Morgan.
The 24-inch pipes will go into a run next to two existing pipelines. But the corridor has to be expanded, and that involves cutting into state-owned forest protected by Article 97 of the Massachusetts Constitution, something the state fought before federal law forced it to give the company an easement.
This and legal action by environmentalists delayed the project for about a year.
But in mid-April the company got a green light when the Federal Energy Regulatory Commission issued it a notice to proceed with tree-cutting and construction, galvanizing the company's plans in a town with about 800 residents.
On Wednesday, April 19, however, U.S. Sens. Elizabeth Warren and Edward Markey of Massachusetts challenged FERC over the notice to proceed, saying the commission did not make the decision with necessary quorum, and it still has not officially heard important objections to the project raised by Sandisfield citizens in March 2016.
Workers hired by Tennessee Gas are living at a home the company purchased next to a remote farm here, waiting for the signal to start work, said Sandisfield Select Board Chairwoman Alice Boyd.
And Boyd said an even larger security plan is waiting in the wings. She said the town's fire and police chiefs have attended state meetings about how to manage public safety and emergencies related to the pipeline expansion. She said there are concerns about everything from protests to accidents.
"Then the pipes add a new level of concern," she said. "We've had leaking pipes before. We are not set up to address this. It's very scary stuff."
Fire Chief Ralph Morrison told Boyd that Tennessee Gas has hired three Massachusetts State Police details for daylight hours and eight full-time security guards for around-the-clock coverage.
The security patrols are nice enough when they ask why a reporter has pulled to the side of the road to take photographs; one said he was from Woburn, the other, from East Hartford, Conn. Just making sure there's no trouble, they both say.
Sandisfield resident Susan Baxter is talking to one uniformed security officer who said he had stopped to use the portable toilet at Lower Spectacle Pond, which is across the road from one of the main pipeline access points.
Tennessee Gas is "very nervous" about protests here, Baxter said after he left. "The only way for them to calm down is to communicate with them."
"I live here — I don't want anything bad to happen," she added. Baxter grew up in Sandisfield, moved away then came back.
Baxter is an intervener, one of the residents holding the gas company's feet to the fire throughout the process, and one of those who requested that FERC rehear concerns ranging from environmental concerns to whether there is truly a demand for more natural gas.
"My rights are being abused and I am unhappy," she said, noting that an existing pipeline built in the 1980s runs through her property and makes her nervous. The adjacent existing pipeline was installed in the 1950s.
"These are two high pressure live pipelines," Baxter said.
She said when the 1980s pipes were being installed, workers "popped a hole" in the other one, and the area had to be evacuated.
"FERC allows interveners to object to a (pipeline approval) certificate, and this was not a legal notice to proceed," she said.
Stuart Burke pulls up and said he had come to fish for largemouth bass. The Westfield resident asks why so many signs and flags are marking the area. Baxter tells him about the pipeline, but said she won't say too much about what will happen at this pond.
"I don't want to ruin your good time here," she adds.
Burke appears stricken. "I come here all the time to fish," he said. "It's quiet here, and I'm retired, so on a gray misty day I throw a line in the water."
He said he doesn't mind the pipeline. "But don't mess with this pond."
Tennessee Gas plans to draw water from what is considered a pristine pond to test the new pipes for leaks then release the water, where it will flow toward the Clam River. While the company has a number of conditions attached to local and state permits that require it to take care of these areas, residents and environmentalists are worried pipe chemicals will leach into wetlands and vernal pools.
And Kathryn Eiseman of PipeLine Awareness Network said another concern is "sending a large volume of warmed water into the cold water fisheries."
Another unmarked patrol pulls up and parks near the pond. Inside are plain clothes officers. Soon a patrol with New Jersey plates drives slowly by.
"This is way creepy," Baxter says of the unmarked patrols. "They are very nice, but there's not a lot of communication, so citizens don't know what's going on."
Boyd said she was troubled by this, as well, and will ask Kinder Morgan if they will use marked security details.
Kinder Morgan spokesman Richard Wheatley said he could not comment on this.
"Because we take the safety of the public, our people and our assets very seriously, we do not comment on the specifics of our security efforts," he said in an email.
Boyd has other worries, too.
"A lot of people are coming here," she said of what will soon be an invasion of heavy equipment, cars and more security.
She's also worried about the town's roads — and the town's budget. Tennessee Gas lawyers last year made a verbal agreement to give the town about $1 million for wear and tear to roads, and to reimburse the town's roughly $40,000 in legal fees it took to draft the agreement. After spending "months negotiating in good faith" the company never signed, she said.
"Our town and townspeople are in a very susceptible position and our Select Board remains extremely concerned," she added.
___
Online:
http://bit.ly/2oCcwWR
___
Information from: The Berkshire (Mass.) Eagle, http://www.berkshireeagle.com