Local
Spray away gypsy moths? New England lets nature try first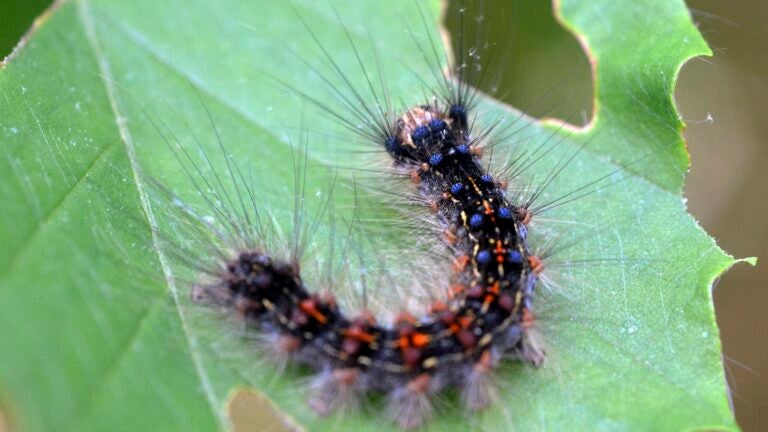 PROVIDENCE, R.I. (AP) — Should New England states spray insecticides to kill gypsy moths before they cause another year of widespread tree defoliation? Some politicians want the government to help eradicate the pests, though entomologists say forests will be better off if nature takes care of itself.
In Rhode Island, Republican House Minority Leader Patricia Morgan said the infestation is a crisis.
"They're already crawling all over the trees," said Morgan, who has seen the juvenile caterpillars in her West Warwick backyard this month. "They're coming out in force."
She has sent a letter calling on Gov. Gina Raimondo, a Democrat, to launch a statewide caterpillar eradication program.
"It's not my place to tell the governor how to do this, but it is my place to protect my constituents and the woodlands and forest and wildlife of Rhode Island," Morgan said. "It was dreadful last year. It's supposed to be worse this year."
The state Department of Environmental Management said Thursday it has no plans to heed Morgan's advice, though it agrees the infestation could be bad again this year.
The furry caterpillars chomped through thousands of acres of Rhode Island foliage last year, leaving the forested western part of the state looking barren instead of green and raising concerns that the most vulnerable trees could begin dying. Defoliation was also rampant in Connecticut and southeastern Massachusetts, the worst infestation in the region since the 1980s.
"All indications are that it will be as bad as last year," said Paul Ricard, who manages forest health for Rhode Island's environmental agency. "It may even be more widespread."
But while some states, such as Pennsylvania and Wisconsin, conduct aerial spraying, Ricard and other New England experts said trying that here would be too costly, harm other species and won't get rid of an invasive moth population that was first brought into Massachusetts in the 1860s.
"States in New England should not be involved with aerial spraying of gypsy moths," said Joseph Elkinton, a professor of entomology at the University of Massachusetts, Amherst. "It makes no sense whatsoever."
Elkinton said the best hope to end the outbreak is a fungus that has proved in past years to be a successful gypsy moth predator. That fungus will thrive if the rainy weather so far this spring continues, he said. And if the fungus doesn't kick in, a caterpillar-killing virus eventually will.
Elkinton and other experts added that careful pest control can make sense for homeowners trying to save their own backyard trees. But for forests, "we're just hoping nature comes through and does its thing," said John Campanini, of the Rhode Island Tree Council.