Local News
Inside Hyannis Port: An interior designer recalls summer days with the Kennedys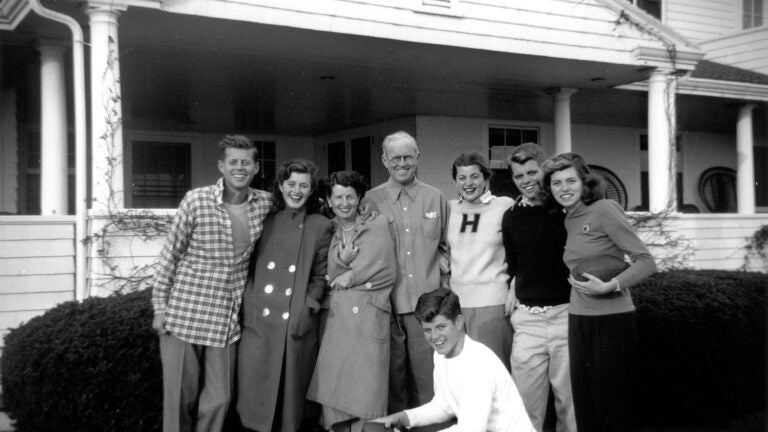 When Jacqueline Kennedy was pregnant, a man named Robert Luddington was tasked with furnishing a special room for her at Hyannis Port, the Kennedys' famous Cape Cod compound.
Luddington, a humble and modest man who is now 92 years old, worked with the entire Kennedy clan for 60 years, serving as an interior designer on multiple homes for the family's matriarch, Rose Kennedy, and, later, for her children and grandchildren. Stretching through the decades of his service as an advisor and confidante to the family, he is known by all members of the Kennedy clan simply as 'Mr. Luddington.'
In a conversation with Boston.com, Luddington shared some memories of his time working with the Kennedys at the summer compound, a place that has been described as the "emotional center of the family." He helped decorate both the main family home purchased by Rose and Joseph P. Kennedy in 1928 and the nearby house where their son, President John F. Kennedy, summered with his family from 1958 until his death in 1963.
Luddington began working with the family in 1957, when Rose Kennedy hired him to help restore the Bowdoin Street apartment on Beacon Hill that served as then-Senator John F. Kennedy's home and office. Throughout the years, he would often receive notes and letters from the Kennedy matriarch while she was traveling or on holiday abroad about work she wanted done. Luddington also traveled to New York and Palm Beach to visit the family's various homes.
Luddington: She had a great love of her home and was very insistent that it be comfortable and livable and that it would be a place that they would always want to return to. She was particularly, shall I say, keen on the comfort and the flexibility of the furnishings, so that they would be not only decorative but practical.
After she had been living in the embassy in London, she acquired several European pieces of furniture, as well as Americana, so the home was very tastefully done. And she was very particular –  at times overly so, to be sure that everything was in order and that it was always prepared for visitors and the children.
Rose Kennedy was always thoughtful and concerned for others, he recalled.
Luddington: If I was missing a button off a shirt, she would offer to sew it on. She allowed me to be the only person other than immediate children that would have use of her New York apartment. And I stayed there many times when I was on business in New York when it was available for my personal use. She was a very considerate and unusual woman. And a very wonderful mother to her children. Never stopped loving them or caring them or advising them. And keeping them together. We would go on walks around Hyannis Port. And if there were personal problems that needed to be discussed about any of the furnishings, then we would have those private conversations. So I was greatly appreciative of her friendship and concern.
If the main house were open to the public now, he said, people would find that few of the original furnishings have been disturbed.
Luddington: I think it portrayed a sense of great taste and I think that it was more formal than some people would assess it today. Because it was during that period, during the 20s and 30s, when things were a more traditional look. 
Luddington started working on President Kennedy's home on the Cape when it was purchased, furnishing the house in a "traditional way" with early American pieces under guidance from Jacqueline Kennedy.
He typically corresponded through the first lady, though the president did sometimes speak to him in person about something related to the home. In addition to his work at the Cape house, Luddington also helped supply some furniture for the White House residence.
Luddington: Jackie was very similar her in her taste level as with her mother-in-law. She liked brighter colors, more contemporary fabrics. It was a pleasure working with her because she was not hesitant making decisions. And again, she was very aware, like her mother-in-law, to make sure the home was comfortable and above all livable and took great pride seeing that it was always open to visitors and always hospitable in nature.
At the Hyannis Port compound, his appointments with Rose and Jackie Kennedy were always scheduled in the morning, since their days were "always filled with activity." This was especially true when the children were there.
Luddington: If they had other appointments, it was usually in the morning, and the afternoons were free for them to enjoy the beach. And of course, the children were out with their sports and swimming lessons and sailing lessons. So especially on weekends, there was a great deal of family activity. And I think that during that period of the 50s and 60s and 70s that the children growing up,  they all had the desire to come back to Hyannis Port as they still do today. It's very remarkable. There were a great many friendships and home activities as well as those of being out on the ocean and the beach.
After President Kennedy's death, Luddington continued to work with his widow, serving almost as a property manager for their Hyannis Port home and later establishing a "very enjoyable relationship" working with Caroline and John F. Kennedy, Jr.
Luddington: Mrs. Kennedy continued to come to the Cape with Caroline and John. Then, she was very concerned about the children continuing to come to the Cape as they grew older. Eventually, John took over the house, and I worked with he and Caroline. We continue to make updates as needed and prepare the house for them for special occasions or events that they were having.
The president's home is now owned by Connecticut State Senator Ted Kennedy Jr. and his wife, Kiki. Luddington said the couple has "done an admirable job" maintaining the character of the house that once belonged to the president. Luddington assisted them with a recent renovation and historic preservation project to keep the history of the home intact.
Rose Kennedy's home on the family compound was passed on to the late Senator Ted Kennedy and his wife, Vicki. Following the senator's death, the home was gifted by the family to the Edward M. Kennedy Institute for the U.S. Senate in 2012.
Luddington said some changes to the main house were made when the senator owned the house — the master bedroom was enlarged and made into a comfortable suite, for example — but otherwise, the personality of the rooms and the collection of items remain the same.
In his time working for the family in Hyannis Port, Luddington said some memories stand out from the rest. But one of the most cherished was a special trip with President Kennedy.
Luddington: I had the great privilege of flying from the front lawn of the house in Hyannis Port in a helicopter with the president and landing on the grounds of the White House. I had appointments with family and commitments in Washington, and Jackie suggested that I fly down with the president. So I flew to [the] Otis air force base then continued on Air Force One and landed on the White House lawn. I was picked up there for my Washington appointments. That was quite a memorable occasion.