Local
Marty Walsh says Boston is committed to the Paris Agreement standards—despite Trump's decision
State and local leaders are doubling down on the international effort to address climate change.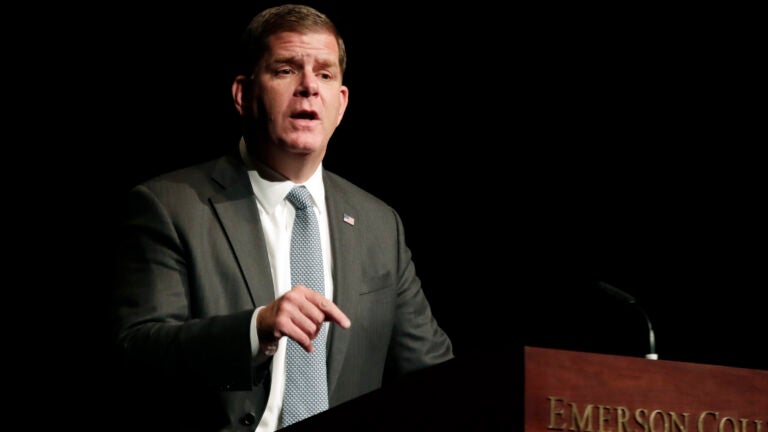 President Donald Trump announced his decision Thursday to withdraw the United States from the Paris Agreement, abdicating the U.S. federal government's commitments to reducing emissions and participating in the worldwide effort to mitigate and adapt to the effects of climate change.
But that doesn't necessarily mean local leaders will follow suit.
.@realDonaldTrump says that the U.S. is pulling out of the #ParisAccord. He better check his geography because Boston will do no such thing.

— Mayor Marty Walsh (@marty_walsh) June 1, 2017
In a sharply worded statement Thursday, Boston Mayor Marty Walsh said Trump's "irresponsible" decision — which was broadly rebuked by both international allies and officials in Massachusetts — damaged the nation's reputation and put future generations at risk to the effects of climate change.
"Boston will not standby given what's at stake," Walsh said. "We are committed to addressing climate change head on and will accelerate Boston's efforts to become carbon neutral by 2050. Fighting climate change means fighting for all those affected by worsening air quality, extreme heat, eroding coastlines — issues that will continue to impact residents for generations to come."
The Paris Agreement is a voluntary accord signed by nearly 200 countries in 2015 to keep the increase in global temperatures this century below 2 degree Celsius — a level of warming that scientists say will still have a substantial impact, but be "less devastating than allowing temperatures to rise unchecked."
The United States' commitments included reducing greenhouse gas emissions 26 to 28 percent below the country's 2005 levels by 2025, as well as providing aid to help less-developed countries reduce their carbon footprint.
In 2007, Boston committed to reducing greenhouse gas emissions by 25 percent by 2020 — a goal the city said it reached in 2014. The city remains committed to reducing emissions by 80 percent and becoming carbon neutral by 2050. Boston received an award for its efforts at the 2015 Paris climate change meetings and has repeatedly topped national lists for energy efficiency. According to a report released last December, the coastal city is particularly vulnerable to the effects of continued sea level rise.
In the wake of Trump's decision Thursday, governors in California, New York, and Washington also doubled down on the United States' previous climate change commitments, announcing the formation of a state-based coalition to uphold the country's emissions goals under the Paris Agreement.
"I am proud to stand with other governors as we make sure that the inaction in D.C. is met by an equal force of action from the states," Washington Gov. Jay Inslee said in a statement. "Today's announcement by the president leaves the full responsibility of climate action on states and cities throughout our nation."
That sentiment was echoed in the Massachusetts legislature.
State Sen. Michael Barrett, a Lexington Democrat, announced Thursday afternoon that he was introducing a resolution to put the state on record in favor of a state- and city-level effort to meet the United States' commitment under the Paris Agreement.
"Even as Washington surrenders its leadership among nations, it's also losing its capacity to affect steps taken by the rest of us," Barrett said in a statement. "Massachusetts can move forward in cooperation with cities and states across this country and with other nations across the world."
Barrett said he was hopeful his resolution could attract bipartisan cosponsors, noting the support for the Paris Agreement by local Republicans, such as Gov. Charlie Baker and Mitt Romney.
"We can do this without the participation of our own national government, as sad as that will be," Barrett said.