Local
8 questions about the Bella Bond murder trial, answered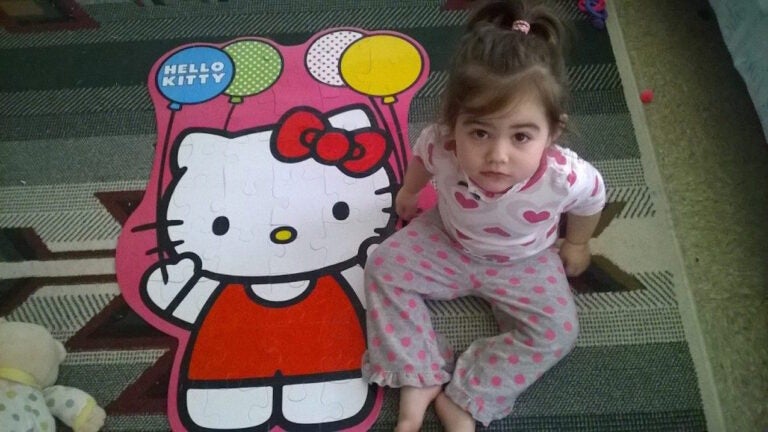 Two years after her body was discovered on Deer Island, the man accused of killing the toddler who was known for months only as "Baby Doe" was found guilty Monday of second-degree murder.
Michael McCarthy was convicted of murdering his former girlfriend's 2-year-old daughter, Bella Bond, and dumping her body in Boston Harbor. He pleaded not guilty to the crime. His lawyer had argued that it was Bella's mother, Rachelle Bond, who killed the child. Rachelle Bond has also denied that she murdered her daughter.
Here are the answers to eight questions about the life and death of Bella Bond – and the quest to bring her killer to justice.
Who was Baby Doe?
Two-year-old Bella Nevaeh Amoroso Bond, who authorities referred to as "Baby Doe"' for three months before her remains were identified, was born on Aug. 6, 2012 at Boston Medical Center, according to The Boston Globe. Her biological father, Joseph Amoroso, a Florida resident with lengthy criminal record, told the newspaper he was never involved in her life and never met his daughter.
Bella's body was found in a plastic bag on the shore of Deer Island by a woman walking her dog on June 25, 2015. In the following months, investigators circulated a computer-generated image of the toddler they began calling "Baby Doe" with photos of the polka-dot leggings and zebra-print blanket that were found with her body.
After investigating hundreds of leads in a search that spanned across the country, the break in the case arrived in September 2015 when Rachelle Bond told a friend, Michael Sprinsky, that McCarthy killed her daughter and she helped dispose of the body. Sprinsky then contacted authorities.
Police arrested McCarthy on Sept. 18, 2015, and charged him with the toddler's murder.
What do we know about her short life?
Bond had struggled with drug addiction and had been arrested on a prostitution offense — twice in 2010 and once in 2011, according to WCVB.
The Department of Children and Families had contact with Bella twice, in 2012 and 2013, both times involving support for neglect. According to the Globe, each time the case was closed within a few months. Bond has two other older children who were adopted by her mother after her parental rights were terminated between 2001 and 2006.
The Office of the Child Advocate later found that a DCF worker copied information from 2006 when writing reports on Bond in 2012 and 2013. That worker received a "formal written warning" in December 2015, according to the Globe.
They moved into an apartment on Maxwell Street in Dorchester around Bella's first birthday, where Bond decorated Bella's room with monkeys, her favorite animal, according to the Globe.
Friends told the newspaper that Bond and McCarthy met in January 2015.  Around that time, Bond stopped updating her Facebook page, which previously had been filled with pictures of Bella. Neighbors told the Globe they could often hear the young girl crying through the walls.
One neighbor testified Wednesday that while Bond appeared to be determined to stay clean and do her her best for Bella, once her boyfriend, McCarthy, moved into the apartment, the mother's behavior changed.
Prosecutors said in September 2015 that Sprinksy told police that, while living with Bond and McCarthy for a few weeks during the winter, he witnessed the couple lock Bella in the closet while she screamed. During his testimony, Sprinksy said he witnessed escalating abuse of Bella in the spring of 2015, with both Bond and McCarthy expressing the belief that demons were possessing the girl.
How did she die?
Prosecutors allege that McCarthy went into Bella's room the night she died in May or June 2015 when the toddler wouldn't go to sleep. When Bond went into the room, she saw her boyfriend slamming his fist into Bella's stomach, and her skin was blue or gray, according to authorities. Prosecutors said Tuesday when Bond picked up her dead child, McCarthy grabbed her around the neck and threatened to kill her if she told anyone, saying the child was "a demon" and "it was her time to die."
Prosecutors previously said McCarthy put the girl's body in a garbage bag in the refrigerator. A few days later, he forced Bond to go with him to South Boston to help dump Bella's body, which was wrapped in the plastic bag in a weighted duffle bag, into the harbor, prosecutors said.
Her body washed up weeks later on Deer Island.
Investigators testified during the trial that when her body was found it was in an advanced state of decomposition. The state's chief medical examiner testified that while he found bruises on the girl's' arms, thighs, and abdomen, he did not find conclusive medical evidence showing Bella died from a punch to her stomach. According to the Globe,  Dr. Henry Nields said on the stand that Bella could have died from asphyxiation caused by compression on her abdomen or chest, or from a blow to her chest area that stopped her heart, but noted his findings were not conclusive.
Why did it take so long to identify her?
During the course of the investigation, officials were able to determine through pollen and isotope analyses that "Baby Doe" lived in the area and had spent time in New England before her death. Tips poured in after investigators released the composite image of "Baby Doe," but none of those closest to Bella Bond contacted authorities after seeing the photo.
Prosecutors said Rachelle Bond lied to several people about where her daughter was, saying the child was with other family members. She claimed on a form for housing subsidy benefits that Bella was still alive.
Bella's father, Amoroso, told the Globe in September 2015 that when he went to Bond's home in Dorchester with the goal of meeting his daughter for the first time, Bond told him Bella was on Cape Cod. Later, he said she told him McCarthy killed their daughter and the pair talked about going to the authorities, though neither of them did before police were contacted by Sprinksy, according to the Globe.
Amoroso told the paper that he never saw the composite image of Bella and insisted that the photo circulated by authorities did not look like his daughter did "in the flesh." His mother, Patricia Drake, who lives in Lynn, told the Globe she was praying "Baby Doe" wasn't her granddaughter.
Drake said "knew something wasn't right" Bond stopped bringing Bella to her home when the child was about eight months old. Drake and her son told the newspaper they called DCF about Bella's safety in 2012 and 2013 but that the department did nothing.
"They couldn't give me any information whatsoever . . . where she is or anything," Drake told the Globe of one of her calls she made before the girl's body was discovered.
Who is Michael McCarthy?
People who knew McCarthy, who is from Boston, told the Globe that he was driven by drugs, prone to bizarre outbursts and obsessed with demons. According to the Globe, during the summer of 2015, when Bella was already dead, he started telling people that his girlfriend's daughter was filled with demons.
McCarthy's attorney has argued that it was Bond who killed the girl and disposed of her body. His attorney, Jonathan Shapiro, said in his opening statement that at the time of Bella's death, McCarthy was partially disabled with a broken collarbone from a seizure. Shapiro described the man's interest in the supernatural as "scholarly," arguing it was Bella's mother who was obsessed with demons. Shapiro said that Bond fooled McCarthy, along with the rest of her family and friends, by telling him that DCF had taken Bella.
What was McCarthy's relationship with Bella Bond?
Rachelle Bond testified that until the night Bella was killed, she was never afraid McCarthy would hurt her daughter. She said her boyfriend played with the young girl and picked her up, but told Bond that she indulged her child too much, according to the Globe.
McCarthy's attorney played an audio recording of McCarthy telling Bella how to deal with the monsters in her nightmares, telling the toddler she could use love to blow the heads off the creatures.
What punishment does he face?
McCarthy was charged with first-degree murder in the case, but Judge Janet Sanders allowed jurors to consider two other lesser charges — second-degree murder and involuntary manslaughter — in their deliberations. Sanders told the jury before they began deliberating that they did not have to prove McCarthy acted alone in killing Bella.
After about 23 hours of deliberation, the jury found McCarthy guilty of murder in the second degree, which carries a maximum sentence of life in prison with the possibility of parole after 15 years.
Has anyone else been charged in connection to Bella's death?
Bond pleaded guilty in February to accessory after the fact to murder and larceny over $250 by false pretense for continuing to collect state benefits for Bella after her death. In exchange for her promise to testify, after the trial, Bond will be credited with time served and placed on two years of probation, according to the Globe. Bond faced the possibility of seven years in prison for the accessory charge and 10 years for the larceny, according to the Globe. She has been incarcerated since her arrest in September 2015.