Local
She's accused of texting him to suicide. Is that enough to convict?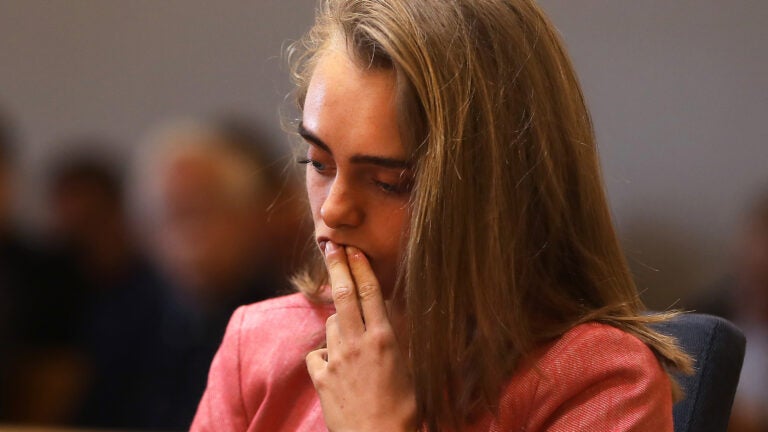 TAUNTON, Mass. — The teenage couple shared mundane text messages — about a walk and a trip to get ice cream. But there were darker ones.
"It's time, babe," Michelle Carter, then 17, texted to her boyfriend, Conrad Roy, who had just texted that he was "ready."
"You know that," she wrote. "When you get back from the beach you've gotta do it. You're ready."
"Okay, I will," Roy, 18, typed back, adding: "No more thinking."
"Yes, no more thinking," Carter wrote. "You need to just do it."
On Tuesday, Carter, now 20, is to stand trial here on a charge of involuntary manslaughter in the death of Roy, who was found dead in his truck in 2014, after that exchange of text messages, more texts and two phone calls.
Roy was found near a compression pump that had filled the car with carbon monoxide, in a Kmart parking lot in Fairhaven, Massachusetts, and his death was deemed a suicide. But prosecutors say Carter was to blame.
The case against Carter is not without precedent, but such cases are rare and raise unusual challenges for prosecutors: To what extent can one person be responsible — and criminally liable — for the suicide of another person?
"The key issue is going to be causation, of who actually caused the death," said Laurie Levenson, a professor of law at Loyola Law School in Los Angeles, who said suicide was generally considered the victim's decision. "Did she," Levenson said, "or did the victim himself?"
Armed with reams of text messages, prosecutors have argued in court filings that Carter essentially caused Roy's suicide, saying she pressured him to kill himself on numerous occasions and even discussed the best methods. They have pointed to phone records and other text messages that suggest the couple were talking on the phone even as Roy was in the car just before his death. Citing another message she sent to a friend, the prosecutors say she even told him to get back in the car at one point when he climbed out of it and was having second thoughts. If it wasn't for Carter, the prosecutors say, Roy would not have killed himself.
But Carter's defense lawyers, as well as civil liberties advocates, say there is no law against encouraging someone to commit suicide in Massachusetts (unlike many other states). The lawyers say that prosecutors are stretching the definition of involuntary manslaughter and that it was ultimately Roy who caused his own death.
"The state has got to show not just that there was encouragement, but that Carter killed this young man with her words, and that's a really significant obstacle for the prosecution," said Matthew Segal of the American Civil Liberties Union of Massachusetts, which filed a brief, with the state's public defender agency, to the state's highest court in support of Carter's case.
"Just because Ms. Carter's conduct may have been wrong," Segal said, "doesn't mean there's necessarily a law in Massachusetts that made it a crime."
Carter's lawyers had previously sought to have the indictment dismissed, saying among other things that her exchanges with Roy amounted to protected speech and that she was not physically present at Roy's death and thus could not have physically caused it.
But the state's highest court allowed the case to proceed, citing two cases from the 1960s in which people faced involuntary manslaughter convictions for self-inflicted deaths of another person. One case involved people who took part in a game of Russian roulette; another involved a man who helped his wife load a gun and offered tips on its use.
Robert Cordy, a Supreme Judicial Court justice, acknowledged that Carter's case was the first involuntary manslaughter indictment they had considered "on the basis of words alone."
But the circumstances in this case may have meant that Carter's final communications with Roy carried "more weight than mere words, overcoming any independent will to live he might have had," wrote Cordy, who has since retired.
"It is in those final moments," Cordy continued, "when the victim had gotten out of his truck, expressing doubts about killing himself, on which a verdict in this case may ultimately turn."
Many states have laws criminalizing the encouragement or abetting of a suicide, but cases like Carter's are fairly unusual, legal experts said.
"It's very rare to have the situation where it seems that someone is trying to deliberately encourage someone to commit suicide," said Eugene Volokh, a law professor at UCLA who has written about issues of free speech.
Some similar cases have involved less serious charges than manslaughter.
In 2011, William Melchert-Dinkel, a nurse in Minnesota, was convicted of aiding suicide after he posed as a suicidal woman in online chat rooms and urged two despondent individuals to kill themselves. Three years later, that state's Supreme Court reversed the convictions, saying parts of Minnesota's law against encouraging suicide violated the First Amendment. The court said the law that banned "encouraging" suicide violated the state Constitution, though it left intact part of the law that banned assisting suicide, and Melchert-Dinkel was found guilty of one count of assisting suicide and one count of attempting to assist suicide, and served less than six months in prison.
In 2008, Lori Drew, a Missouri mother, was accused of using a fake account on the social networking website Myspace to upset a 13-year-old girl, Megan Meier, with whom her own teenage daughter did not get along. The fake account, ostensibly a teenage boy, sent Meier a message saying the world would be better off without her. She committed suicide that day, and Drew was ultimately convicted of three counts of misdemeanor computer fraud in federal court, but the verdicts were later thrown out.
Earlier this year, a Dairy Queen manager in Missouri was charged with involuntary manslaughter; prosecutors said she was harassing an employee who later committed suicide, according to The Associated Press. The case has not yet gone to trial.
A lawyer for Carter, Joseph P. Cataldo, did not respond to messages seeking comment. But Monday, Carter chose to have the case tried by a judge, rather than a jury. That approach is sometimes used by defendants in emotionally charged cases who want to bypass a jury in favor of a more dispassionate determination from a judge.
"The defendant is hoping that the judge will acquit or dismiss the case by following traditional notions of causation," said Joseph E. Kennedy, a professor who teaches criminal law at the University of North Carolina, adding that cases like this could nevertheless raise difficult questions about suicide and criminal liability.
"Do you get to taunt a suicidal person standing at the edge of a building and scream 'jump' at them?" Kennedy said. "The answer to that's not clear."