Local
3 things we've learned from the Michelle Carter suicide-by-text trial so far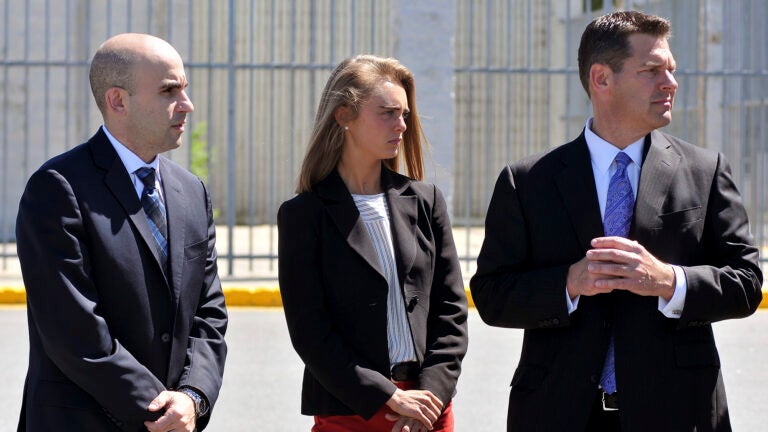 The first two days of the Michelle Carter manslaughter trial painted a picture of two desperately sad teenagers.
Carter, a now-20-year-old Plainville resident, is accused of persuading her boyfriend Conrad Roy III to commit suicide in 2014. Texts between the two teenagers show Carter (at times relentlessly) pressuring Roy to follow through on his thoughts about committing suicide.
Both had a history of struggling with mental illness, and Roy had previously attempted suicide in 2012. Prosecutors argue Carter's texts pushed him over the edge.
What were her possible reasons for the texts?
In the opening days of the trial, Bristol Assistant District Attorney Maryclare Flynn presented the case that Carter, then 17, hoped to use her 18-year-old boyfriend's suicide to improve her own social life.
According to The Boston Globe, texts presented in court show Carter describing herself as lonely:
"Yeah I have school friends that all say they love me . . . [but] no one ever asks to hang out with me. No one ever calls me or texts me," Carter texted to Samantha Boardman, according to testimony at Carter's involuntary manslaughter trial Tuesday. "It's always me who has to do it.''

…

To another acquaintance, she wrote: "Stop telling me how wonderful and beautiful I am. Beautiful girls get invited to parties and their friends call and wanna hang out . . . I have like no friends. I am alone all the time."
According to Flynn, Carter used Roy's suicide to get attention.
ADA: Ppl started consoling her after Conrad's death & she enjoyed the attn She started posting about him on FB and said "LOL I'm famous now"

— Jan Ransom (@Jan_Ransom) June 6, 2017
"I was on the phone talking to him when he killed himself," she later texted another witness, Ali Eithier, who testified she didn't know Carter very well, according to the Globe.
"I'm the only one he told things too. I should have gotten him more help," Carter reportedly said in another text to Eithier.
Court documents previously released by prosecutors say that Carter also organized and fundraised a memorial baseball tournament for Roy. The tournament was held in Plainville, which, as Carter admitted in a text, was a "long drive" from Roy's hometown of Mattapoisett.
Roy's self-described best friend, Thomas Gammell, testified Tuesday that when he questioned Carter about the tournament's location, she became upset and "wanted to make clear that she was getting credit," according to CNN.
According to prosecutors, the tournament was attended "mainly by Carter's friends and family."
What is her defense for the texts?
Defense lawyers argued that Roy's suicide was his own independent decision, and that Carter's texts urging him to kill himself were partly the result of medication she was taking.
Both sides agreed that Carter and Roy had bonded with each other through their shared mental health struggles. Defense attorney Joseph P. Cataldo had previously said Carter had herself sought psychiatric treatment and tried to convince Roy to do the same — but ultimately accepted and endorsed his suicide plan.
As the Globe reported Tuesday, Cataldo also said his client was on a prescription drug for depression called Celexa, otherwise know by its generic name citalopram. The side effects of the drug contributed for the at-times forceful tone of Carter's texts urging Roy to kill himself.
Cataldo said Carter was taking the drug for "impulse control issues," according to the Globe, and that side effects included "lashing out." According to a federal health website, citalopram may cause "some teenagers and young adults to be agitated, irritable, or display other abnormal behaviors."
What else did she do after Roy's death?
If Carter appeared particularly comfortable in her texts to Roy with the notion of her boyfriend killing himself, she wasn't immediately eager to inform his family members of her role after his death.
Text records show that Carter repeatedly texted Roy's mother, Lynn Roy, in the hours and days after his death, expressing sympathy, but withholding her foreknowledge of her boyfriend's plans.
"You tried your hardest, I tried my hardest, everyone tried their hardest to save him. But he had his mind set on taking his life," Carter said in one text to Lynn Roy, according to the Globe, despite her previous messages to her son, pressuring him to follow through on his plan.
In texts to Boardman after Roy's death, Carter admitted she was on the phone with him during his suicide, but claimed to not know what he was doing.
"I should have known," she wrote. " I should have done something."
But over time, Carter began texting Boardman that she had in fact urged Roy to get back inside his truck, which he had rigged to fill with lethal carbon monoxide.
"Sam, his death is my fault," she wrote in September, according to records filed by the state.
"Like, honestly I could have stopped it," she continued. "I was the one on the phone with him and he got out of the car because it was working and he got scared and I f[—]en told him to get back in, Sam, because I knew he would do it all over the next day and I couldn't have him live the way he was living anymore. I couldn't do it. I wouldn't let him."
According to the Boston Herald, prosecutors had Boardman read the texts aloud in court Wednesday. When she finished, they reportedly paused for emphasis, allowing the courtroom to fill with a "chilling silence."