Local
Boston Pride parade crowd cheers Orlando nightclub shooting survivors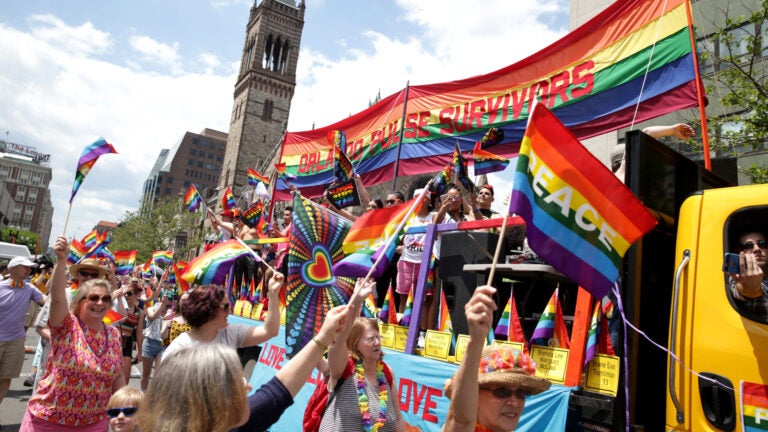 The 47th edition of the Boston Pride Parade marched through the city on Saturday, winding from Copley Square through the South End before finishing at City Hall.
More than 300 groups participated in the parade, and many local politicians, including Massachusetts Sens. Elizabeth Warren and Ed Markey, Attorney General Maura Healey, Rep. Joe Kennedy III, and Boston Mayor Marty Walsh were on hand to celebrate.
I am #wickedproud to be from MA, the state that leads the way for LGBTQ equality. #BostonPride pic.twitter.com/3XkUY7OjOF

— Elizabeth Warren (@elizabethforma) June 10, 2017
March with pride, celebrate our progress, and never stop fighting for equality. Happy #BostonPride! #Pride2017 pic.twitter.com/SSqxGlqxXX

— Maura Healey (@MassAGO) June 10, 2017
So much pride and love in our City today. I am so proud to be Mayor of this City. Happy Pride Day Boston! ?️‍? #PrideBoston #Pride2017 pic.twitter.com/zhAqqrMXNG

— Mayor Marty Walsh (@marty_walsh) June 10, 2017
Some of the biggest cheers from the crowd came for a float carrying survivors of the Pulse nightclub shooting in Orlando, which left 49 dead and 58 wounded on June 12, 2016.
Orlando Pulse Survivors make their way down Boylston Street. #PrideParade pic.twitter.com/ED9CCfbryJ

— BostonTweet (@BostonTweet) June 10, 2017
Huge applause for the Orlando Pulse Survivor float during #BostonPride parade. pic.twitter.com/i5U4zUK9oN

— Eric Kane (@EricKaneTV) June 10, 2017
Pulse Orlando Nightclub survivors float. #awesome #lovetrumpshate #orlandostrong #bostonstrong

Posted by Christopher B. Haynes on Saturday, June 10, 2017
Parade organizers were "very touched" that the 29 survivors who rode on the float were able to join the Pride Parade on Saturday.
"We are very, very touched by their presence, and so we selected them to carry the big 60-foot Pride flag down the entire route of this parade," Parade chair Martha Plaza told The Boston Globe.
Last minute prep before start of #BostonPride parade. There's a float with 29 survivors from the #Pulse Nightclub shooting.#nbcboston pic.twitter.com/Z2NX2Wygrj

— Jonathan Choe (@choenbcboston) June 10, 2017
Orlando #Pulse Survivors march in #BostonPride Parade. @boston25 #LoveWins ?❤️ pic.twitter.com/9g9ymDcy6J

— Daniel Miller (@Daniel_Miller8) June 10, 2017
Orlando Pulse survivors at #BostonPride. ❤️????@onePULSEorg #WeWillNotLetHateWin pic.twitter.com/cRM2jj89sP

— isis madrid (@mellamoisis) June 10, 2017
While the Pride Parade served as a celebration, the float and its passengers also served as a reminder of the worst mass shooting in U.S. history.
Cheers and tears as the float carrying 29
survivors of the #Pulsenightclub massacre roll down Boylston Street. #bostonpride pic.twitter.com/it2AxUik6K

— KarynRegal (@Karynregal) June 10, 2017
The reason why I'm here today. #Bostonpride #pulseorlando ?️‍? pic.twitter.com/s65OP3pNxO

— Daniel A. Guzman (@DGQuoVadimus) June 10, 2017
Thank you for the honor #PulseNightClub to walk with you at #BostonPride pic.twitter.com/dwdOion44F

— Break Me Not (@break_me_not_) June 10, 2017
https://www.instagram.com/p/BVKqlkJFklT/