Local
U.S. Interior chief visits Maine monument that's under review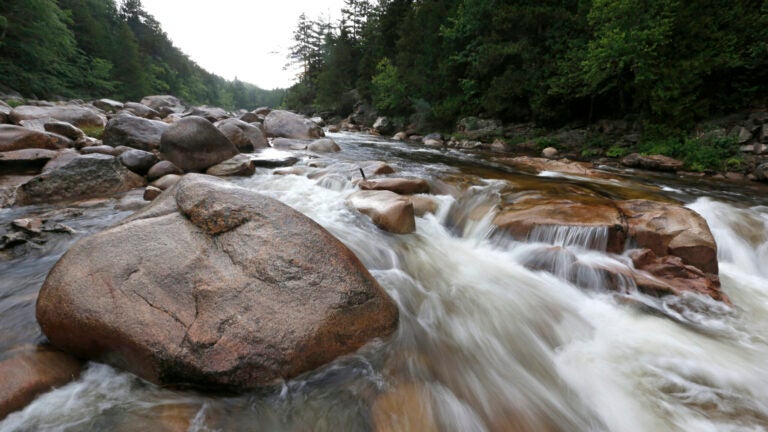 MEDWAY, Maine (AP) — U.S. Interior Secretary Ryan Zinke said Wednesday that the goal of his tour of a newly created national monument that's under review by President Donald Trump's administration is to ensure that local communities had a "proper voice" in the designation.
Zinke began his tour of Katahdin Woods and Waters National Monument after meeting the night before with Republican Gov. Paul LePage, a key critic of the designation by President Barack Obama.
Describing his visit as "a learning trip," Zinke said he's not advocating for the sale or transfer of public lands. He also said he supports mixed uses of public lands.
Trump, a Republican, has ordered the review of more than two dozen national monuments, including the one in Maine, which is situated on 87,500 acres (35,410 hectares) of privately donated land adjacent to Baxter State Park, home of Mount Katahdin, the state's highest peak.
Zinke was scheduled to spend the day driving, hiking and canoeing through the monument grounds and waters.
LePage has been a vocal critic of the monument and testified against its creation before Congress last month. He and others have contended that federal ownership of the land would stymie economic development, and LePage has questioned whether the region he called a "mosquito area" is naturally beautiful enough to warrant special protection.
But supporters of the monument say it could provide an economic boost by drawing visitors to a region that's struggling after the closing of a pair of paper mills.
Lucas St. Clair, whose family donated the land and created an endowment to support it, said the governor's criticism and refusal to allow road signs directing motorists to the site is backfiring by driving attention to it.
He said some folks have begun wearing "Exit 264" signs to inform people of how to get to the monument, since there's no sign on Interstate 95, he said.
Democratic Attorney General Janet Mills said this week that she would challenge attempts by Trump's administration to abolish it.
Mills said Zinke's Interior Department "should instead terminate its review of the Katahdin Woods and Waters designation and reaffirm the agency's commitment to making the monument work well for all people, particularly the residents of the Katahdin region who are now counting on it for their economic future."
Zinke, a former Republican congressman from Montana, recommended Monday that the Bears Ears National Monument in Utah be downsized after visiting the site last month.
His statements on Bears Ears were cheered by Utah's Republican leaders and decried by environmentalists and Western tribes who want the lands protected.
Trump has made the review of federal monuments a priority early in his first year in office. He has accused previous administrations of using the federal Antiquities Act to facilitate a "massive federal land grab" by creating monuments.
Another Obama-created New England monument, Northeast Canyons and Seamounts Marine National Monument, is also facing review under Trump.
___
This story has been corrected to show that Interior Secretary Ryan Zinke visited the Bears Ears National Monument in May, not on Monday.