Local
6 questions about Michelle Carter's conviction in the texting suicide trial, answered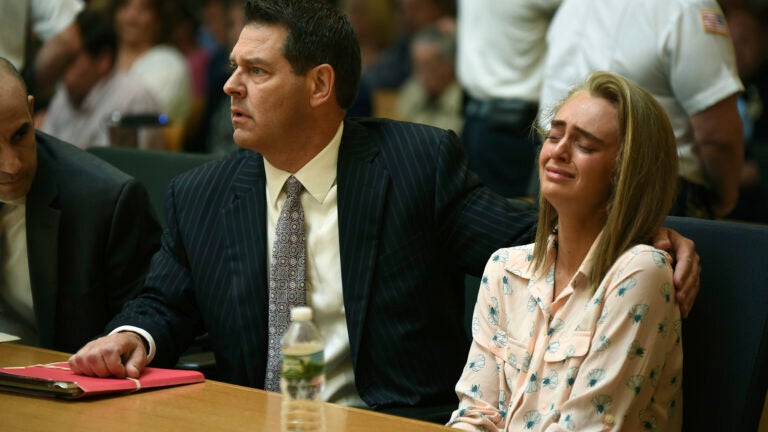 Michelle Carter, the 20-year-old accused of persuading her boyfriend to kill himself in 2014, was convicted Friday of involuntary manslaughter in a case that delved into whether a person's words can cause another's suicide.
Prosecutors argued that Carter's disturbing text messages to Conrad Roy III convinced the then-18-year-old to follow through on his intentions to commit suicide. Roy, of Mattapoisett, was found dead from carbon monoxide poisoning in his truck in Fairhaven in July 2014.
Here's a look at six questions on Carter's conviction and what comes next.
What was the judge's reasoning?
Prosecutors had said Carter told Roy by phone to get back in the vehicle after he got out as fumes were filling the cab of the truck.
Reading his decision in the case, Judge Lawrence Moniz focused on that moment in explaining the context for his verdict.
"Miss Carter had reason to know that Mr. Roy had followed her instruction and placed himself in the toxic environment of that truck,'' Moniz said. "She called no one, and, finally, she did not issue a simple additional instruction, 'Get out of the truck.'"
Moniz referred to two cases as having set some precedent for his decision. In one of them, a man jailed in Northampton 200 years ago was tried for murder after he encouraged a neighboring inmate to hang himself before his execution. The other, less-obscure case he said informed his decision was one that resulted from a 1999 Worcester warehouse fire, started accidentally by a homeless couple, that left six firefighters dead.
Is Michelle Carter in custody?
Carter will remain free on bail until she returns for sentencing on August 3. In the meantime, she cannot leave the state, and Moniz ordered her not to make any contact with Roy's family or other witnesses in the case.
Will she receive the maximum sentence?
Carter faces a maximum of 20 years in prison. However, Moniz wields "a wide range of discretion for sentencing," David Siegel, a professor at New England Law Boston, said prior to the verdict.
Northeastern School of Law professor Daniel Medwed said he thinks it's unlikely that Carter will get the full sentence, given the unusual nature of the case.
"Classic manslaughter charges relate to direct action–a drunk driver killing a pedestrian or a person firing a gun recklessly into a crowd," he said before Moniz's decision. "Here, Carter's actions, as horrible as they were, were one step removed from Roy's death and perhaps the judge will show leniency."
What did the Roy family say about the verdict?
The father of Conrad Roy III thanked prosecutors and police in a brief statement following the verdict.
"This has been a very tough time for our family, and we'd like to just process this verdict that we're happy with," Conrad Roy Jr. said.
Prosecutor Katie Rayburn said afterwards, "There are no winners here today."
What's the reaction in the legal community?
The ACLU of Massachusetts issued a statement immediately following the verdict saying it  ''exceeds the limits of our criminal laws and violates free speech protections guaranteed by the Massachusetts and U.S. Constitutions.''
The conviction could "chill important and worthwhile end-of-life discussions" between loved ones across the state, the ACLU wrote.
"I was surprised because, as a matter of law, manslaughter always struck me as a reach," Medwed said Friday afternoon. "[Carter's] behavior was despicable, morally reprehensible. But I'm not sure it was manslaughter."
Martin Healy, chief legal counsel to the Massachusetts Bar Association, said in a statement that Carter's "fate was sealed through the use of her own words."
"The case will have national implications and is a clarion call that seemingly remote and distant communications will not insulate individuals from heinous acts that could rise to the level of criminal culpability," he said.
From the @MassBar on the #MichelleCarter verdict. pic.twitter.com/4inllmF8fc

— Bob McGovern (@BobMcGovernJr) June 16, 2017
What are the legal implications?
Massachusetts is one of a minority of states that does not have a law that criminalizes encouraging or assisting in a suicide, and Medwed, speaking earlier this week, said he expects the case "will spur the legislature to pass a law creating a distinct crime for the act of encouraging suicide."
Siegel said asserting criminal liability to Carter for her text messages sets a  "very difficult and appropriately troubling bar to cross."
"One extreme, you can imagine a long conversation with an old friend suffering from a serious illness who asks your counsel about possibly ending their life," he said.
Siegel questioned whether Moniz's decision could lead to criminal charges for someone who simply says they "understand" another's desire to commit suicide in that hypothetical situation, as opposed to actively encouraging or aggravating them.
The type of conduct normally required for involuntary manslaughter involves being physically present, Siegel said. Legally, the charge is defined by reckless or inherently dangerous conduct.
"You're present, you take a physical action, and you enable someone else, or create this great risk to someone else, that results in harm to them," he said.
In 2015, the Massachusetts Supreme Judicial Court ruled that Carter was "virtually present" during Roy's suicide, allowing the manslaughter case to go forward.
Laurie Levenson, a law professor at Loyola Law School in Los Angeles told The New York Times that while the decision in Massachusetts isn't likely to set a legal precedent, it could have other influences.
"On the broader societal spectrum, I think it sends a message that behavior that we sometimes attribute to odd teenage behavior can actually be so extreme that it's homicide," she told the newspaper.
Medwed said Friday a long, legal road lies ahead with what will most likely be a long appeals process.
"This is not the last we've heard about Michelle Carter," he said.