Local
Keytar Bear allegedly attacked by New Hampshirites near Faneuil Hall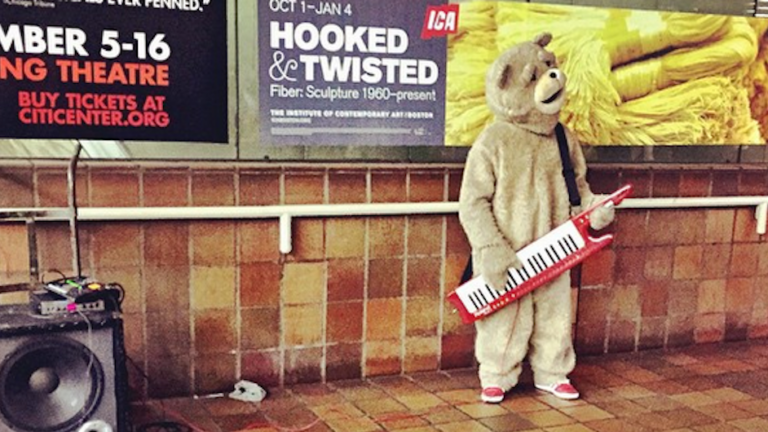 Three young men from New Hampshire were arrested Saturday afternoon for allegedly attacking Boston's Keytar Bear near Faneuil Hall, according to police.
Boston police said Sunday that three juveniles were charged with assault and battery, affray (public fighting), and disorderly conduct for allegedly beating up the beloved keyboard-playing street performer on the corner of State and Congress streets.
The day you feel semi-famous for capturing the attack of Keytar Bear on film… pic.twitter.com/K58cIWhQ6T

— Jessica Baldwin (@jessicajbaldwin) June 18, 2017
Jessica Baldwin, a witness to the attack, told Universal Hub that a group of attackers slammed Keytar Bear into the sidewalk, ripped his bear costume head off, punched him, and pulled the cords out from his keytar and amplifier. According to police, the group hit Keytar Bear in the face several times and hurled racial slurs both at him and witness who attempted to intervene.
Baldwin also said the group, who she said appeared to be drunk, took Keytar Bear's tip money.
Police say the group fled as a nearby officer responded to the commotion in a cruiser with lights and sirens blaring around 4:40 p.m.
The officer then chased the suspects on Water Street toward Devonshire Street, where he ultimately saw three of the suspects try to hide by climbing up a building's scaffolding and laying down on a platform. Police say they climbed down upon the officer's order and were identified as the attackers.
One of the suspects was also charged with underage alcohol possession after officers recovered a small bottle of vodka in his pocket, according to police. Boston Police Civil Rights Unit is investigating the incident, officials said. According to Universal Hub, the scene was flocked by multiple police cars and ambulances responding to the attack.
According to Baldwin, Keytar Bear told her he landed at least one good punch on one of the attackers.
"I clocked one of them really good," the injured musical bear reportedly said.
It's hardly the first time Keytar Bear has been physically assaulted in the last several years. In April 2014, he was forced into a brief hibernation after consecutive attacks, one of which broke his keytar (loyal supporters quickly rallied to crowd-fund a new instrument for him). However, he was beaten and robbed again that fall.