Local
Donations pour in for Keytar Bear following attack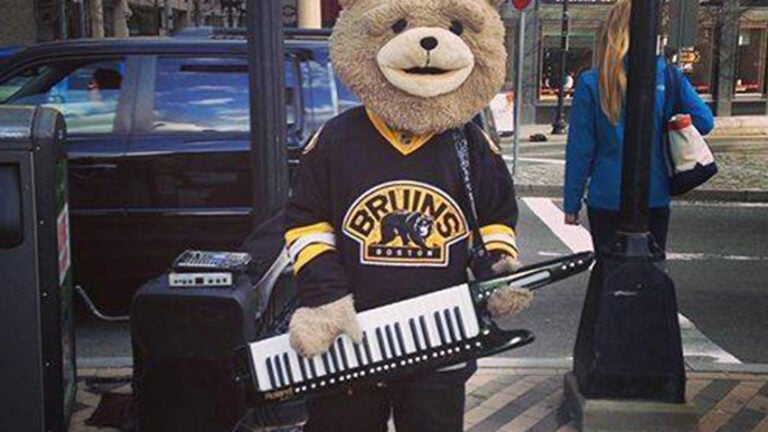 As one person on Twitter eloquently put it, "An attack on Keytar Bear is an attack on all of us." And following Saturday's shocking attack, supporters are rallying in support of Boston's furriest street performer.
A gofundme.com campaign aiming to crowdfund $500 to get Keytar Bear a new stage monitor speaker had raised seven times that much by noon Monday. By 1 p.m., the stream of donations ranging from $5 to $100 had pushed the total over $4,000 [Update: The campaign had raised over $7,000 from more than 330 people by Tuesday morning].
"Wow, I cannot believe the amount of support this has gotten!" Eric Williams, who organized the campaign, wrote Sunday night. "Thank you to everyone who has contributed, I plan on getting him a new monitor and any remaining money will go directly to him!"
In an update Monday morning, Williams said he had gotten in touch with Keytar Bear and would be sending him the first withdrawal this week.
Williams told Boston.com he had initially created the campaign after he saw Keytar Bear perform at a festival at City Hall last week.
Keytar bear at Boston tech jam #BTJ2017 pic.twitter.com/rv15H6gPBB

— Eric Williams (@DesignFreak) June 16, 2017
"My company's tent was next door and he was having some issues, so I helped him out with the settings and figured that he could probably benefit from some new equipment," Williams said. "That's what originally inspired me to create the fundraiser."
Williams said he then received a message from a friend Sunday night alerting him that the campaign was trending and had already raised $2,000 — four times the amount he had priced out for a new speaker and weatherproof case. Williams says he was able to reach Keytar Bear's manager and — with the help of the team behind the performer's Facebook page.
"Needless to say I was extremely excited, but also understood that the sudden traffic increase was likely due to the recent attack," he said. "I'm so thrilled with how many people have rushed to come and support him."
Boston police arrested three teenagers from New Hampshire for their alleged involvement in the Saturday afternoon attack near Faneuil Hall. Witnesses said the group of young males repeatedly hit Keytar Bear in the face, ripped off his bear costume head, and hurled racial slurs at him and those who tried to stop the public assault. The street performer's amplifier was also reportedly damaged in the attack.
It's not the first time the public has rallied behind Keytar Bear following an attack on the beloved performer. In April 2014, the musical bear was forced into hibernation after consecutive assaults damaged his electronic portable keyboard. A subsequent crowdfunding effort to replace the instrument raised more than $5,500.
Amid uncertainty when or if Keytar Bear would play again following the most recent attack, a Facebook account associated with the street performer thanked supporters early Monday morning and expressed interest in returning soon.
"Im in the mood to play music again thank you BPD and all you well wishers," the post read. "It was an unfortunate incident , hopefully it will go away soon ."
https://www.facebook.com/welovekeytarbear/photos/a.454162384705176.1073741825.454161761371905/1313227775465295/?type=3&theater