Local
A brief history of the attacks on Keytar Bear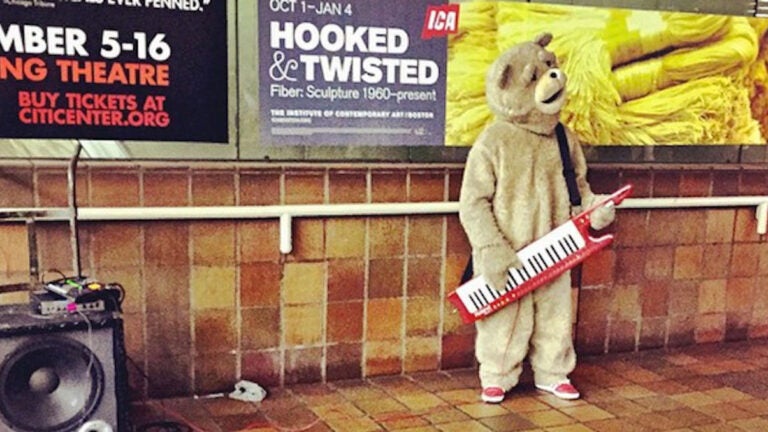 This past weekend, three New Hampshire teenagers were arrested for allegedly attacking Keytar Bear, the iconic keyboard-touting Boston street performer who boasts a loyal following across the city.
Since the altercation, donations have flooded in to help Keytar Bear purchase new equipment. However, this isn't the first time Keytar Bear has been the victim of an attack: The performer was the victim of three different assaults in 2014.
Here is a brief history of the attacks on the beloved Boston bear:
April 2014
In April 2014, Keytar Bear took a leave of absence after a series of attacks left him with a broken keyboard. Keytar Bear told Boston magazine that in the first altercation, the suspect threw a Snapple bottle at him, which broke his keytar, and that the second time, a man pretended to take a selfie with him and then hit him in the nose. At the time, the performer believed the two separate attacks were committed by the same person. Keytar Bear's hiatus was brief, and he returned to the scene after fans crowd-funded a new instrument for him.
October 2014
Two people were arrested for allegedly beating and robbing Keytar Bear in October 2014. Once again, the attack took place near Faneuil Hall. The assailants allegedly took the money from Keytar Bear's tip jar and repeatedly punched him. The street performer said that a knife was involved, but that information was not included in the police report.
June 2017
Last weekend, three teenagers from New Hampshire allegedly assaulted Keytar Bear and hurled racial slurs in his direction and at witnesses who attempted to intervene. Jessica Baldwin, who reportedly witnessed the attack, told Universal Hub that the teens appeared to be drunk, and they ripped off Keytar Bear's costume head, punched him, and pulled out the cords from his keytar and amplifier. They also stole his tip money, she said. Boston police spokesman Mike McCarthy said Tuesday the investigation into the case remains active.