Local
The Cambridge story of Curious George, the resident scamp of Harvard Square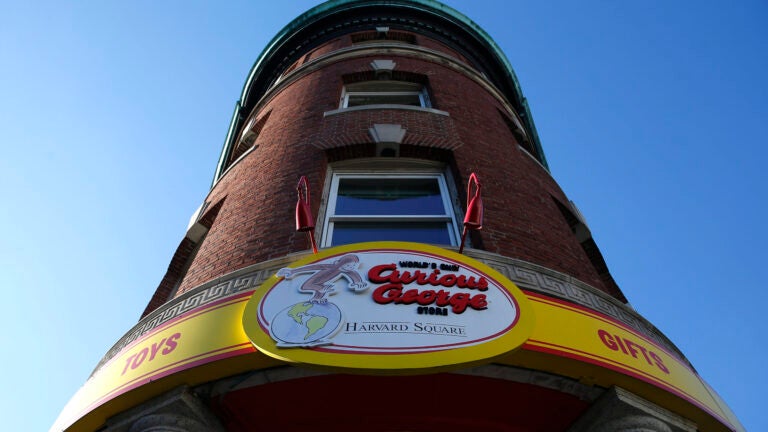 An inquisitive primate named George has captured the hearts of readers young and old around the world for more than 75 years. And in recent decades, a red-lettered sign bearing his name has hung above a children's bookstore in Harvard Square, marking the wedge-shaped Abbot building at 1 JFK Street as his Cambridge home.
But the planned redevelopment of the building means the future of The World's Only Curious George Store is uncertain. New York-based real estate firm Equity One bought the building in 2015 and has put forward a proposal to develop it into an indoor mall. Under the controversial project, which is being called "The Collection at Harvard Square," the tip of the Abbot Building where the Curious George store is housed would be converted into a lobby.
Shop owner Adam Hirsch said he expects the business to remain open for at least another year. He and his wife, Jamie, hope they can find another spot in the square to continue operating. Last fall, Bostonians rallied around the business and its historic nature when Hirsch launched a petition to save the store.
But should the business close, it would mean more than just the loss of an independent bookstore beloved by the community.
The history of Curious George in Cambridge is older than the bookstore that bears his name. His creators, authors Margret and Hans Augusto Rey, lived blocks away on Hilliard Street. And when the first Curious George bookstore came into being in Harvard Square, Margret Rey gave her blessing.
Refugees in Harvard Square
Like the couple who invented him, Curious George arrived in United States as a refugee. The Reys, both German Jews, fled their home in Paris, France, just before German troops took over the city in 1940. The young couple escaped on a two-seated bicycle cobbled together by Hans, carrying with them the draft manuscript for Curious George, according to Anita Silvey, who was the couple's publisher at Houghton Mifflin and a professor of book publishing and librarianship at Simmons College.
Traveling via Brazil, the authors eventually arrived in New York, where Curious George was published in 1941. Hans illustrated and shaped the stories for the books, while Margret created the text, according to Silvey.
"We think of Curious George, of course, as the quintessential American children's book," Silvey said. "And it is one of the great children's books finished here in the United States, but of course it's a true immigrant story."
The Reys later moved to Cambridge, Massachusetts, settling near Harvard Square in 1961, where they each lived until their deaths. In 1966, the couple wrote Curious George Goes to the Hospital, in conjunction with Boston Children's Hospital.
Hans Rey died in 1977. His wife lived until 1996.
In the 1990s, Margret was approached by her neighbors, Donna Friedman and Hillel Stavis, about their idea of starting a children's bookstore inspired by Curious George. At the time, they owned WordsWorth, another book store in the square. She was delighted by the idea.
Friedman said she and her husband worked with their neighbor on the design and got her approval for elements of the store.
"She'd come in and look as we progressed and she had an opinion about colors and things like that," she said. "But primarily she was just happy that someone was taking the idea and going ahead with it."
The store, Curious George & Friends, opened in July 1996. Rey attended the opening, signing autographs for lines of people wrapped around the block. She died later that year.
"It was nice Margret got to see it because she had been our neighbor for so many years and she was just a fun person," Friedman said. "She was really a riot. And she was happy about it."
Curious George, a girl monkey?
Most people don't know that the original inspiration for Curious George was none other than Margret Rey herself. In fact, the curious monkey was originally named "Fifi," a little French female monkey, Silvey said.
"Margret was always asking questions," she said. "She was always curious, and, by the way, getting into a good deal of trouble sometimes because of that."
Curious George wasn't simply imbued with Margret's spirit. Her husband also used her features as a model for the little monkey.
Silvey recalled how when she and Rey were eating at a restaurant in Harvard Square, passersby would sometimes stop and ask why the author looked so familiar. The Curious George creator would strike one of George's poses and proclaim she'd been the model for the primate, Silvey said.
"As she aged, she looked more and more like Curious George," she said. "And she knew that and she delighted in it. She absolutely loved the fact that people could see George's face in hers."
Rey also attended children's birthday parties on the block, arriving with a basket of tiny Curious George stuffed animals, Friedman said. She liked to observe the kids playing while eating a large piece of birthday cake.
"We think of George as a real person," Margret Rey told The Boston Globe in 1976. "We say things like, 'Well George wouldn't do this, but he might do that.' Or, 'George would hate that.' He has very clear likes and dislikes and his own personality, and we talk about him because we know him so well."
A documentary about the Reys, premiering this month at the LA Film Festival, will be screened at the Cambridge Public Library in August.
A literary landmark at risk
Curious George & Friends closed in 2011. Friedman pointed to "exorbitant" rent for the space, uncertainty whether they could stay open during a construction project to fix the building's foundation and sidewalk, and the slowed market following the 2008 financial crisis as factors in the store's closure. Their other shop, WordsWorth, closed in 2004.
Denise Jillson, executive director of the Harvard Square Business Association, said the community pressure to resurrect Curious George in Harvard Square that followed "can only be marveled at."
In 2012, Hirsch opened his shop, The World's Only Curious George Store, in the refurbished space that held the original bookstore and established a relationship with the publisher Houghton Mifflin, which owns the Curious George brand.
"We received approval to create merchandise that's unique to the store and that helped us turn our store into more of a destination, in addition to being the world's only Curious George store," he said.
Hirsch said the most critical need for the store now is finding a new location.
"Just moving two or three blocks in any location, in any direction from where we are, we don't know what type of impact that might have for traffic and sales," he said.
The Reys are just as important to the local literary legacy as other Boston authors, such as Louisa May Alcott, whose home in Concord is open to the public, Silvey said. 
Friedman pointed out that future children would suffer from the loss of that legacy, should the Curious George bookstore disappear.
"Times change, I know that, and I know things have to move forward," she said. "But to let something like that, which is so rare and precious, go, I think is very sad."