Local
Keytar Bear returns to doing what he does best after attack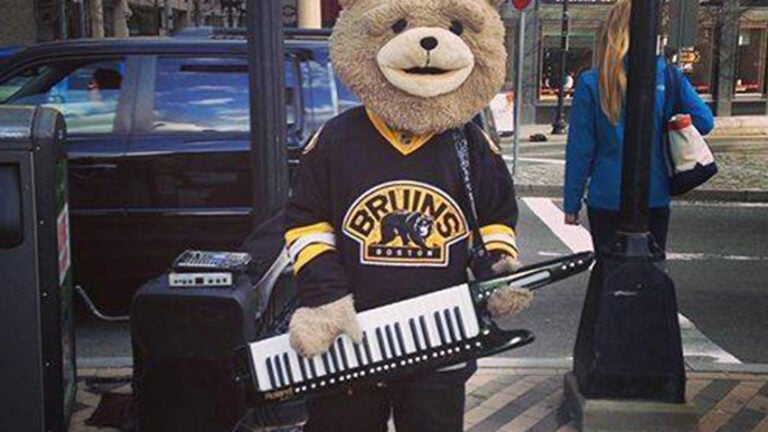 It apparently will have to take more than a bunch of teenagers from New Hampshire to force this bear into hibernation.
Four days after being victimized in a public attack this weekend, Keytar Bear returned to the streets of Boston.
We're so glad to have @KeytarBear back and doing what he does best! #mmbos17 #keytarbear ?? pic.twitter.com/fUi8JZuMli

— Make Music Boston (@makemusicbos) June 21, 2017
The furry costumed street performer reemerged Wednesday at Copley Square as part of the city's celebration of Make Music Day, a worldwide music festival. Boston City Hall will be illuminated orange in observance of the event.
However, it was Keytar Bear's resilient appearance Wednesday afternoon that illuminated the mood of local passers-by.
Carly Copley is enjoying #makemusicday with #keytarbear! ??? pic.twitter.com/XCfsHJo96y

— FairmontCopleyPlaza (@FairmontCopley) June 21, 2017
#KeytarBear at #MakeMusicDay #Boston ? https://t.co/tRQRi4aSI5

— Stephanie Houten (@stephaniehouten) June 21, 2017
#KeytarBear at #MakeMusicDay #Boston ? https://t.co/SA9bEQoSaZ

— MASSCreative (@MASSCreative) June 21, 2017
Despite being the target of several attacks, Keytar Bear has become a local celebrity for his friendly disposition and public renditions covering hit songs. Three juveniles from New Hampshire were arrested Saturday after they allegedly violently mugged the street performer near Faneuil Hall. They could also face hate crime charges.
Keytar Bear has since received an outpouring of public support, with a online campaign crowdfunding more than $9,000 in donations for the bear as of Wednesday afternoon.
Even for a cult favorite like Keytar Bear, that would a pretty good day of tips.