Local
Good Samaritans held truck driver's head above water after crash into pond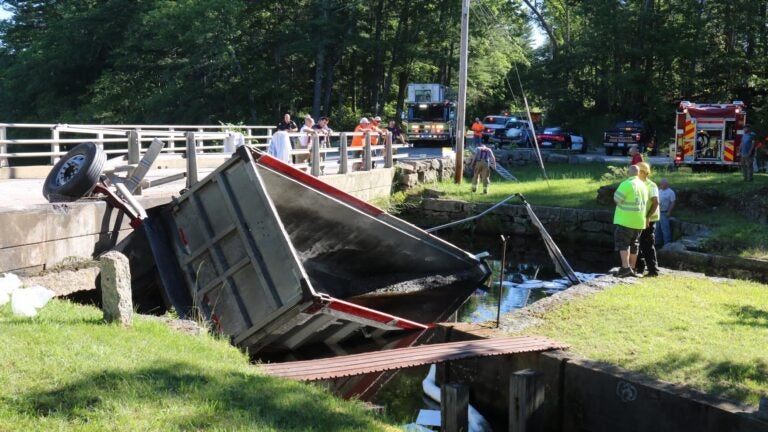 A trapped truck driver was rescued by two witnesses who held his head above water after his vehicle crashed off a small bridge and plunged into a pond.
A police officer, Good Samaritan, and firefighters work to rescue a truck driver in this photo by Rochester fire. pic.twitter.com/OH8ALKB2OM

— Kim Lucey (@KimLucey) June 22, 2017
The truck went over Hiller Street Bridge in Rochester, Mass. around 7 a.m. on Thursday morning, WHDH reports. The driver was trapped in the submerged truck after it rolled over.
Scene right now at the truck roll over in Rochester. Workers removing the barriers presumably for easier access to the truck. @NBC10 pic.twitter.com/ctrH0sutv6

— Lindsay Iadeluca (@NBC10_Lindsay) June 22, 2017
It took officials 40 minutes to extricate the man from the wreckage. Scott Weigel, chief of the Rochester Fire Department, told NBC10 reporter Lindsay Iadeluca that two witnesses to the crash held the driver's head above water, and he credited them with saving his life. One of the witnesses was Officer Nate Valente, an on-duty patrolman.
Way to go Patrolman!
This is Officer Nate Valente who helped save a truck driver from drowning after a crash in Rochester, MA. #wcvb pic.twitter.com/pOySCsAF7m

— Shaun Chaiyabhat (@ShaunWCVB) June 22, 2017
The driver sustained serious injuries and was transported to a hospital in Rhode Island, according to the New Bedford Guide.
The vehicle, which was identified as a truck owned by an asphalt contracting company, was pulled from Leonard Pond around 11 a.m. this morning, after nearly five hours underwater.
Truck that crashed being pulled from water in Rochester MA

Posted by Jacqui Heinrich on Thursday, June 22, 2017
The cause of the crash has yet to be determined.