Local
Triple killing underscores Maine's domestic violence problem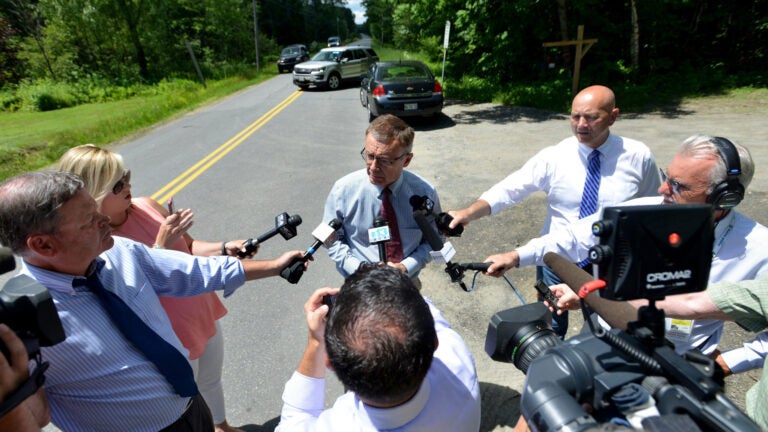 AUGUSTA, Maine (AP) — A Maine man's killing of a woman and their son has underscored the state's long-standing problem of domestic violence, which is linked to about half of homicides.
The rural state has long had a relatively lower crime rate than the nation as a whole, but in a 2015 Violence Policy Center study it ranked among the country's highest for homicides that men commit against women. Democratic Attorney General Janet Mills said that last year seven out of 16 homicide victims lost their lives following domestic violence.
"We need to have a greater impact on boys and young men growing up in our communities who see domestic violence and at least vicariously are the victims of domestic violence and grow up thinking it's OK or it's what you do, how you resolve problems," Mills said Thursday.
Police say 51-year-old Carroll Tuttle Jr., of Madison, killed 52-year-old Lori Hayden, and their son, 25-year-old Dustin Tuttle, at their home on Wednesday. He then killed a neighbor, 57-year-old Michael Spaulding, at his home a short distance away.
Carroll was later shot and killed by police.
A spokesman for the state police said a motive had not been uncovered in the killings, but called the killing of Hayden and her son an "extreme case of domestic violence." Police could not say whether drugs or alcohol were involved, or whether Hayden had been in touch with domestic violence advocates.
Spaulding's 21-year-old son, Michael, told the Morning Sentinel that Carroll Tuttle was abusive and that his father was helping Hayden move out.
Neighbor Wayne Parlin said Tuttle had a temper and was jealous of Hayden. He said he was assaulted a few years earlier by his neighbor.
"He grabbed me by the neck and threw me against the wall and told me to never go there if he's not there," Parlin said.
Court and criminal records show that in 2004, Tuttle pleaded guilty to assault and disorderly conduct charges. A man also filed a protection from abuse order against Tuttle in that same year.
The state has taken a strong stance against domestic violence for years, and Republican Gov. Paul LePage has made the issue a high priority. The governor himself survived child abuse.
The state Legislature passed a law in 2015 that keeps domestic violence criminals from owning guns for five years after the end of their sentences. Supporters said that the law exceeds federal standards to protect victims of domestic violence, as well as to punish abusers.
Several bills addressing domestic violence still await action from lawmakers, including $150,000 in additional funding for batterers intervention programs.
Advocates for those impacted by domestic violence say more needs to be done in terms of prevention and education.
"We need to see it as an overall pattern of behaviors that people use," said Regina Rooney, education and communications director for the Maine Coalition to End Domestic Violence, which is a coalition of domestic violence resource centers across the state.
She told The Associated Press on Thursday that while rural communities can be a strong source of support for victims of domestic violence, a prime tactic of abusers is to isolate partners from support systems and employment.
__
Associated Press writer David Sharp contributed to this report from Portland, Maine.
The state's 24-7 domestic violence hotline is: 1.866.834.HELP.