Local News
Marijuana billboard in South Boston called 'insensitive'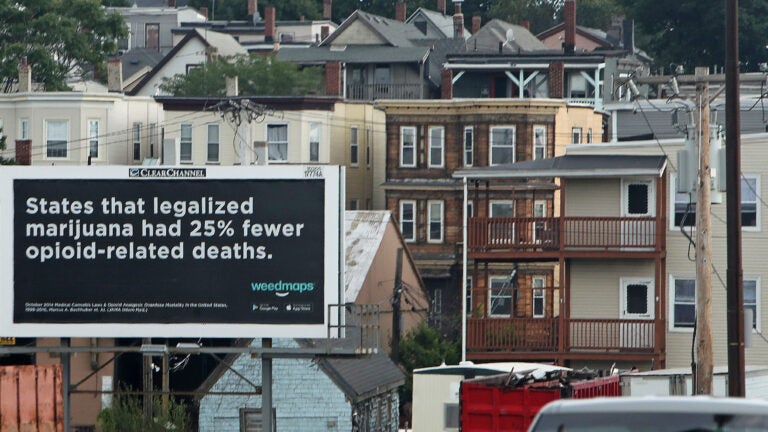 While waiting at a stoplight on East Broadway in South Boston last week, Sheila Greene looked up at a billboard and was stunned. In white letters against a black background, a message read: "States that legalized marijuana had 25% fewer opioid-related deaths.''
Greene was bothered by the fact that the advertisement — from Weedmaps, a California-based company that runs an online marijuana dispensary rating service and sells inventory software to pot shops — was placed in a neighborhood hard hit by opioid abuse. "I couldn't believe it was being advertised,'' she said.
So she contacted a representative of Clear Channel Outdoor — which owns the billboard structure — to point out that the message violated the company's own policy regarding "exclusionary zones.'' Clear Channel's website states that "advertisements of all products illegal for sale to minors that are intended to be read from places of worship, primary and secondary schools or playgrounds'' are prohibited in such zones. Greene estimated there are about 24 places of worship, schools, playgrounds, and after-school and summer programs less than a mile from the site of the billboard at 613-617 East Broadway.
Soon after she lodged her complaint, the message was removed.
"The ad was placed in error at a location not meant for the content displayed,'' Jason King, a spokesman for Clear Channel, said in an e-mail.
The South Boston incident illustrates the kinds of issues communities could face now that marijuana use has been legalized in Massachusetts. State lawmakers are in the midst of rewriting the voter-approved law before recreational sale of the drug is scheduled to begin next July. They have been wrestling with how much control to give cities and towns over marijuana sales, how it can be marketed, and who will regulate the industry.
Greene said she was dismayed to find out that Weedmaps has similar billboard ads in places such as Lynn and Quincy, which have high incidences of opioid-related overdose deaths. In the first three months of the year, there were 450 confirmed and suspected opioid overdose deaths in Massachusetts, according to the latest quarterly data from the state Department of Public Health.
Community-by-community data from 2016 — the latest available — show there were 196 opioid overdose deaths in Boston, compared with 150 in 2015. Lynn had 47 deaths in 2016, two more than the prior year, while Quincy recorded 42, two fewer than in 2015.
"It's just insensitive,'' Greene said. "I'd like to say moronic, but advertisers are smart; they know exactly who they're marketing their products to.''
Chris Beals, president of Weedmaps, said the company has in the past voluntarily pulled down ads in response to community complaints. For example, he said, it removed ads from Toronto's subway and bus routes that showed locations of local dispensaries.
Beals denied that the current "WeedFacts'' ad campaign, which quotes statistics from reports and research journals, is targeting certain neighborhoods or demographics. "Not at all,'' he said. "Incredibly not so.''
Weedmaps has bought space on 80 Clear Channel billboards in Massachusetts, but the company says it can't dictate where the messages will be posted. That decision is made by Clear Channel.
"We basically take billboards on a space-available basis,'' Beals said. "We have little to no say in terms of the [location of the] billboards.''
Weedmaps has been advertising in Massachusetts for seven months. The WeedFacts campaign started in May with two ads, including the one referencing fewer opioid deaths in states that legalized marijuana. The company attributed the information to a study using data collected between 1999 and 2010 that was published three years ago in the Journal of the American Medical Association. The second ad cites a Colorado public health survey indicating marijuana use among young people in Colorado has not increased since the drug was legalized in that state.
Joanne Peterson, executive director at Learn to Cope Inc., a Taunton-based support organization for families dealing with addiction, called Weedmaps's comparison of opioid deaths rates to marijuana use "problematic.''
"People don't just stop using opioids. Ever,'' Peterson said. "It's very rare that somebody can just refuse to use heroin and switch to marijuana.''
She said the statistic Weedmaps is quoting is outdated and shouldn't be advertised in neighborhoods severely affected by drug overdoses.
"We have watched more people dying [of opioid-related overdoses] this past year than any other,'' she said.
The marketing campaign "is misleading, disrespectful, and insensitive,'' Peterson said. "People are burying their family members — they don't need to see that it's better to smoke marijuana.''
Because the cannabis industry is so new, Beals said, Weedmaps's approach in Massachusetts — and particularly in Boston — is to present information "in a respectful way and as factually as possible.'' The company is preparing to roll out a new set of WeedFacts messages to add to the two already on billboards, which have emerged as one of the few marijuana-friendly advertising vehicles.
"We felt that as the state was moving toward a legalized framework that they're working on right now, one should promote dialogue,'' Beals said. "We want to be sensitive about the way we present those facts. . . . But I think it's also important to talk about the benefits and research coming out of marijuana. There should be an open discussion. We're not putting up giant pot leaves or photos of people consuming marijuana.''