Local News
Archfoe of Bernie Sanders targets senator's wife, and may gain clout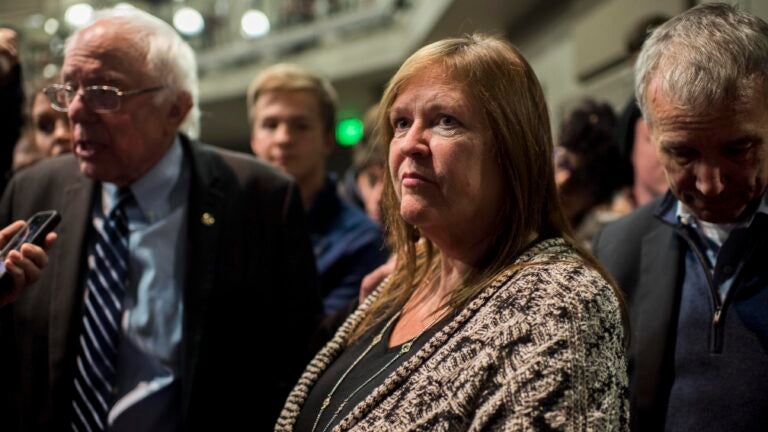 Senator Bernie Sanders is the most popular politician in America, but he certainly has his share of passionate enemies.
Back home in Vermont, one man has been tangling with him for years, and with special ferocity. Soon, President Trump could give that man his best shot yet to stain Sanders' reputation.
Brady Toensing isn't exactly a household name; he could well become one. He is a candidate for US attorney in the state, a perch from which he would oversee an ongoing federal investigation into Sanders' wife — a crusade he started even before Sanders ran for president.
The story is convoluted, but one thing is clear: Jane Sanders has had enough of Toensing and his tactics.
"I find it incredibly sexist that basically he's going after my husband by destroying my reputation, and that's not OK,'' she said in her first interview about the man responsible for an FBI probe that centers on her leadership at Burlington College, a small liberal arts school on Lake Champlain that she led from 2004 to 2011. The college closed last year as it struggled to pay its creditors and lost its accreditation.
To hear Toensing tell it, however, he's looking for justice. "My goal is for a full, fair, and impartial investigation — that's all I care about,'' he said in a brief interview last week. "That people be treated the same regardless of status in this system.''
Toensing, 49, is an attorney and vice chairman of the state Republican Party. If not for Trump, he might be nothing more than a local thorn in the family's side. But in 2016, Toensing became leader of the Trump campaign in Vermont, a role that has propelled him into contention to become the state's chief federal prosecutor.
Toensing has made a career of attacking Vermont's Democratic and Progressive politicians. His targets include the former governor and attorney general. His highest-profile target by far has been the Sanders family.
That activism makes him an anomaly in Vermont, a relentless partisan operative in a state so bipartisan that some state legislators register in more than one party.
Toensing grew up in Detroit, where his mother was a federal prosecutor, and the Upper Valley of Vermont and New Hampshire, where his father lived. He went to law school at Georgetown, then moved to Charlotte, Vt., in 2001 with his wife and three children. He remains a partner in the politically wired and aggressive D.C. law firm of his mother, Victoria, and her husband, Joe diGenova.
Toensing's opposition research on Jane Sanders began in 2014, when the idea of Bernie Sanders' eventual run for president made most Vermonters laugh. Late that summer, he approached a Vermont news outlet promising a juicy scoop. Jane Sanders had received a lucrative payout when she left the small, struggling college, he said.
A month later, attack ads appeared on local television that accused her of accepting a "golden parachute'' from Burlington College even though her husband had criticized Wall Street executives for taking such payouts.
A little more than a year later, Toensing filed a complaint with the Vermont US attorney that requested an investigation into alleged bank fraud by Jane Sanders.
He accused the former college president of misleading a bank into financing the 2010 purchase of land to expand the Burlington campus. Jane Sanders, he said, had knowingly overstated the prospect of philanthropic pledges to obtain the loan.
"Ms. Sanders's privileged status as the wife of a powerful United States Senator seems to have inoculated her from the robust underwriting that would have uncovered the apparent fraudulent donation claims she made,'' his complaint says.
The Justice Department probe became public this spring when Vermont news outlet VTDigger first reported on e-mails about it. Since then, FBI agents have contacted people connected to the college, including staff and its last president, even traveling to Florida to interview one former trustee, according to Vermont news reports.
Meanwhile, Toensing is one of at least two candidates to become Vermont US attorney, according to a person close to Toensing.
That nomination process has become fraught. Vermont's Republican Governor Phil Scott opposes Toensing's candidacy, as does the state's senior US senator, Democrat Patrick Leahy. Sanders, the state's other senator, has not weighed in.
Until now, Jane Sanders has resisted the urge to criticize Toensing. When she spoke for the first time last week, she said many national reporters who have picked up the story accept Toensing's easy accusations instead of digging for facts.
"If they just looked into public documents, they could see that his allegations of the financial difficulty during my tenure are not true at all,'' Sanders said.
She said Toensing's campaign against her is sexist because it assumes her husband somehow interceded on her behalf to secure the loan to buy the new campus — an accusation she insists has no merit.
The Burlington College land deal was part of Jane Sanders' grand vision for the school. The scrappy, alternative college was founded in 1972 as a place for adult learners and had operated for years out of a North Avenue building that was once a general store. She was working to increase its enrollment and expand its programs.
In 2010 she seized a chance to buy a 33-acre lakefront parcel that had been the headquarters of the Roman Catholic Diocese of Burlington. She said she set the school on an upward trajectory that should have allowed the school to pay its bills and maintain accreditation.
"The bank knew from all the indicators of a college, the Department of Education, the accreditors, the audits, and their firsthand knowledge as our bank, that we were in the best shape the college had ever been in,'' she said.
Sanders ultimately resigned from the school in 2011 under pressure from trustees after disagreement about the school's future and concerns about fund-raising. The school's former CFO became president and its financial position plummeted. Eventually, the school closed, the bank foreclosed on the property, and most of the land was bought by residential developers.
Toensing has a fractious relationship with other politicians in Vermont. Many Democrats and Progressives can't stand him. Even some Republicans keep him at arms length. The Vermont House Republican minority leader two weeks ago cast doubt on Toensing's allegations against Sanders.
State defender general Matthew Valerio has known of Toensing over the years as a fellow attorney. "We don't take him too seriously around here, but it also doesn't prevent him from doing what he wants to do,'' Valerio said.
For Toensing, the case of Jane Sanders and Burlington College is only the most prominent of many he has taken on. He is a fierce advocate for government transparency and a frequent user of the state public records law. He floods state agencies with requests, fishing expeditions that yield a fair share of fish.
In 2010 he filed a records request that revealed a trooper had tried to fix a speeding ticket for then-Democratic gubernatorial candidate Peter Shumlin, who was driving 81 in a 65 miles-per-hour zone.
He has also clashed several times with the now-former state attorney general and has a case before the Vermont Supreme Court seeking his private e-mails.
"The point of the public records law is to expose government conduct and these guys resist mightily,'' Toensing said. "They always revert back to secrecy.''