Local News
At a Massachusetts wedding, a touching gift for a dying father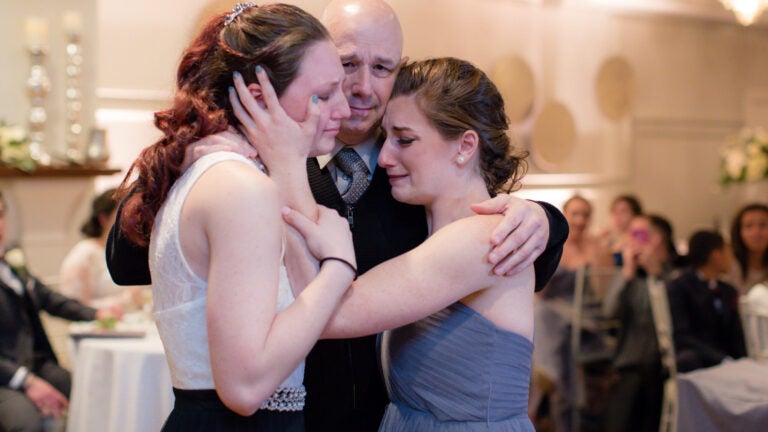 Nora Cook-Yotts had an idea.
For her wedding, instead of a traditional father-daughter dance, she would ask her friends, Jessica and Megan Otto, if they wanted to a have a dance with their father, Pete.
Pete, a 54-year-old FedEx worker from Rehoboth, had cancer for the fourth time. The outlook wasn't good. He was told in January there were no more treatment options. It was doubtful that he would live to see either of his daughters marry.
Nora's spouse, Michaela Cook-Yotts, was childhood friends with Jessica. They had known each other since the second grade. Their families were close. Additionally, Pete helped Nora land a job at FedEx as a courier.
For Nora, this was a chance to give Pete, Megan, and Jessica something they weren't likely to experience otherwise.
"I'm going to cry,'' said Nora on Friday night, her voice thick with emotion. "Pete was sick, and Pete had done so much for me. I would not be where I am today if it wasn't for Pete. So it was pretty much a no-brainer.''
On a day last February in Sharon, Michaela and Nora were wed, and Pete got his father-daughter dance with Jessica and Megan to Aaron Krause's rendition of The Police classic "Every Breath You Take.''
It was an emotional affair. The Ottos cried. The wedding party cried. The guests cried.
"I was hysterical,'' said Nora, 30, who grew up in Quincy and now lives in East Providence, R.I. "Everybody was. There were tissues on every single table, we were prepared for it.''
Next month, Jessica Otto plans to ride the Pan-Mass Challenge, a bike race that raises money for Dana-Farber cancer research, for the fourth time.
Jessica wants the touching wedding story, which has drawn national attention in recent days, to raise cancer awareness.
"I hope that's what people get out of this,'' she said.
Her father has biked the Pan-Mass Challenge before. This year, he will not. Nowadays, Jessica said, Pete has good days and bad days.
"Today was a good day,'' she said on Friday night.
Jessica said that while Nora and Michaela approached her and her sister last fall with the wedding dance proposition, Pete wasn't apprised until the day of the wedding.
"He wouldn't have liked the center of attention,'' she said. "He wouldn't want to take the attention away from Michaela and Nora, so we didn't tell him. He was very appreciative afterwards, though.''
She described her friends' gesture as selfless.
"I don't think they know how important that moment was to me,'' said Jessica.
Later, she added, "We were very lucky to be given that moment.''