Local News
Home Base Program will start helping Vietnam veterans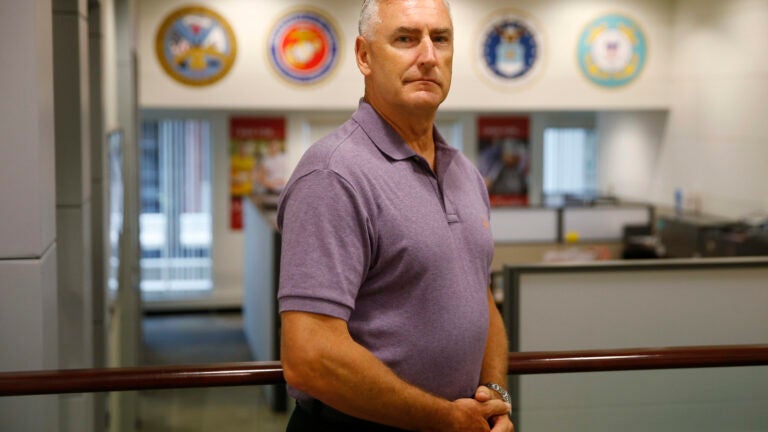 When the Vietnam War lurched to an end in 1975, there was no diagnosis known as post-traumatic stress disorder, or PTSD. Instead of being treated for the psychological effects of combat, many veterans simply put their uniforms away and suffered in silence.
Decades later, uncounted numbers suffer still, many too proud or too wary to seek help.
"Some of them don't recognize they have the injury, and even if they do, they won't admit it,'' said Jack Hammond, a retired Army brigadier general from Reading.
Hammond and the Home Base Program he leads are working to change that. After eight years of treating Iraq and Afghanistan veterans for PTSD and other unseen injuries, the private partnership between the Red Sox Foundation and Massachusetts General Hospital is poised to extend treatment to those who served in Vietnam and their families.
Until now, Home Base, one of the only private clinics in the country that helps veterans heal from PTSD and traumatic brain injury, has focused on veterans who served after Sept. 11, 2001.
The expansion will be formally announced Saturday and coincide with an annual fund-raising road race — the Run to Home Base — that finishes at home plate inside Fenway Park. A separate tribute to Vietnam veterans will precede the Red Sox game that afternoon against the New York Yankees — 1,300 of these veterans and their family members will be honored on the field.
"For many of these guys, this is the one, last, open sore,'' said Hammond, the executive director of Home Base, who served in Iraq and Afghanistan and once suffered from PTSD. "There's no age limit on solving this problem. If we can do it, why shouldn't we?''
Nearly one-third of the 350,000 veterans in Massachusetts served in Vietnam. According to the Disabled American Veterans, about 30 percent of Vietnam veterans across the nation have suffered from PTSD at one point.
The illness has had many names: "soldier's heart'' during the Civil War, "shell shock'' during World War I, "battle fatigue'' after World War II. After each conflict, psychically injured veterans were usually left to fend for themselves.
But now, the Home Base outpatient clinic in Boston will reach out to Vietnam veterans and their families for a wide range of disorders, including depression, anxiety, and other effects of PTSD and traumatic brain injury, Hammond said. No veteran will be denied service based on discharge status or ability to pay.
Coming this fall, Home Base also will incorporate Vietnam veterans into its health and fitness regimen, as well as its Resilient program, which teaches mind-body techniques to relieve stress, Hammond said.
Eventually, Vietnam veterans with more serious issues will be able to enter a two-week program of intensive treatment and support that attracts clients from across the country. Many of these veterans believe they are out of choices, and some were once so distraught that they considered taking their lives, Hammond said.
The idea for Home Base came from Tom Werner, the Red Sox chairman, after he and the team visited Walter Reed Army Medical Center in Washington D.C. after winning World Series titles in 2004 and 2007.
The Globe is owned by John Henry, principal owner of the Boston Red Sox.
Home Base has served more than 11,000 veterans and family members since opening in 2009, but Hammond said the staff is uncertain how many Vietnam veterans will accept its offer of help.
"It might take some spouses saying, 'Hey, you need to do this,' '' said Hammond, who recalled that his own wife urged him to seek PTSD treatment after an overseas deployment.
The longer the disorder is unrecognized or untreated, the more it becomes engrained into a veteran's life, and more complicated to address, said Peg Harvey, a psychologist who directs the intensive clinic.
In some ways, the medical community is still playing catch-up. The American Psychiatric Association did not list PTSD in its official manual of mental disorders until 1980, according to the Disabled American Veterans, which funded a study that helped lead to that recognition.
Dan Stack, an Air Force veteran who is the Massachusetts adjutant for the Disabled American Veterans, worked with a doctoral student at Cleveland State University who wrote that groundbreaking study.
"It's amazing the number of Vietnam veterans who continue to come to us, many times with a family member, to say, 'You've got to help us. He still has nightmares,' '' Stack said.
Coleman Nee, former Massachusetts secretary for veterans' services, agreed that many Vietnam veterans need a nudge to come forward.
"It's tough for anyone to ask for help, particularly coming out of a military culture and especially when you're coming back to this for the first time in your life, and you're 50 years removed from your deployment,'' said Nee, the state's veterans secretary from 2011 to 2015.
Nee praised Home Base's decision to expand, saying there is great demand for mental health services among older veterans.
"The biggest number of vets we have with the most complex issues are folks from Vietnam,'' Nee said. "This opens an opportunity for them to finally be able to access some cutting-edge methods and methodology to address some of their mental-health issues.''
Veterans do not need a previous diagnosis to enter the program, said Michael Allard, chief operating officer at Home Base. Later, staff members will work with the US Department of Veterans Affairs to connect clients with follow-up care anywhere in the country.
As recognition of PTSD grows, so do the treatment options. The Disabled American Veterans and the VA each have an extensive network of outreach centers. The wounds might be invisible, but the pain is real.
"Losing my arm is bad,'' one veteran told Hammond. "But losing my mind — there's no prosthetic for that.''