Local News
Tufts Medical Center nurses return to work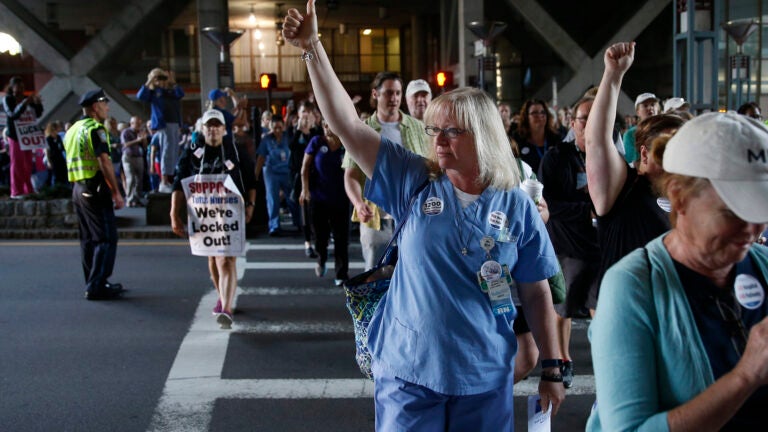 With shouts of support echoing around them, members of the Massachusetts Nurses Association returned to the Tufts Medical Center Monday, ending a key chapter in a high profile labor dispute that includes a one-day strike by nurses and a four day lockout by management.
Around 7 a.m. some members of the MNA stopped walking the picket line that went up last Wednesday and instead walked through the main entrance of Tufts on Washington Street in Boston's Chinatown neighborhood.
The returning nurses had gathered by the dozens across near the MBTA's Orange Line station and as 7 a.m. arrived, the nurses crossed the temporarily closed Washington Street as supporters shouted encouragement to them.
Many of the nurses exchanged hugs, and some had tears in their eyes, as supporters chanted "MNA! MNA!,'' the acronym for the 1,200 member nurses union. Some supporters shouted, "We love you!''
Except for the shouting and the large influx of people at the same time, there was nothing remarkable about the way the nurses entered the hospital, a sharp contrast to what happened last Thursday morning when managers stopped them from entering after their one day strike ended.
In order to keep the hospital operating, managers had hired some 320 replacement nurses to five day contracts, leading to the lockout that ended on Monday.
The leadership of Tufts and the MNA both expect negotiations to resume at some point, both nurses and their managers will return with the issues that set them apart unresolved. The hospital and the union have been unable to agree on terms for the nurses' pay, pension program, and staffing levels.
During the past five days, the nurses have drawn support from many public officials, including Boston Mayor Martin J. Walsh, a former leader of the state's building trades union, who addressed some 500 nurses on Saturday.
On Sunday, union supporters allegedly confronted replacement nurses at hotels miles from the facility, including a gathering of some 20 people at a hotel near Logan Airport who dispersed when ordered to by State Police because they did not have a protest permit, the Globe reported.
Both Tufts and the nurses' union have said they expect tension when staff nurses return to work Monday.