Local News
Hardware store owner fatally shot in Mission Hill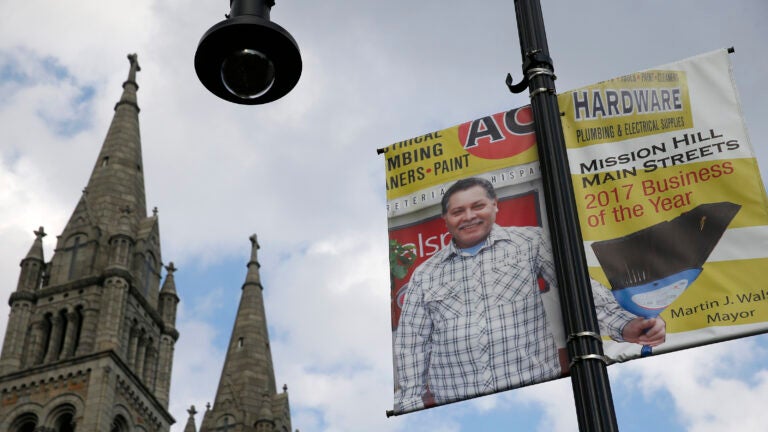 The well-known owner of a hardware store in Mission Hill was fatally shot Tuesday, and three people were arrested after a police chase through the neighborhood, Boston Police Commissioner William B. Evans said.
The victim, Andres Cruz, was 58 years old, a law enforcement official briefed on the case said. Neighbors described him as a "Norman Rockwell'' figure in the neighborhood, who was often seen sweeping the sidewalk outside his store, AC Hardware, at 1562 Tremont St.
The shooting occurred at the store, according­ to police.
Evans called the shooting a "brutal, cowardly act'' that claimed the life of a "very hardworking, well-respected merchant from the area.''
Evans said police believe the slaying was the result of a robbery. He said investigators think there was a struggle inside the shop.
"Three cowards came to Mission Hill today and caused a lot of pain and suffering to this community,'' Mayor Martin J. Walsh said outside the store. "This is wrong.''
The shooting happened shortly after 4 p.m. Police arrived to find a man suffering from gunshot wounds, Evans said.
Police pursued a van leaving the scene of the crime. Three occupants of the van bailed out of the vehicle in the area of Cedar and Lambert streets, Evans said. Officers arrested the trio in that area, he said.
"We believe we have the three responsible for the brazen killing of the store owner here,'' Evans said.
The three people arrested were not identified.
The shooting death of the businessman deeply shook the neighborhood.
"You wouldn't believe that anyone — because he's known by everyone — would want to harm him or his family,'' said Bruce Bickerstaff, who lives about two blocks from the crime scene.
He said the victim was an icon in the community, cordial to his customers, and always ready with home-improvement advice when people from the neighborhood were looking to fix up their houses.
He called the slaying "truly senseless.''
Workers at a Subway sandwich shop a few doors away were stunned.
"It's crazy what people do for a little bit of money,'' said a worker who asked not to be identified. "We knew him for 10 years; he was a nice guy. When we needed something he would help us out, let us borrow whatever we needed.''
The man's death Tuesday afternoon was part of a wave of violence in Boston that also saw a woman shot and seriously injured Monday night in Roxbury and one man killed and another man wounded about six hours earlier in Dorchester, officials said.
The woman was shot around 11:40 p.m. on Cabot Street in Roxbury, a small side street near Boston Police Headquarters on Tremont Street.
She was rushed to a hospital with serious injuries, according to Boston Emergency Medical Services.
No further information on the case involving the woman was available.
About six hours earlier Monday, police had rushed to Vesta Road in Dorchester, where they found a man bleeding from an upper-chest gunshot wound and a second man lying in a first-floor hallway, dead from gunshots.
The victim who was killed was 18, and the second man is 21, police said.
Detectives were trying to determine whether they lived in the building where the homicide victim was found at 10 Vesta Road, off Blue Hill Avenue.
Police Superintendent-In-Chief William Gross said trauma teams were brought in to speak with residents. "Especially the children,'' he said. "They shouldn't be subject to this.''
Shortly after 10 p.m. Sunday, a man in his late teens or early 20s was shot near Washington Street and Talbot Avenue. He was taken to a hospital in serious condition after being shot while standing with seven or eight people on the corner outside the McDonald's on Washington Street.
It was not clear whether he was targeted. Police have released surveillance images of a red SUV sought in connection with the shooting.
On Saturday night, a man in his 20s was fatally shot in Roxbury near Kendall Street and Shawmut Avenue, police said.
No arrests have been made in the wave of violence that began with Saturday's shooting.