Local News
5 killed in Salem witch hunt remembered on 325th anniversary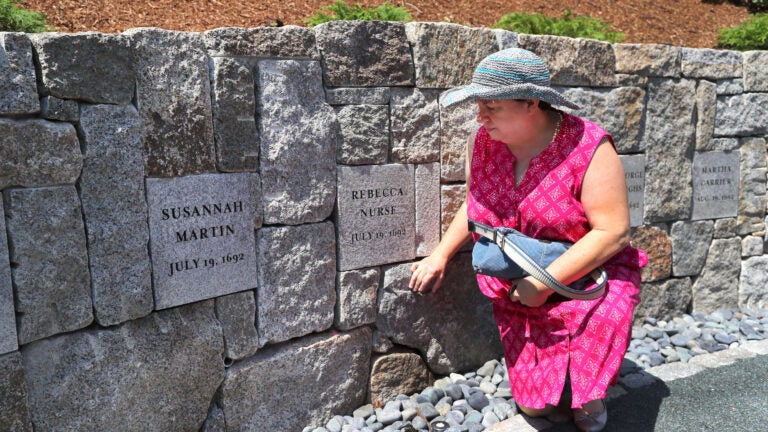 SALEM, Mass. (AP) — The Massachusetts community where 20 people suspected of witchcraft were put to death in 1692 unveiled a memorial to 19 of those victims on Wednesday, promising never to forget the tragedy.
The ceremony came 325 years to the day when Sarah Good, Elizabeth Howe, Susannah Martin, Rebecca Nurse and Sarah Wildes were hanged at a site in Salem known as Proctor's Ledge. It was the first of three mass hangings at the spot. The 20th victim was crushed to death.
"We should not be here commemorating the heartbreaking and tragic loss of life, it did not need to happen," said the Rev. Jeff Barz-Snell, minister at the Unitarian Universalist First Church in Salem. "And so we are here to remember, to resolve, to rededicate."
The semi-circular stone wall memorial is inscribed with the names of the people hanged at the site, now a small city-owned lot in a residential neighborhood and behind a pharmacy.
"The sun casts few shadows this time of day, and yet the shadows from this site extend across our city in ways we cannot see with our eyes," Mayor Kim Driscoll said.
Salem State University history professor Emerson Baker was part of the team that confirmed the site of the hangings last year.
"Unlike in the past, we have seized the opportunity to do the right thing," he said.
The memorial was funded by a $174,000 Community Preservation Act grant, as well as through many smaller donations from descendants of those accused of being witches, some of whom attended the ceremony.
Nurse also was to be honored at a ceremony later Wednesday at the Rebecca Nurse Homestead in nearby Danvers. Danvers, at the time of the witch trials, was a part of Salem known as Salem Village.