Local News
Slain Pa. police chief 'fought for his life' and inflicted lasting damage on killer, official says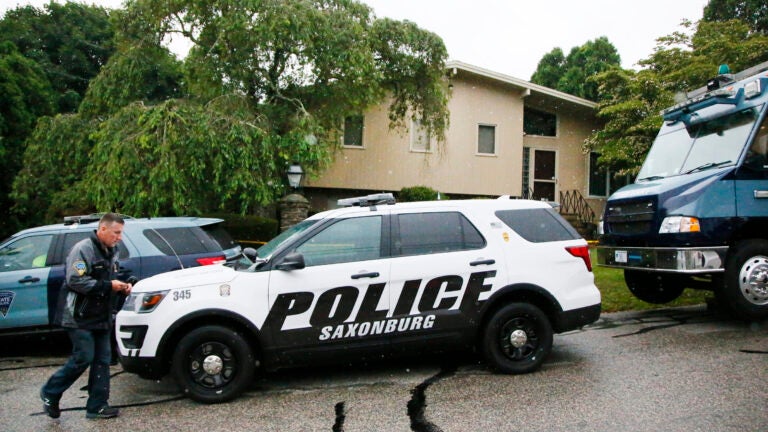 A Saxonburg, Pa. police chief who was killed in 1980 by a career criminal "fought for his life'' during the deadly encounter, inflicting damage that kept the fugitive in pain until he died nearly 20 years later and his wife buried him in their Dartmouth backyard, an official said this week.
Investigators have learned Chief Gregory Adams, fatally shot during a traffic stop in Saxonburg in December 1980, broke the leg of the gunman, Donald Eugene Webb, and tore off his lower lip, Butler, Pa. County District Attorney Richard A. Goldinger told reporters Thursday.
Goldinger said during a news conference Thursdsay that Adams "kicked [Webb] in the skirmish in some way that broke Donald Webb's leg, to the extent that it was a compound fracture, which is why there was blood found in the investigation that we have been able to link to Donald Webb.''
The injury forced Webb to seek treatment in a Wareham hospital for several weeks under an alias after he fled Pennsylvania, according to court records and Goldinger.
"His ankle ended up fusing,'' Goldinger said of Webb. "He had to walk with a cane for the remainder of his life. We also know that, and we don't know how, but we know that Donald Webb lost his lower lip in the skirmish. So in some way Chief Adams caused Donald Webb to lose his lower lip, and he suffered that permanent disfigurement for the rest of his life.''
Goldinger said that although Webb, whose remains were dug up last week from the yard of his former wife's home in Dartmouth, managed to evade capture until he died, his physical suffering was a punishment of sorts.
"Donald Webb, because of this, lived in seclusion for the remainder of his life, in permanent pain, with permanent disfigurement,'' Goldinger said. "So if there was any justice in 37 years, Chief Adams actually delivered the justice himself. And he caused Donald Webb every day of his life, the rest of his life as he took a step, to think about what Chief Adams had done to him in that fight.''
Court records show that after Adams's slaying, Webb lived with his wife, Lillian, first in New Bedford and then in Dartmouth. He suffered his first stroke in the late 1990s and told Lillian Webb to prepare a grave for him in their backyard, a search warrant affidavit said.
Lillian Webb did as she was instructed and then buried her husband in the yard after he died from a second stroke on Dec. 30, 1999, according to legal filings and Goldinger.
A warrant affidavit said Donald Webb died in 1997, but the prosecutor provided the more precise date at Thursday's briefing.
Lillian Webb officially divorced Donald Webb in 2005, as he lay dead in her yard and remained on the FBI's Ten Most Wanted Fugitives list. She disclosed the location of his remains to investigators in exchange for immunity from state criminal charges in Pennsylvania and Massachusetts.
Goldinger noted Thursday that Lillian Webb does not have immunity from federal prosecution. Neither Lillian Webb, 83, nor her lawyer have responded to requests for comment.
Donald Webb was a career criminal who, at the time of Adams's murder, was wanted for robbery in New York. Webb, who authorities said had ties to the Patriarca crime family in Providence, was believed to be casing stores to rob in Pennsylvania when he killed Adams.
Federal prosecutors have not said whether they will seek charges against Lillian Webb for harboring her fugitive husband.
If they do pursue charges, the case would bear similarities to that of Catherine Greig, who is currently serving a federal prison sentence for harboring her longtime boyfriend, the South Boston gangster James "Whitey'' Bulger, during his years on the lam before his capture in 2011.
A spokeswoman for the US Attorney's office in Massachusetts declined to comment on Lillian Webb on Friday.