Local
Major fire strikes buildings in downtown Waltham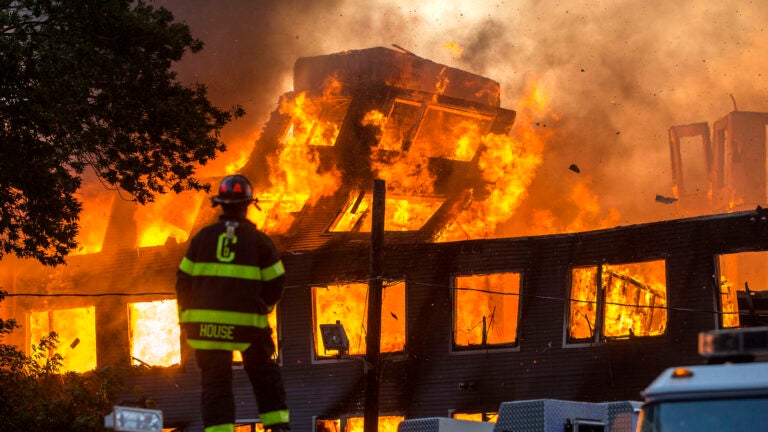 WALTHAM — Firefighters have been battling a massive ten-alarm fire in the center of Waltham, their efforts exacerbated by winds as one building collapsed and ash covered the streets.
There have been no reports of injuries.
Fire crews from across the Greater Boston area continued to fight a ten-alarm fire at an apartment complex under construction in Waltham more than three hours after the initial alarm Sunday morning.
Waltham Fire Chief Paul Ciccone told reporters just before 7 a.m. that the complex's five buildings had collapsed, and the fire was contained to a "large pile of debris.''
"We had multiple explosions during the fire,'' Ciccone said. "We're not sure what that is.''
None of the neighboring buildings — the Rhino Lounge restaurant and bar or the apartment complex at 48 Pine St. — had caught fire, Ciccone said.
Crews evacuated the larger housing complexes at 48 Pine St. and 190 Moody St., according to officials.
One of the complex's five buildings was near completion, Ciccone said, and so could have had utilities like gas and electric already hooked up. The rest of the buildings had been mostly wooden frames.
"When something's under construction, all the necessary fire stops, fire suppressant systems are not in place,'' Ciccone said.
He said officials are "not even close'' to determine the cause of the fire.
The position of the building made contained the flames difficult, Ciccone said. It's tucked in between existing buildings and the river and is exposed to the street on two sides, giving fire crews multiple fronts to battle.
Water pressure has also been a challenge, Ciccone said. At one point crews considered using water from the river.
Mayor of Waltham Jeannette McCarthy said responding crews had been working hard since 4 a.m. to contain the fire and keep residents safe.
McCarthy said a resident of 48 Pine St. was in the building as late as 6:30 a.m. because "she didn't want to leave,'' but that "as far as she knows,'' everyone at 48 Pine St. has now been evacuated.
They're being bused to two local schools — Wright School and McDiggle Middle School — where the Red Cross and EMS officials are available for assistance, authorities said.
Anne Kent, 61, was one of the last residents of the apartment complex still on site. She said she has a disability and can't walk far distances, so officials offered her a wheelchair and a spot on the last bus leaving Pine Street.
"I didn't know it affected our building,'' Kent said. Her window faces the Rhino Lounge and the construction, she said.
"I think they were telling me to get out but everything was muffled,'' Kent said.
Kent said she's lived on Pine Street for 21 years and that she was afraid to lose her belongings to damage from the fire.
Ash and embers from the fire rained down on Pine Street and nearby homes, coating parked cars and porches.
Onlookers took photos and covered their noses and ears to shield from the smell and blaring alarms. Some quietly raised questions of the quality of material used in the construction.