Local
The ACLU wants Paul LePage to stop deleting comments and blocking people on Facebook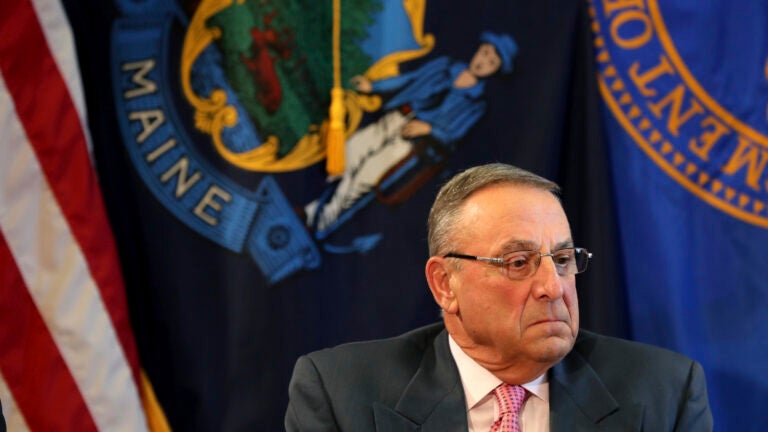 The Maine chapter of the American Civil Liberties Union is formally requesting that Gov. Paul LePage stop deleting comments and blocking people on his verified Facebook page.
In a letter Monday, the group's legal director, Zach Heiden, cited at least five instances in which LePage critics had their comments deleted and accounts blocked by the page, "Paul LePage, Maine's Governor." The Republican governor does not appear to have any other official Facebook presence.
"The governor doesn't get to decide who speaks and who doesn't, based on whether they are praising him or disagreeing with him," Heiden said in a statement, noting how recent court cases had affirmed that First Amendment rights apply on social media.
"The First Amendment protects the right of all people to express their opinions to the government," he continued. "Social media may be a relatively new forum for public speech, but the Constitution still applies."
A lawsuit making a similar legal argument was filed earlier this month by social media users blocked by President Donald Trump's personal Twitter account.
LePage's office told the Associated Press on Monday that they do not manage the page and said to check the account "for commentary on this issue."
The Facebook page subsequently published a response to the ACLU's letter that afternoon, asserting that it was started by volunteers on LePage's first gubernatorial campaign, before later becoming the governor's official political page.
"This page has never been managed by taxpayer-funded state employees," the post said. "Under the about section of this Facebook page it states that is Paul LePage's official politician page – not a government page."
Additionally, the page characterized the ACLU's complaints as "false legal arguments."
Heiden, however, was not persuaded by that defense.
In an email Monday evening, he noted that LePage's official "Governor's Blog" linked to the Facebook page in question under a "Stay Connected" banner. The link, which has since been removed, appeared on the governor's website as recently as late Monday night.
The Facebook page also has a blue verification checkmark, which suggests LePage provided documentation of his identity to authenticate the account. To verify a page representing a person, Facebook requires a government-issued photo ID.
"I could make a Pedro Martinez fan page (and I should), but I could not get it verified as his official page without his involvement," Heiden told Boston.com.
LePage's Facebook page appears to also share official press releases from the governor's office and posts video messages from the LePage at the State House.
In the ACLU letter Monday, Heiden also noted that LePage had promoted the Facebook page in statements to the press.
"If this was a campaign page or a personal page of a public figure, there would not be the same First Amendment concerns," Heiden said. "But, because the Governor is holding this page out as a way for members of the public to connect with their government, the First Amendment applies and viewpoint discrimination is forbidden."
The ACLU says that Karin Leuthy, Kelli Whitlock Burton, Susan Lajoie, and other members of the progressive action group Suit Up Maine had their comments deleted and their ability to comment on the Facebook page blocked following comments they posted during the state's recent government shutdown.
Federal courts have ruled that government social media pages constitute a "limited public forum," on which social media policies can be set. However, once set, the Supreme Court has said "the State must respect the lawful boundaries it has itself set."
As the ACLU noted, Maine's state social media policy says officials may remove content regarded as "scandalous, libelous, defamatory, or pornographic." However, the posts for which the Suit Up members appeared to be blocked, while critical, did not appear to violate those guidelines.
In his letter, Heiden requested that LePage's Facebook page immediately cease the "unlawful practice of censoring constituent comments," restore the posting privileges of those named in the letter, and review all and any users who had already been blocked.
Heiden wrote that the ACLU "will be forced to take additional action" if they did not receive a response within two weeks agreeing to their demands.