Local
Everything you need to know about the upcoming 'Puppy Doe' trial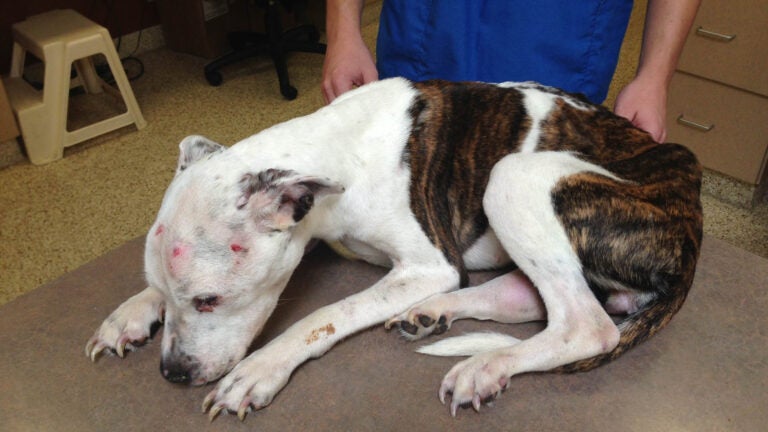 Nearly four years ago, a young dog was found on the verge of death near a playground in Quincy.
The discovery of the tortured pit bull — soon-thereafter dubbed "Puppy Doe" — incited widespread outcry, national headlines, and even reforms to Massachusetts's animal welfare laws.
In a pre-trial hearing Monday, Judge Thomas Connors set the trial of the dog's alleged torturer to begin October 24 in Dedham.
Here's everything you need to know about the case.
The dog
Puppy Doe was found Aug. 31, 2013 near Whitwell Street playground in Quincy. According to the Animal Rescue League of Boston, the female dog was estimated to be one to two years old. As The Boston Globe reported at the time, she weighed 18.2 pounds, compared with a normal weight of 40 pounds for a pit bull of that age.
"In addition to being starved and beaten on many occasions, causing fractures to the head and body, she appears to have undergone some kind of crude cutting to create a serpent-like split to her tongue," the Animal Rescue League said.
Along with the skull, spine and rib fractures, there was also evidence the dog's nose was burned and that she had been stabbed in the eye prior to being found, officials said at the time.
Martha Smith-Blackmore, a vice president with the rescue league, told the Globe it was the "by far the worst" case of animal cruelty she had ever seen.
Due to the extent of her injuries, veterinarians were forced to euthanized the dog.
"She could not be saved," they said in a statement.
Norfolk District Attorney Michael Morrissey said the "grotesque" injuries indicated the dog was subjected to prolonged and consistent starvation and abuse. Officials were concerned that other animals may have been victimized.
"It is highly unlikely that this level of sadistic cruelty could be shown to one animal and not be part of a pattern involving other animals or perhaps vulnerable people," Morrissey said in a statement.
"We need to find the person who did this and see what else they are doing," he added.
The suspect
After an extensive two-month search, police arrested Radoslaw Artur Czerkawski, a 32-year-old Polish immigrant with a recently expired visa, in October 2013 at a hotel in New Britain, Connecticut. He was taken into custody and transported to Quincy on 11 counts of animal cruelty and one charge of misleading a police investigation.
Czerkawski had previously lived in Quincy near where the dog was found and allegedly lied to police when investigators were questioning the neighborhood.
According to a police report at the time, the dog's name was Kiya and she had been given up by a Worcester couple and eventually adopted by Czerkawski, who lived with and was taking care of an elderly Polish woman at 89 Whitwell St. The Globe reported:
When the woman passed away Aug. 31, Morrissey said, police investigated her death and determined there was no foul play. Later that day, the injured dog was found nearby.

On Sept. 24, police questioned people in the neighborhood, and Czerkawski allegedly lied and said he saw a group of boys and girls with a dog.

After phone records tied Czerkawski to the Whitwell Street address, police returned Oct. 20. Czerkawski had moved out at the end of September, but police reported finding red-brown spatter stains in a bathroom, and a red paw print on a closet door. Scratch marks were found in a doorframe.

Police said fur and blood samples found at the scene matched tissue samples taken from the abused dog.
During Czerkawski's arraignment hearing, Assistant District Attorney Tracey Cusick said each count of animal cruelty carried a sentence of up to five years in prison.
"The defendant is facing decades of incarceration," he said.
In November, the Globe reported that Czerkawski had drifted from state to state since arriving in the country on a student visa in 2008.
According to the Globe, he also told the Worcester couple who sold him the dog for $40 that he lived on a large farm in Connecticut. He allegedly arrived to pick it up well-dressed, driving a 2013 black Chrysler 300 luxury sedan with tinted windows and chrome factory rims.
In 2015, Czerkawski was convicted of stealing $130,000 from the elderly woman he was taking care of in Quincy and was sentenced to three to five years in prison.
He had also allegedly stolen $6,700 from a Polish church in New Bedford, where he lived until 2012.
The aftermath
After Puppy Doe was found, hundreds of people gathered for a vigil in Quincy, "accompanied by countless dogs," according to the Globe.
At the event, state Rep. Bruce J. Ayers, the Animal Rescue League, and other local officials spoke out on the need to toughen the state's laws against animal cruelty. At the time, the rescue league said it fielded roughly 1,500 calls reporting animal abuse and neglect in 2012 alone.
"The current laws in Massachusetts are not tough enough to protect our animals and that's why we are here tonight," Ayers said at the September vigil.
Nearly a year later, the Massachusetts state legislature sent to Gov. Deval Patrick's desk a bill that would do just that. Per the Animal Rescue League:
The bill raises maximum penalties for animal cruelty convictions from five to seven years and increases the maximum fine from $2,500 to $5,000. The bill also allows a penalty of up to 10 years and/or a fine of $10,000 for repeat convictions. In addition, the bill requires veterinarians to report suspected animal abuse.
The legislation also created a task force to monitor and evaluate the state's animal cruelty laws "to ensure continued progress."
Patrick signed the bill on August 20, 2014. The law went into effect 90 days later.
If Czerkawski is convicted, the toughened penalties will not affect his sentence, since they became law after he was arrested.
A "Justice for Puppy Doe" Facebook page, run by the New York City-based nonprofit Rescue Dogs Rock, has since garnered more than 80,000 likes and more than 70,000 followers.
What's next
Czerkawski's trial begins October 24 in Norfolk County Superior Court in Dedham.
He has pleaded not guilty. According to the Associated Press, Czerkawski has suggested that a group of teens he saw drinking in a park were responsible for the abuse, while his lawyer has questioned the DNA evidence in the case.
"Many people are upset it's taken this long for justice," Jackie O'Sullivan, a co-founder of Rescue Dogs Rock, recently told the Boston Herald.
Correction: A previous version of this article incorrectly stated Czerkawski's trial would begin the week of August 7. The trial has been scheduled to begin October 24.