Local
How Boston Teamsters allegedly bullied Padma Lakshmi and the 'Top Chef' staff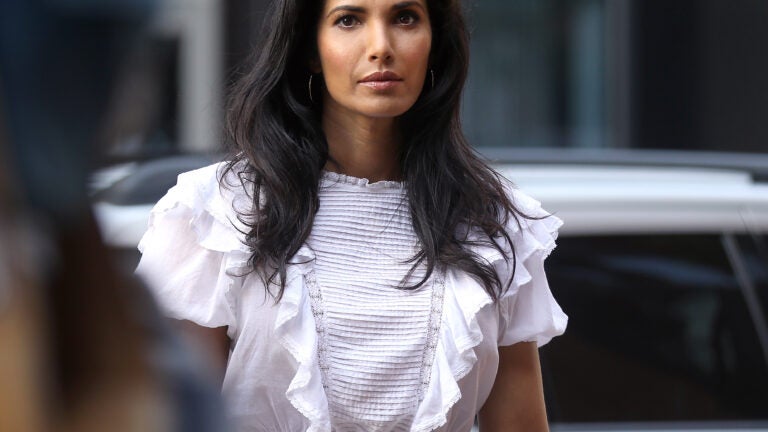 Padma Lakshmi, the celebrity author and host of Bravo's Top Chef, says she was "terrified" during a 2014 encounter with a group of Boston union members outside a local restaurant where her cooking reality show was being filmed.
In court Monday, Lakshmi testified that one of the four Teamsters on trial for allegedly attempting to extort her and her show seemed to threaten her with violence.
"Oh looky here, what a pretty face," she recalled being told by a man outside her car window, according to the The Boston Globe.
"What a shame about that pretty face."
Five Teamsters from the Charlestown-based Local 25 were arrested in 2015 for their alleged attempt to intimidate Top Chef producers, including Lakshmi, after the show hired non-union drivers for an episode at a number of Boston-area restaurants.
Four of the defendants have pleaded not guilty to federal charges of conspiracy to extort, as well as aiding and abetting, in a trial that began last week at Boston's Moakley Courthouse. A fifth agreed to a plea deal last September.
According to a trial brief filed by prosecutors last month, the group of Teamsters picketed the Top Chef set at Steel & Rye restaurant in Milton on June 10, 2014, as they had at several other filming locations that month. The show had "scrambled" before settling on the Milton restaurant after the Omni Parker House hotel canceled on them out of fear of being picketed by the Teamsters.
Prosecutors say all five defendants arrived on Steel & Rye around 9 a.m that day as Top Chef production staff were unloading equipment. Walking lockstep, they allegedly entered the production area and began forcefully bumping into staff with their chests — before a police officer on detail at the restaurant escorted them back to the sidewalk.
The threatening behavior continued throughout the day, prosecutors said:
Defendants continued to act in a threatening manner and threatened to cause physical harm to the production staff and crew if they entered [Steel & Rye]. The production crew was scared, threatened, and intimidated by defendants' actions. The Teamsters blocked entry to the set and tried to prevent trucks from getting through. At one point, when a production assistant came to help, a Teamster bumped him so forcefully that he was pressed up against the hood of the vehicle. At this time, the police officer again came over and broke up the incident.
According to the documents, the Teamsters also continually swore at production staff, at times using a number of racist and homophobic slurs.
When Lakshmi arrived at the restaurant, prosecutors say the protesting union members blocked her minivan's entrance, before confronting the host and her driver.
Prosecutors say one of the defendants, John Fidler, stuck his arm through the minivan window and referred to Lakshmi's driver using the homophobic slur "pickle." (During the trial Monday, the driver brushed off the insult, joking, "I've been called worse before.")
"Lookie what we have here," Filder said, according to the documents, before allegedly threatening Lakshmi.
"I'll smash your pretty little face," he allegedly said.
One of the men also called the driver a "scab," according to the Globe's report Monday.
Lakshmi recalled feeling her heart pounding.
"I felt he was bullying me," she said in court Monday. "I felt he was saying 'I might hit you.'"
Lakshmi testified that she looked to the police officer on detail for help.
"I expected a police officer to say, 'Hey, get away from her car,' or 'don't put your hand in her car,' or 'move away,''' she said, according to the Globe. "There was a lot of yelling, felt like really serious school yard bullying."
According to prosecutors' trial brief, Lakshmi told her driver to back out and find another way to enter the parking lot.
During that morning, the group also allegedly tried to block food delivery to the set. According to court documents, at least nine vehicles belonging to the production company had their tires slashed and were vandalized.
"It drastically affected the whole production, not just that day," Lakshmi reportedly testified Monday.
In addition to Fidler, 53, of Holbrook, the three other Teamster members on trial are Daniel Redmond, 49, of Medford; Robert Cafarelli, 47, of Middleton; and Michael Ross, 62, of North Billerica. Their lawyers have argued they were lawfully exercising their right to demonstrate in support of fair wages, better working conditions, and the hiring of union workers.
However, prosecutors say the group was attempting to shut down the Top Chef filming unless the show hired additional drivers from among members of Local 25. Prosecutors also pointed out that four of the five protesting Teamsters were already employed as drivers for filming of the movie Black Mass.
If convicted, the four defendants could each face up to 20 years in prison.