Local
Does Maine really have more shoreline than California?
It does. Here's why.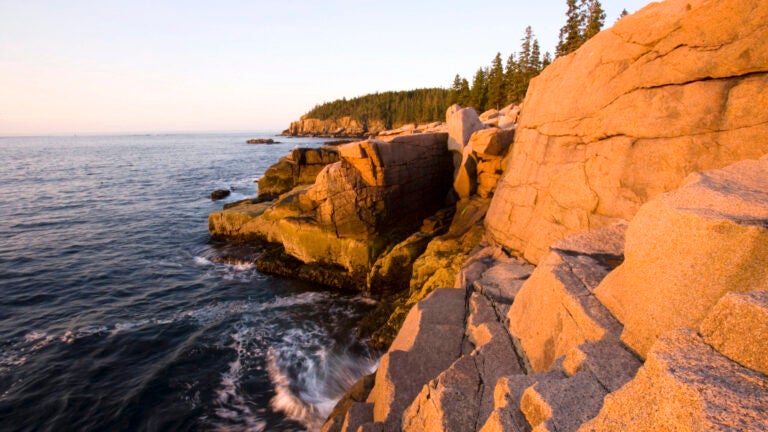 On its face, it seems an implausible claim, mostly circulated by somewhat obscure online sources:
"Maine's shoreline is actually longer than California's."
Huh? Anyone vaguely familiar with the geography of the United States might deem the notion absurd. According to National Oceanic and Atmospheric Administration data, Maine's "general coastline" runs just 228 miles, compared to California's 840-mile coastline.
But it's true. When traced in closer detail, the length of Maine's scenic coastline expands more than fifteenfold. The state's 3,478-mile "tidal shoreline" is the fourth-longest in the nation, even beating out expansive states like Texas and California (the latter by just 51 miles).
Richard Signell, a research oceanographer at the United States Geological Survey in Woods Hole, says this is a classic example of something called the coastline paradox.
A fairly straight coastline should be relatively easy to map, Signell says. But for an incredibly craggy coastline like Maine's — rife with peninsulas, coves, and islands — the length could vary wildly.
"It depends on the scale of the map you are measuring," Signell said. "For example, if your map of the Maine shoreline is on a cocktail napkin, you will get a much shorter length in miles than if you had a wall-sized map, because the cocktail napkin map can only grossly represent the Maine coast."
To a certain degree, the same paradox holds true for the entire country. The general coastline — a 1:1,200,000-scale point-to-point measurement — of the United States is officially 12,383 miles.
But the the country's shoreline or "tidal shoreline" — which officially takes into account "offshore islands, sounds, bays, rivers, and creeks to the head of tidewater or to a point where tidal waters narrow to a width of 100 feet" — is 88,633 miles and, officially, more than 95,000 miles, including American territories.
If that still doesn't make sense, let this British science personality explain:
The Pine Tree State is a prime example of the coastline paradox.
"Maine has a highly indented shoreline with many long, narrow peninsulas, and hundreds of offshore islands," said Robert Marvinney, a state geologist for the Maine Geological Survey. Major inland-stretching rivers like the Kennebec and Penobscot also boost the state's tidal shoreline.
Switching from general coastline to shoreline, Maine sees one of the biggest relative jumps in the length of its shores. Maryland sees the biggest percentage increase — from 31 miles to 3,190 miles — while Alaska has by far most total shoreline of all 50 states: 33,904 miles. Florida and Louisiana are a distant second and third, respectively.
California, meanwhile, sees a relatively meager fourfold increase from its general coastline to shoreline, which explains why Maine leapfrogs the Golden State on the latter measurement.
Steve Lyons, the director of the Maine Office of Tourism, says the state's unique coastline is more than just about bragging rights, though he says his office does frequently mention it.
"From a paddling perspective, it provides nearly limitless opportunities for exploration," Lyons said, explaining that the jagged coastline provides shorter "hops" between land and more protected open ocean paddling than commonly available in other coastal states. He adds that it also allows for unique beach views, camping opportunities, and "sinuous routes to hidden villages and lobster shacks."
There is at least one downside, however, compared to California: No continuous oceanside drives.
"Compare Route 1 in California, where you have a ocean view nearly all the time, with Route 1 in Maine, where you hardly ever see the ocean because following the coast would take you forever," Signell said.