Local
What we know about the 'free speech' rally on Boston Common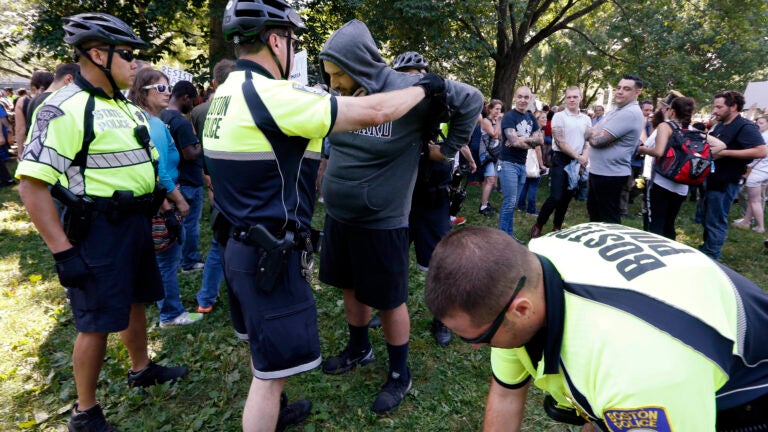 After days of controversy, the so-called "free speech" rally planned for Saturday on the Boston Common will go on after organizers for the event received a city permit allowing the group space, staging, and amplified sound.
But participants in the rally won't be the only ones in the city park. Thousands of counter-protesters are expected to march and demonstrate against hate, and hundreds of police officers will be on site to keep things peaceful, officials said.
Speaking at a prayer service for peace outside City Hall Wednesday, Mayor Marty Walsh issued a message for people planning to participate Saturday: Respect the people of Boston.
"You can have your free speech all day long," the mayor said. "But let's not speak about hate, let's not speak about bigotry, racism."
Plans for the rally first emerged on social media after violence erupted at the white nationalist event in Charlottesville, Virginia, which left one person dead after a car rammed into a group of counter-protesters. Two Virginia State Troopers assigned to monitor the demonstrations were also killed when their helicopter crashed. The investigation into the cause of the crash is ongoing.
John Medlar, who says he is an organizer for Boston Free Speech, the group behind the rally, told Boston.com that his group is not associated with the white supremacists who marched with tiki torches in Charlottesville last weekend. But the group has said in comments on a Facebook post that there would be "overlap" in attendance between the two rallies.
Walsh said in a statement the city will not tolerate any violence or threatening behavior.
"Make no mistake: we do not welcome any hate groups to Boston and we reject their message," he said.
As of Friday morning, the Facebook event page for the "free speech" rally had more than 250 expected attendees.
Here's what we know about the event.
Who is speaking at the rally Saturday?
Boston Free Speech posted an updated list Friday of the rally's speakers, which includes Joe Biggs, who worked until recently for Infowars, the website founded by conspiracy theorist Alex Jones; and Kyle Chapman, known on the internet as "Based Stickman" and founder of the Fraternal Order of Alt-Knights, which is described by the Southern Poverty Law Center as a "new Alt-Right group of street fighters."
On Wednesday morning, a spokesman for U.S. Senate candidate Shiva Ayyadurai confirmed earlier reports that the Cambridge Republican intends to speak at the rally.
"As a person of color, Shiva feels that speaking at this event will have a great deal of impact and will afford [him] the opportunity to educate the masses about what actually drives the behavior that we saw in [Charlottesville] this past weekend," Ronald Megna said in an email.
Some speakers initially billed for the rally, such as Gavin McInnes, a former Vice Media co-founder and founder of the Proud Boys, a far-right group, dropped out following a Monday press conference by Boston officials condemning the event.
Who is behind the rally?
The rally is being organized by Boston Free Speech, which Medlar said is largely comprised of students in their mid-teens to mid-20s who live in the Greater Boston area.
While Medlar defined Boston Free Speech as "intentionally neutral libertarians," the Anti-Defamation League said in a blog post Monday that the rally "has been organized under the auspices of the alt lite," also known as the New Right, a "loosely-connected movement whose adherents generally shun white supremacist thinking, but who are in step with the alt right in their hatred of feminists and immigrants, among others."
Medlar disagreed with this characterization of the rally's organizers and said he wished the league had reached out to his group directly instead of rushing to judgment.
"We are a grassroots coalition of local progressives, libertarians, and conservatives," he wrote in an email to Boston.com. "… The topic of our event is free speech itself, and issues related to free speech. [Every] speaker at this event was invited to speak about issues related to free speech, not their other personal politics."
Medlar, a 23-year-old Newton native, said Boston Free Speech is not associated with any of the groups from the Charlottesville rally, echoing statements put out by the group on Facebook Tuesday, Saturday, and June 17.
Augustus Invictus — who headlined the Charlottesville rally and is credited for writing an early draft of a white nationalist manifesto recently published by white supremacist Richard Spencer — had been scheduled to speak at the Boston rally. After the violence in Charlottesville, he was uninvited, Louis, another organizer of the Boston rally, who would only give his first name, told Boston.com.
In its blog post, the Anti-Defamation League said there are "significant differences between what happened in Charlottesville and what's scheduled for Boston."
"Unlike Charlottesville, the Boston event, as currently planned, is not a white supremacist gathering," the Monday post said. "It has been organized under the auspices of the alt lite, which embraces civic nationalism, rather than the alt right, which advocates white nationalism."
However, the organization later added, "There are a number of people and groups who walk the line between alt right and alt lite, to the extent that it's not always easy — or even possible — to tell which side they're on."
Medlar said the whole point of his group is to "celebrate and promote" the First Amendment.
"We are primarily free speech absolutists," he said. "We believe that as long as it's just words that are being exchanged, no matter how much you might hate the words, the best response to speech is with other speech. Not with fists."
Organizers of Boston Free Speech were also involved in a rally on the Common in May, where two people — a demonstrator and counter-protester — were arrested following a physical confrontation, according to The Boston Globe.
In addition to promoting the May "free speech" rally, Boston Free Speech has used its Facebook page to encourage people to attend an "anti-Sharia" march and to float the idea of a march against Boston's sanctuary-city status.
Medlar acknowledged that most of the groups that have reached out to be involved with his organization have been "right-wing."
"They at the moment seem to be the ones that feel their free speech is mostly under threat," he said. "But we want to have more involvement from liberals and progressives who share our commitment to free speech."
Massachusetts members of the Ku Klux Klan are reportedly planning to attend the "free speech rally," according to the Boston Herald. The national director for the Knights of the Ku Klux Klan, Thomas Robb, told the newspaper that he knew members from Springfield who were heading to the event.
"I don't think they're going to cause a disturbance," Robb told the Herald. "Our members don't stand out, they don't walk around giving Nazi salutes, they might be your next door neighbor or Cub Scout leader."
Responding to that report, Boston Free Speech said in a post Friday afternoon the group "reserves the right to dismiss anyone" at their event.
"If we are made aware, at any time, that hate groups are attending our rally we will ask them to exercise their free speech elsewhere," the post said.
Who is counter-protesting and what are their plans?
Thousands of people have RSVP'd to two protests planned Saturday in opposition to the "free speech" rally.
"Counter-protests send a message to white supremacists that their hateful rhetoric, physical violence, and fear mongering will not go uncontested," organizers of "Fight Supremacy!" wrote on Facebook.
In a statement to Boston.com, Monica Cannon, one of the organizers of the counter-protest, said the group does not condone violence — "especially violence perpetrated and supported by the State and white supremacy."
Participants will meet at the Reggie Lewis Track and Athletic Center in Roxbury starting at 10 a.m. for a brief speaking program before marching down Tremont Street to the Common, Cannon said during a press conference Friday.
She said 10,000 people are confirmed to attend, but that she expects between 20,000 and 30,000.
"We have people coming from all over the country," Cannon said.
Another counter-protest, "Stand for Solidarity," is scheduled from 11 a.m. to 4 p.m. Saturday at the State House, across the street from the "free speech" rally. The protest is being organized by the Coalition to Organize and Mobilize Boston Against Trump and Answer Coalition Boston, an anti-racism group.
"We must remain united in struggle and bring the left together to fight against hate and the rise of white nationalism," organizers wrote.
On Wednesday, the group said they would join the "Fight Supremacy!" marchers on the Common following the conclusion of their own speaking program.
What have local officials said about attending the events?
During a press conference Friday, Walsh said while the city will respect rally-goers' right to free speech, attendees "don't have the right to create unsafe conditions." Officials said over 500 police officers will be policing the rally and the counter-protests with more standing by.
"If anything gets out of hand, we will shut it down," Walsh said.
The mayor said he would not have given the group a permit if he didn't have to, pointing to "hurtful" language used online by some of the rally's speakers toward Jewish, African American, and immigrant communities, saying the city doesn't "need that type of rhetoric."
"I do not want them here," he said, adding later, "We don't need a handful of people who think they're speaking on behalf of America when they're not."
According to the Globe, the permit given to the group limits the "free speech" rally at the Parkman Bandstand from noon to 2 p.m. and stipulates that it must be peaceful. Certain items will be banned from the Common Saturday, and police have asked people not to bring backpacks, large bags, and strollers.
Citing concerns for public safety due to the large scale events, the parks department has notified the 17 vendors who operate stands on the Common that they must shut down on Saturday. Frog Pond, and the Swan Boats in the Public Garden, also will be closed, according to the city.
Boston Police Commissioner William Evans said during Friday's press conference undercover officers will be "discreetly" policing crowds participating "on both sides," and said that cameras have been put in place on the Common to monitor the events.
"We'll have eyes and ears all over that place," he said.
Evans said he expects there will be "a few troublemakers," but, referencing Thursday's terrorist attack in Barcelona, said there are no known threats to Saturday's march.
He said Saturday should be about everyone coming together against "bigotry and hate."
Medlar said his group is asking anyone attending Saturday's rally to abide by state law and not bring any weapons, but is also cautioning people to be prepared to protect themselves.
"We are advising people to keep handy some protective gear, such as a helmet or safety goggles in case things get out of hand," he said Tuesday. "We want to do everything possible to keep that from happening, but we want to keep people from getting hurt."
Boston Free Speech posted instructions on the event's page Thursday for attendees to "not antagonize" police or counter-protesters, film everything, and "dress normal."
"Any concerns regarding these draconian restrictions should be directed to Mayor Marty Walsh," the group wrote.
Evans said that he expects counter-protesters to vastly outnumber those participating in the "free speech" rally and that police are planning to use barriers to keep the groups separated. He and public safety officials met with organizers from the rally and the march earlier this week.
Gov. Charlie Baker said during the Friday press conference that public safety and "scenario" planning in advance of Saturday's events has been "extensive."
"Boston and Massachusetts are the home of some of the most important moments in the fight for freedom and equality in this nation's history," he said. "Tomorrow is one more chapter in that honored tradition. And we're going to do everything we can to ensure that tomorrow is about liberty and justice and about freedom and peace, and yes, the right for people to peacefully gather and assemble."