Local News
Citing death threats, 18-year-old who attended violent Va. rally won't return to BU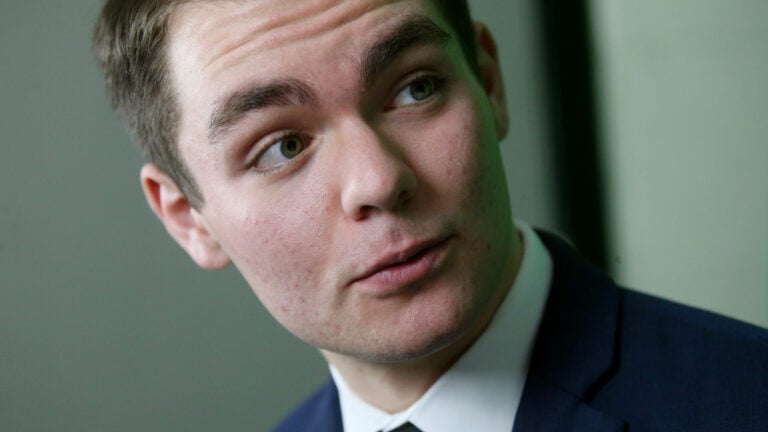 An 18-year-old who attended the white supremacist rally that turned violent in Charlottesville, Va., says he is not returning to Boston University in the fall, in part because of death threats he has received for his political views.
"It's becoming very dangerous,'' Nicholas Fuentes said Tuesday in a phone interview.
He said he has received 15 death threats over the past week via e-mail and social media.
"Massachusetts, and Boston in particular, are among the most left wing states and cities,'' he said. "Probably anywhere I would go would be safer than Boston.''
Fuentes said he had first considered leaving BU in January after anti-Trump protests in Boston. He said he gave it more serious consideration in recent weeks and on Tuesday had an exit interview with the school.
"I do fear for my life in some regards,'' he said.
Fuentes flew from Chicago to attend the "Unite the Right'' rally on Saturday. Both organizers and opponents expected one of the largest gatherings of white nationalists in recent years. By the end of the day, one person was dead after a car driven by an alleged Nazi sympathizer plowed into a crowd of peaceful counterprotesters. Dozens more were injured.
Two police officers were also killed when a helicopter that had been monitoring the protests crashed near a golf course.
Fuentes said he thought the event was intended as a demonstration against "immigration, multiculturalism, and post-modernism.''
"The rally was about not replacing white people,'' he said.
Public officials handled the event poorly, he said. The police were not allowed to do their jobs properly, making the rally "a total disaster from start to finish,'' he said.
Fuentes denied being a white nationalist or a racist, and said he rejects Nazism. He accused the media of using charges of racism as a "way to tell white people to shut up, rather than to say something substantive.''
"I believe that race is a big part of a person's identity,'' he said. "And with any other group, that's OK … the only people where that's not OK is European people.''
In a Facebook post from the same day as the violence in Charlottesville, Fuentes referred to the rally as "incredible.''
"The rootless transnational elite knows that a tidal wave of white identity is coming,'' he wrote.
On Tuesday, Fuentes said he did not consider himself complicit in the violence in Charlottesville and did not think his attendance at the rally meant he endorsed the views of those seen brandishing white supremacist symbols.
"I have never advocated violence, never taken part in violence,'' he said.
"The vast majority'' of those at the rally were not KKK members or self-identifying Nazis, he said.
Asked why he didn't leave the rally once he saw symbols of white supremacy, he said, "We were not about to let people in Nazi regalia hijack the rally.''
He called the death of Heather Heyer , the 32-year-old killed when the car drove into the crowd, a "tragedy.'' But he also blamed her death on the "normalization of violence on the left.''
"That blood is on the hands of the alt-left,'' he said.
Fuentes said he will not be attending a "free speech'' rally scheduled for Saturday on the Boston Common, calling it a "bad idea.'' Local officials are concerned that rally could attract white supremacists.
Fuentes, who has a YouTube show where he espouses his political views, said he wasn't sure if he would take a semester off from BU or would leave "indefinitely.''
Boston University confirmed Tuesday that Fuentes was no longer enrolled.