Local
What a future sea barrier in Boston would look like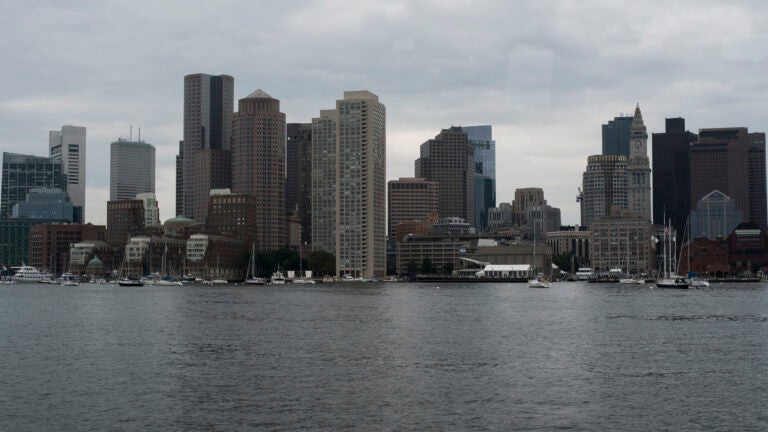 Following Harvey's devastating effects on the Gulf Coast, the subject of Boston's vulnerability to flooding once again has risen to the surface.
"If we got hit with a storm like this, if Harvey hit Boston Harbor, we are wiped out as a city," Mayor Marty Walsh recently told the Boston Herald.
For a multitude of reasons (geography, the jet stream), the type of unprecedented, relentless rainfall Harvey brought to coastal Texas and Louisiana is unlikely in Boston. However, the risk of flooding — aggravated by sea level rise — from smaller storms is a big concern for local officials.
The problem
According a city-sponsored report published last December, sea levels are forecasted to rise eight inches from 2000 to 2030 due to climate change. By 2050, they are expected to increase up to 1.5 feet — and by 2070, up to three feet.
The chances of a Harvey-esque 50 inches of rain are minuscule in Boston. But with the expected sea level rise, a one-in-100- or one-in-10-year storm (Harvey was a one-in-1,000-year storm) would put many Boston neighborhoods underwater, according to the report, Climate Ready Boston. Even monthly high tides would flood 5 percent of the city's real estate market value toward the end of the century, officials said.
With the sea level rise expected within roughly 30 to 50 years, major storms could make neighborhoods including East Boston, the South End, and the Seaport "unviable." This interactive map shows what exact places could be threatened (and it doesn't look great for Faneuil Hall).
"You're not going to escape it," Curt Spalding, New England's regional administrator for the Environmental Protection Agency, told Boston.com last year regarding sea level rise, after Boston's waterfront was inundated by simple king tides.
According to a 2013 report by the World Bank, Boston ranked eighth out of 136 coastal cities for risk of flood damage.
Local officials are thus faced with a dilemma: how to manage the characteristic that historically made Boston a thriving commercial hub — its favorable port location — when that same asset now contributes to a potentially existential threat?
"Everything needs to be on the table," Austin Blackmon, the city's environmental chief, told Boston.com.
In the short term, local and federal officials have been working on a number of preparedness initiatives in the area. But — in addition to emission reduction commitments by the city, as well as the state of Massachusetts — officials are considering a more ambitious long-term solution: a Boston Harbor sea barrier.
What is a sea barrier?
Sea barriers, or sea walls, can take a number of forms — from Pondicherry's nearly 300-year-old rock barrier, which largely saved the Indian city from the devastation of the 2004 Indian Ocean tsunami, to the Netherlands' sophisticated network of dams and floodgates to protect the low-lying country from storms and sea level rise.
This enormous storm barrier is one of the largest moving structures on Earth, with each arm longer than Eiffel Tower https://t.co/Dnf1ZOIXW5

— Atlas Obscura (@atlasobscura) June 21, 2017
Much as Hurricane Katrina prompted New Orleans to build a new flood protection system and superstorm Sandy spurred talk of it in New York, the destruction wrought by Harvey prompted calls for a sea wall in Houston.
Boston isn't waiting for their own natural disaster to look at the idea.
What would it look like in Boston?
"It's a stark reminder," Blackmon said Tuesday of the recent storms. "But fortunately, Boston has been working on these issues for quite some time."
Regardless of how the city addresses the threat of flooding, Blackmon says a "layered approach," including district-level measures to protect vulnerable neighborhoods, will be important. But that hardly means the city is ruling out a sea wall. In fact, a group of professors at UMass Boston are currently studying the feasibility of a Boston Harbor barrier. The team is preparing to release a report this December.
According to the December climate change report, the goals of a harbor barrier would be twofold: moderating high and low tides and blocking storm surge.
The report also outlined where the barrier could be placed:
The outermost alignment would stretch from Deer Island and across the Harbor Islands (most likely Lovell's Island) to the Hull Peninsula. An alignment closer to the shore would stretch from Deer Island across Long Island to Moon Island in Quincy. Finally, an Inner Harbor alignment would stretch from Logan Airport to Castle Island.
According to the report, the outer barrier would do more to reduce flood risk in a greater area, but would also likely be more expensive and have greater environmental impact. Meanwhile, the inner barrier would reduce flood risk for a smaller area, but would be less difficult to construct.
The barriers would not completely close off the harbor, but would leave gaps for ships to continue to leave and enter. During storms, a system of operable gates would close those gaps to protect the harbor from surges.
"If we're going to build it, we should have something in place by 2050," Paul Kirshen, a civil engineer and UMass Boston professor leading the harbor barrier study, told The Boston Globe in February. "That's why we need to be considering this now."
What would it cost?
According to a Herald report last week, "rough cost estimates" peg a harbor barrier north of $10 billion. By comparison, the Big Dig cost $24 billion, including interest, according to the Globe. The total cost of New Orleans's flood protection system of barriers and levees is estimated at $14.5 billion. Venice's submerged, rising barrier systems reportedly topped $6 billion.
These cost tags are considered comparably "reasonable," according to the Globe, though each system is different.
"Primary cost drivers for solutions such as the harbor-wide intervention would be the large gate structures and marine walls, which would span 1.5 to 3.5 miles and require deep foundations to withstand the forces of storm events," said the city's report in December.
Officials say the project would include additional, metaphorical barriers to tackle, such as minimizing ecological effects, acquiring permits, keeping the city's port accessible, and managing coordination between local and federal governments.
However, another consideration is the cost of not constructing a barrier.
As the Globe reported in February, Boston risks $1.4 billion a year in flood damage, if sea levels rise three feet and no barrier is built.
According to a 2014 study, the annual global cost of seawater flood damage could reach as high as $100 trillion by 2100.