Local
Felon who graduated from Yale allowed to become lawyer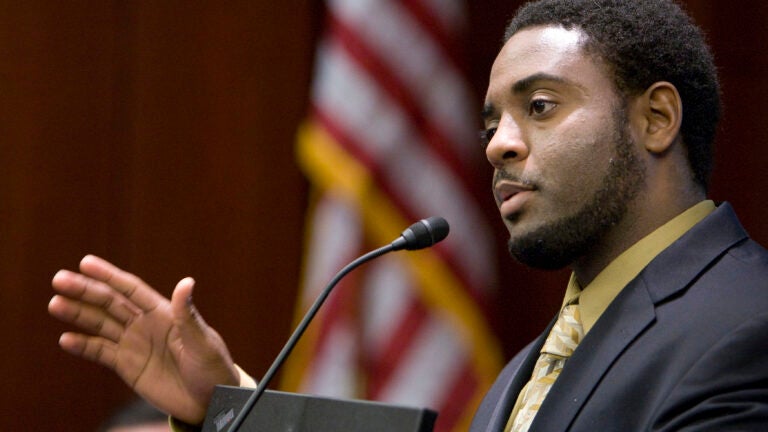 HARTFORD, Conn. (AP) — A convicted felon who became an award winning author and graduated from Yale Law School won approval Friday to practice law in Connecticut, after a state panel reviewed his moral character.
The Connecticut Bar Examining Committee recommended Reginald Dwayne Betts, 36, for admission to the state bar, a move that cleared him to become an attorney pending a swearing-in ceremony.
"I'm happy that they made that decision," Betts said. "I'm just grateful for the huge amount of support people gave me."
The committee had flagged Betts' file after he passed the bar exam in February, because of his three felony convictions for a carjacking he committed in Virginia two decades ago as a teenager.
Like most states, Connecticut does not prohibit felons from becoming attorneys, but a felony conviction creates a presumption that the applicant lacks "good moral character and/or fitness to practice law." Such applicants must prove otherwise by "clear and convincing evidence."
Betts' supporters flooded the committee with letters supporting his admission to the bar.
"I think that his story is a remarkable story," said former Connecticut Judge Anne Dranginis, chairwoman of the Bar Examining Committee. "Mr. Betts demonstrated his commitment to others who may have lost their way. He has a great deal to offer, in addition to what he has already done."
Betts grew up in Suitland, Maryland, near Washington, D.C., and was convicted of a carjacking at a Virginia mall when he was 16. He served eight years in prison. He went on to graduate from the University of Maryland, win a Harvard University fellowship and earn a Yale law degree.
Along the way, he has written two books of poetry that received good reviews from media critics. A third book, "A Question of Freedom: A Memoir of Learning, Survival, and Coming of Age in Prison," won a 2010 NAACP Image Award. He is now married with two children and lives in New Haven.
Betts has also been working on a doctorate in law at Yale, saying he wants to become a law professor one day. He recently finished an internship in the New Haven public defender's office, and has a clerkship next year with Judge Theodore McKee at the federal appeals court in Philadelphia.