Local
Is this City Council race the most interesting contest on the November ballot?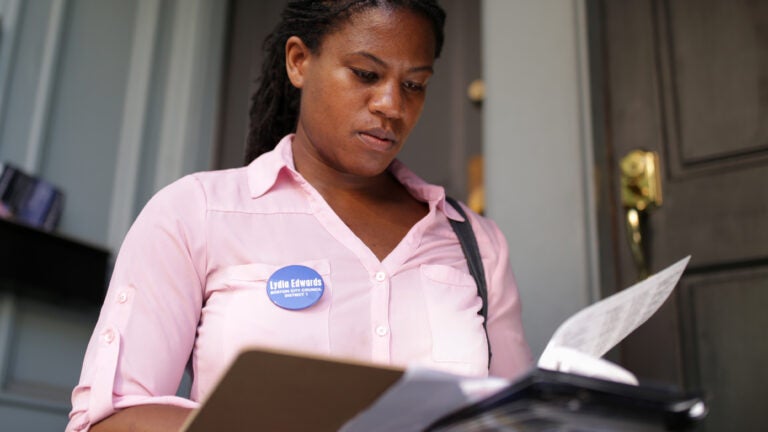 Lydia Edwards and her team had assembled at her East Boston headquarters Tuesday night to watch the election results trickle in. There were sandwiches, roast beef, and chips, and someone grabbed some Coors Lights from the Neptune across the street.
They had already broken down the coming results into three scenarios in her City Council race, including the possibility that "we got blown out of the water and need to get to work,'' as Edwards put it. In these preliminary contests, only the top two vote-getters proceed to the November elections.
And then Edwards got the news: She came in second place, but it was close. Really close — 77 votes close.
"I'm in this thing,'' Edwards, a lawyer, in an interview said she recalled thinking. "Now everyone knows we have a shot.''
The news rang across the city — a stunning, razor-thin finish on an otherwise slow night. Edwards, 37, of East Boston, is looking to become the first black woman to represent the First District, which stretches from East Boston across Charlestown and into the North End. She will face Stephen Passacantilli, 42, a native of the North End's Hanover Street, whose family is steeped in local politics, on Nov. 7.
For some, the race has become symbolic of an emerging battle in city politics amid Boston's changing demographics — a relative newcomer, Edwards, going against a candidate, Passacantilli, whose grandfather represented the North End on the council for more than 20 years. Hand-written notes have been affixed to one Passacantilli sign on a Hanover Street storefront, calling him "Our Own,'' and saying "Good Kid, Local Kid.''
Both candidates say they have been working to overcome that paradigm.
Passacantilli said voters can relate to him not because of his family name but because he shares the same challenges that many families endure: He battled a heroin addiction and has been clean for more than a decade; he struggles with rising housing costs; his children go to school in the district, and he knows what it's like to worry about what school his children will attend.
"I feel like folks are trying to define me . . . I feel I'm being pigeonholed,'' Passacantilli said. "I'm the guy who walks his daughter to school every day.''
Edwards, who has lived in East Boston for 15 years, said she has been able to connect with voters because she meets them in person and discusses local issues that affect them, such as housing and transportation.
Both candidates agree they come from different areas of the district, however, and their challenges will be making themselves better known throughout the community.
On Tuesday, Passacantilli, in his first run for office, won 1,101 of the North End's 1,545 votes, or 71 percent. Meanwhile, Edwards, who ran for state Senate last year, won 1,824 of East Boston's 3,473 votes, or 52 percent.
Edwards also won 1,317 of the 2,675 votes, or 49 percent, in Charlestown, what was considered a battleground in the race. Both campaigns will be looking to increase voter turnout and also earn the roughly 500 votes that went to a third challenger, Margaret Farmer, who was eliminated in the preliminary election.
Citywide, voter turnout was extremely low on Tuesday — just 14 percent headed to the polls. Mayor Martin J. Walsh trounced his main challenger, Councilor Tito Jackson, with 62 percent of the vote, though Jackson emerged as the first black mayoral finalist in four decades.
The competition between Boston's old politics and its emerging demographics had the potential to emerge citywide as the theme for several November races, but it simmered after Tuesday's preliminary election.
In District 2, which cuts from South Boston to the Sound End and Chinatown, political analysts noted Ed Flynn, the son of the former mayor and a stalwart of the South Boston political establishment, was going against two popular newcomers from across the district, including Michael Kelley, a former aide to longtime mayor Thomas M. Menino.
But Flynn, a probation officer and US Navy veteran, claimed 56 percent of the vote to Kelley's 31 percent. They emerged as the top two finalists out of seven candidates. Kelley later said in a statement that he was emboldened by the race, recognizing that close to half the district had voted for someone other than Flynn.
Flynn said in an interview that he worked for months to reach residents across the district, and will continue. He claimed 42 percent of the vote in Kelley's home precinct in Bay Village, to Kelley's 48 percent.
"We did well because we had a message that resonated across the district,'' Flynn said, saying residents share the same concerns about development and improvement to parks. He went to high school in Chinatown, and his son now attends school there.
"I campaigned hard across the district,'' he said, "and I have a lot of great support.''
Lawrence DiCara, a partner at Nixon Peabody and a former city councilor who follows local politics, said that candidates from strong political establishments tend to perform well in preliminary elections, because they can depend on their political base to head to the polls. He said a challenge for any candidate is to win over voters who will not come to the polls until the general election, and those votes could be up in the air.
DiCara said that will still be a challenge for Kelley in District 2, noting Flynn's 2-1 advantage on Tuesday.
But he said the contest in District 1 has emerged as the most exciting race citywide because of the narrow preliminary election decision.
"It's definitely a horse race,'' DiCara said, noting Edwards's surprising win in Charlestown over a candidate with a robust campaign account and an established name, in a neighborhood that was once a stalwart of the city's white-ethnic politics.
But DiCara and other political analysts say that Charlestown also represents the changing demographics of the city, as much as any neighborhood experiencing gentrification. Passacantilli's headquarters was once a yoga studio, adjacent to a sushi restaurant.
On a recent afternoon, several voters on Main Street said they had paid as much attention to the District 1 council race as the mayoral contest, if not more. Anne Marie Fitzsimmons, who had stopped by the bank that afternoon, said she voted for Passacantilli, because she's seen his signs and knows the name.
"He's always around the town, he's out there,'' she said.
Others said they chose Edwards, because they had met her before, when she knocked on their doors. One woman said she saw her at the polls. Another, a school teacher who was born and raised in Charlestown, said she discussed school issues with Edwards.
"She seemed really nice, really progressive, and it was nice to see her around,'' said Melissa Conner, a lawyer, who was heading to a neighborhood store.