Local News
A huge marching band protested US immigration policy in Boston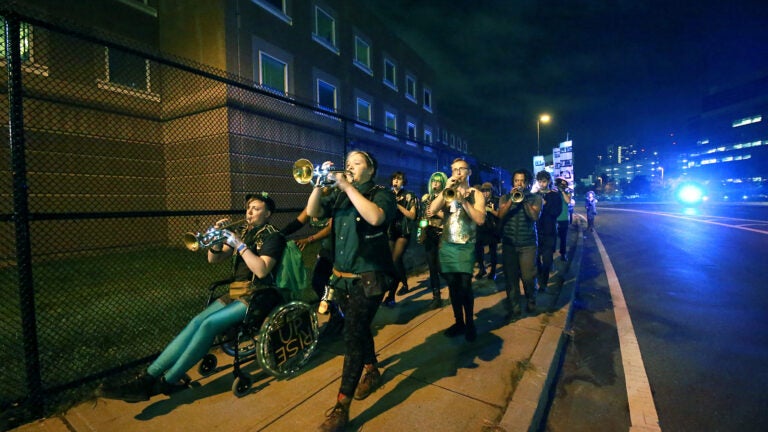 [fragment number=0]
Shadows danced behind the barred windows of the Suffolk County House of Correction at South Bay on Sunday night as protesters outside with tubas, trombones, and saxophones decried the detention of over 200 immigrants at the facility.
Hundreds of musicians from eight bands in Boston for the HONK! Festival marched outside the facility, which provides space for a detention center run by US Immigration and Customs Enforcement. They played songs such as "What Side Are You On?'' and yelled, "No borders, no nations, stop the deportations!''
"The thing that really bothers me is that we don't know the stories of the people inside and it's very easy to dehumanize them,'' saxophonist Angie Sassi of Somerville said. A piccolo player pressed against the chain-link fence around the facility as prisoners on the top floor held a handmade sign that said, "We love you.''
[fragment number=1]
At South Bay, immigrant detainees are kept separate from the general population, according to Carissa Cutrell, a spokeswoman for ICE.
Over 200 protesters at the event organized by Resist the Raids and Massachusetts Jobs With Justice on Sunday were calling for the release of those detainees, and highlighted two at musical rally.
One was Francisco Rodriguez, a 44-year-old MIT janitor who was detained during his ICE check-in on July 13. His attorneys have asked for the Board of Immigration Appeals to reopen his immigration case and stop his deportation via a stay of removal.
ICE had previously granted him four stays of removal since 2009. Rodriguez has lived in the United States since 2006, and is the father of three US-born children, including Josue, who was born on July 31.
The Board of Immigration Appeals denied a request from Matt Cameron, Rodriguez's attorney, for a 24-hour release to go to the hospital for the birth.
Rodriguez's family told him that musicians would be supporting him outside of the jail, said Lily Huang, co-interim director at Jobs With Justice.
On Sunday night, Cameron said, "I know that he appreciates the continued attention on the enormous harm that ICE has done to this family.''
The second detainee highlighted on Sunday night was Niberd Abdalla, a 57-year-old Iraqi who immigrated to the United States when he was 15 on a student visa. He moved to Western Massachusetts, and has been caring for his aging parents, who are Kurdish refugees.
According to activists, his family experienced persecution in Iraq due to their Kurdish ethnicity. Abdalla was allegedly beaten, and his brother and cousin were killed. He applied for asylum in 2010, was denied, and his appeal was rejected in 2012. Abdalla continued to check in with ICE, and was taken into custody at his June 8 appointment.
According to Huang, Abdalla has severe respiratory system problems, and his doctor believes he would not get adequate treatment if deported.
She explained the protesters' reasoning for the arrests, "It's the same reason Francisco, Haitian, and El Salvadoran immigrants are being taken. The Trump administration is taking in people who have followed the rules and are the lowest hanging fruit.''
[fragment number=2]
The HONK! Festival is an annual gathering of activist street bands in Somerville.
Ken Field, a member of the organizing committee for the festival, said Sunday night, "We've taken an amount of time and effort and love to come to them and let them know through music that we know they are there.''
[fragment number=3]
[fragment number=4][fragment number=5]
Correction: An earlier version of this story incorrectly identified Ken Field.