Local
Why some cities in New England aren't celebrating Columbus Day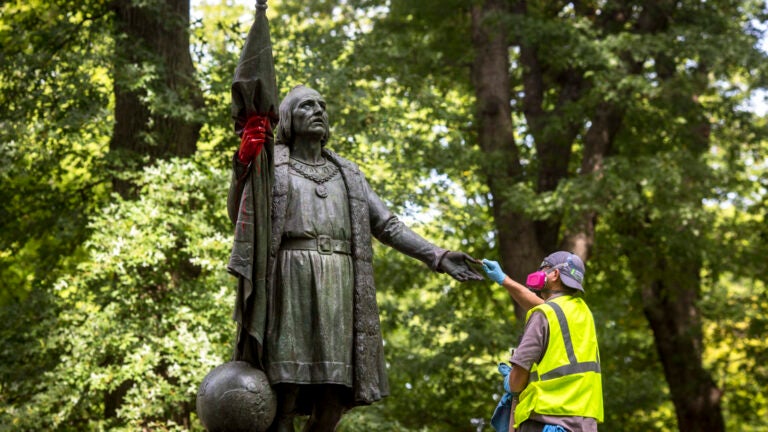 First, it was Belfast, Maine.
Last year, it was Cambridge, and then the entire state of Vermont.
This year, an increasing number of communities in New England — including two of the largest cities in Maine — are getting in on the latest holiday trend: Replacing Columbus Day with Indigenous Peoples' Day.
Cambridge Councilor Nadeem Mazen, who formally proposed the idea in his city, characterized the move as a "low-hanging fruit," as people have increasingly gained an understanding of the cruelty by Christopher Columbus and his men toward the native people upon their arrival in the Caribbean.
Mazen says the Indigenous Peoples' Day movement is less about renaming the holiday than it is about creating a way to learn from history.
"A change in the day is one thing, but changing our understanding is another," said the city councilor, who recently launched a bid for Congress in 2018.
"No one should be celebrating Columbus," said Mahtowin Munro, the legal organizer for Indigenous Peoples' Day Massachusetts, which helped organize the move in Cambridge.
"We know that Columbus and his men were personally responsible for killing thousands of indigenous people," said Munro, who lists the sailors' myriad atrocities against the natives they encountered: Rape. Murder. Enslavement. Cutting off the natives' hands to test their sword blades. Feeding indigenous babies to dogs.
"I know it sounds like we're exaggerating," she said.
However, the acts were documented by Columbus and his crew themselves in their diaries.
"Why would you want to teach your children that it's OK to celebrate this guy?" Munro asked.
Columbus Day remains a federal holiday and it's not like Indigenous Peoples' Day has swept across the country. So far, the Indigenous Peoples' Day movement has been limited mostly to majority-liberal cities and college towns — locally including Amherst, the first Bay State city to do so; Durham, New Hampshire; and Orono, Maine.
Munro says her group has a resolution in Brookline that is set to be introduced at a town meeting next month.
"It has not been a priority for [the Boston City Council] yet, but we're going to make it so," said Munro.
Boston Mayor Marty Walsh, however, "has not expressed interest," she said. Walsh's office did not respond to requests for comment.
Munro says to expect a "big push" to replace Columbus Day this year in Boston.
Nationally, cities as large as Phoenix, Seattle, Minneapolis, and even Denver, where the idea for Columbus Day "took root," have decided to adopt Indigenous Peoples' Day. However, a Marist Poll survey commissioned last month by the Knights of Columbus, a Catholic fraternal group that helped create the holiday, found that 57 percent of adults believe celebrating Columbus Day is a "good idea," versus the 29 percent who oppose the holiday.
Whatever the second Monday in October is called, those who get a day off from work still get the day off. But for advocates of replacing Columbus Day, the movement is about what that day off will, in theory, be spent celebrating.
"It's about holding up and honoring indigenous people whose lives were lost and who were systematically exterminated," as well as those who have continued to be marginalized and harmed by the United States since the age of exploration, said Mazen.
"The idea is center our experiences, our history, our voices," Munro said. "It's not just about 1492."
According to the U.S. Census Bureau, more than 28 percent of American Indian and Alaska Native households lived in poverty in 2014, the highest rate of any race. There are also significant gaps in employment, health, and education levels. The group's life expectancy is 4.4 years less than the national average.
Mazen says Indigenous Peoples' Day is not meant as any slight to Italian-Americans, which have observed Columbus Day as a celebration to their shared heritage. From New York to Portland, Maine, some Italian-Americans have recently spoken out over the perceived affront over Columbus.
"This attempt to dishonor Columbus is a slap to the face of all Italians, who have worked tirelessly to improve the Portland community," read a letter to the editor in the Portland Press Herald, after the city council unanimously voted last month to adopt Indigenous Peoples' Day.
However, Mazen says most local Italian-Americans he has heard from since last year are actually supportive of the move and realize the issue isn't about their heritage. In fact, last week, a group of 50 Italian-American writers and scholars signed a letter to Italian-American groups urging them to support the effort to abolish Columbus Day as a federal holiday.
Ideally, Mazen says there would be a way to observe both indigenous people and Italian-Americans. For example, Los Angeles County recently renamed Columbus Day as Indigenous Peoples' Day — but also established October 12, the day Columbus is said to have arrived in the Bahamas, as Italian-American Heritage Day.
For now, the next step moving forward, according to Mazen, is working to put some substance behind the new holiday in places it has been adopted, which could include actual events honoring or advocating for American Indians.
That said, he acknowledges it could be awhile before Indigenous Peoples' Day expands beyond its current liberal constituencies. Mazen notes that even in Cambridge, it wasn't until last year that the idea took hold.
"A lot of things that are common sense take some time," he said.